Welcome to my Domino Blast Puzzle!
I just came across another suspicious money game called Domino Blast Puzzle.
The advert claims to pay directly through PayPal with no need to withdraw the money.
Millions of people are bombarded daily with similar adverts for games that supposedly give you real cash rewards.
After testing and reviewing hundreds of them, I am more than confident to give you a verdict even before using them.
But for the sake of an honest and in-depth review, I decided to install Domino Blast Puzzle before answering key questions.
So, is it legit or fake? Does it transfer the money or not? Let's find out!
Before you leave this page, don't miss out on the step-by-step program that helped me to generate $2,000+ each month and quit my job in 2019.
Domino Blast Puzzle Review 
Name: Domino Blast Puzzle
Developer: Magicox Gaming
Availability: Worldwide
Price: Free
Payout threshold: $777
Overall Rating: 0 stars
What is Domino Blast Puzzle?
Domino Blast Puzzle is a casual Android game where you eliminate numbered tiles by touching groups of two or more of them.  It's very similar to Lucky Tap Blast and many others!
After completing each level, you will receive a decent cash reward deposited into your virtual wallet.
Since adverts support the game, the developer entices you to watch one in exchange for earning double. Of course, this is a common tactic to boost views and profits.
Domino Blast Puzzle is still available in Early Access despite being downloaded more than 50k times.
That means no one can publish reviews and warn Google Play users who have the right to know whether it pays.
Therefore, many people will take risk and spend lots of time playing the game without guarantees.
How Does Domino Blast Puzzle Work? 
Domino Blast Puzzle can be installed free on the Play Store and launched without prior registration.
The game is free, so there is no risk of losing money on useless VIP benefits that only make developers richer.
That doesn'tn't mean you have nothing to lose. Yes, I am talking about your precious time!
The game consists of an 8×7 grid with tiles of different colors.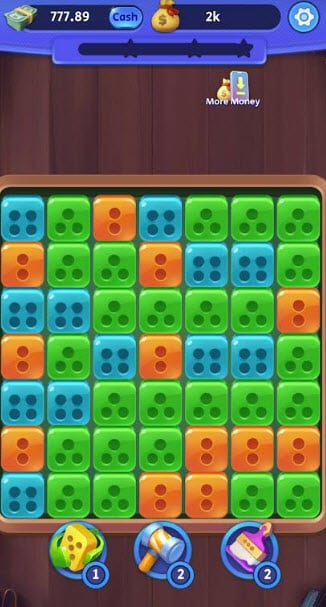 All you have to do is touch where you see two or more identical tiles together to destroy them.
Complete the level by eliminating as many tiles as possible and receive a level reward between $4 and $10.
As I mentioned, you can double the money by clicking"on "double re"ard" and watching the video until the end.
Then, click the open button to deposit the money into your wallet. It says you can withdraw the money once you reach the magic number of $777.
Note there is a small icon that suggests you can earn even more money. This section includes a list of third-party games you can download and play on your phone to earn gold coins.
First, you must allow usage tracking in your app settings so that Domino Blast Puzzle can track your playtime.
The app will thus award you gold coins after every minute of gameplay. Just be aware there is a cap on the number of coins you can collect in each game.
Therefore, your earnings will eventually dry out, leaving you with little choice except to download another game to earn more coins.
Unfortunately, there is no information on the minimal cashout amount for this kind of currency.
Is Domino Blast Puzzle Le it? Does it Pay? 
No,doesn't! Domino Blast Puzzle is not committed to rewarding players who meet the requirement.
First, I must say it was a struggle to achieve the minimum payout amount of $777. That's because the game rewards you less and less after each level, even when you collect three stars.
Yes, you can watch the video to double your earnings, but still, you will be making $10 or $8 at a time. I mean, it would be incredible IF it were real.

It's a very clever mechanism to keep you watching an absurd number of videos that expose you to even more fake money applications. 
I had to play Domino Blast Puzzle for almost 2 hours and reach level 37 to accumulate $777! But when I opened the cash balance to withdraw the money, surprise!
They updated the withdrawal condition and require me to collect 10k gold coins before I could cash out. What a joke!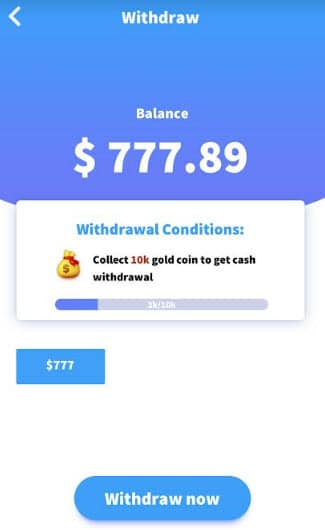 They expect me to download sponsored games and apps that will generate even more commissions for the developer.
No way I will waste my time doing this because  it'sevident that the reward is fake!

This reward platform is going viral! Cash out via PayPal, Visa, Gift Cards, and in-game currencies - Click here to find out how to generate an extra $10+ per day! 
Conclusion 

Don't waste your time eliminating tiles with the expectation of winning real money.
Domino Blast Puzzle is just another fake money game that only benefits the developer running the show.
The game is boring because there is no specific score to complete each level. Intead, it gives you virtual dollars regardless of how many stars your get.
At the end of the day, you are just watching adverts that will consume your data and battery for nothing.
To earn real money, I highly recommend you stop searching for game apps that pay. Instead, you could create something that works for you rather than against you!
I am talking about building a simple publishing business that can pay you passive income for all that content you create.
For example, this website is the kind of business you need to generate the revenue you are after! It gives me the flexibility to work at my own pace and wherever I want!
Click here to learn how to create a lucrative site step-by-step! 
Final Words
I appreciate you taking the time to read my Domino Blast Puzzle review. I hope you found it enlightening!
If you want to write about this application, kindly do so in the space below.
Peace!