Welcome to my Fish Mania review!
One day, while trying out a money-making game on my Galaxy, I found the infamous advert for Fish Mania.
This commercial begins with the well-known Snoopy Dog saying that if you have skills, they can actually help pay your bills. No joke, seriously!
It makes me wonder if he's even aware that his image is being used for this app. I doubt it!
Then, a woman confidently claims you can win a quick $300 in just a minute and even a whopping $2 million weekly!
I mean, what?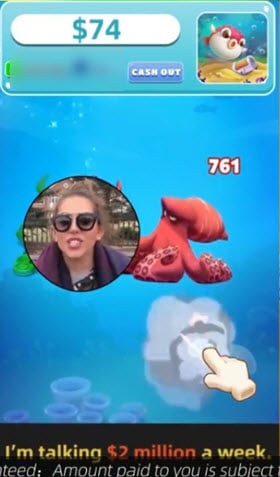 This instantly reminded me of over ten games I've reviewed before, all having similar ideas and offering big prizes. Here's the most recent one for you to check out! 
Very fishy, right?
I know that you are skeptical as much as I am. Otherwise, you wouldn't be searching for information on this app.
Maybe you are tired of wasting time with fake cash games and need a definitive solution to earn extra income online.
So, in this post, I'll go over all you need to know about Fish Mania and share my frank opinion. Does it pay? Is it legit or fake?
In th end, I will also share with you great options that can actually put real money in your pockets!
Let's find out!
Before you leave this page, don't miss out on the step-by-step program that helped me to generate $2,000+ each month and quit my job in 2019.
Fish Mania Review 
Name: Fish Mania
Developer: Patala Games
Availability: Worldwide
Price: Free
Payout threshold: No threshold
Overall Rating: 0 stars
What Is Fish Mania? 
Fish Mania is another simplistic game for Android that supposedly rewards players with real money for reaching milestones.
The goal is to drag your fish towards fishes with a lower number so it can defeat them. You will finish the level once you eliminate all the fish at that stage.
The app was developed by Patala Games and can be installed for free on the Play Store.
Please be aware there is a different game with the same name on Google Play that does not provide any cash rewards.
I first installed this other game and realized I had picked the wrong one when I saw they had no dollar signs or PayPal logos.
I think Google should deter developers from publishing applications with the same name because it causes too much confusion.

How Does Fish Mania Work? 
Fish Mania is available on the Play Store free of charge. Right, at least they are not trying to take your hard-earned money!
So, immediately after loading the game, they will show you this message: Play the game to win cash and cash out to PayPal or Cash App.
Then, tap play to start the game!
You'll find your fish at the bottom of the ocean, along with three other fish and an octopus.
Each of these creatures has a unique number representing their power level.
Your goal is to guide your fish towards another fish with a lower number. For example, if your fish starts with the number 9, you'll want to target the fish with the number 7 just above.
Doing so will increase your fish's number by 7, becoming 16. With this newfound strength, you'll be ready to take on the next fish, which has a power level of 14.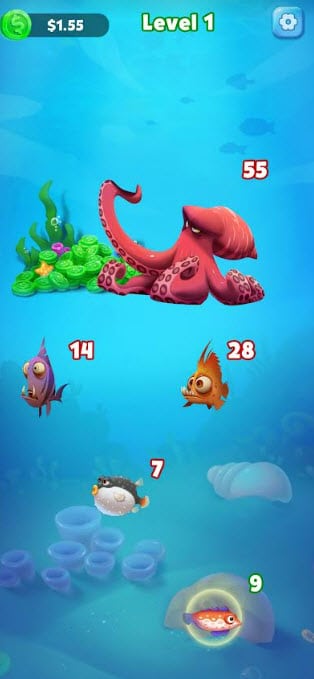 If you aim for a more robust fish, you will fail and be prompted to watch a video.
To complete the level, follow the sequence until you eliminate the highest create on the screen.
As you defeat the higher number creature, Fish Mania will automatically deposit virtual dollars in your wallet.
Here is the catch: Some fish have a small video icon next to them, meaning you must watch an advert every time you fight them.
Once you complete the level, you can open a treasure chest and collect more cash rewards. But of course, they will push another annoying video down your throat before releasing the money.

How Do You Get Paid? 
If you click the reward icon at the top, you will see your balance and the two following messages:
"If you pass level 5, your balance will be doubled by 1.2 times."
"All your balance will be cashed out when the countdown ends."
As you can see, Fish Mania differs from other money games that require a certain amount of cash to claim their winning.
Instead, it encourages you to collect as much money as possible for 1 hour before clicking the cash-out button.

This reward platform is going viral! Cash out via PayPal, Visa, Gift Cards, and in-game currencies - Click here to find out how to generate an extra $10+ per day! 
You can choose between two popular payment methods: PayPal and Cash App.

Is Fish Mania Legit? Does it Pay? 
No, it doesn't! Fish Mania is like most fake money games developed using the Unity platform.
Despite investing the time to watch their videos, they will make you jump through hoops and never pay you a dime!
So, after the 60-minute countdown, you can hit the cash-out button, but guess what? They tell you to watch six more videos just to activate the order.
Spending a few more minutes on this boring game to win over $100 doesn't sound that bad. But do you really think they'll pay you that much for watching? Think again!
Fish Mania just keeps changing the cash-out rules and tells you there are over 300 people ahead of you waiting for rewards.
And they even update that number in real-time, as if they're actually paying players!
Even though I knew I wasn't going to get paid, I waited my turn just to see what their next excuse would be.
And boy, was I shocked! They blamed CV19 and said my payment would take 14-30 days. Yeah, right!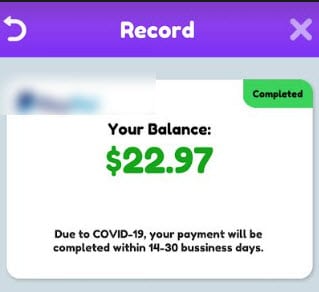 What a joke! By telling you to wait all this time, the developers expect you to play even longer without knowing the truth.
This, of course will help the developer generate even more cash from advertisers. But in the end, you won't receive any money!
Click here and learn how to spot fake cash games! 
User Reviews and Testimonials
The Play Store is rife with negative reviews for Fish Mania, and players are super annoyed. Check out what some of them said:
A player thought the game was fun and relaxing but got really mad when they couldn't cash out.
The advert said they'd get paid in a day, but it never happened. He felt like the game was tricking him with fake promises of easy money.
Another player said the game was easy but couldn't cash out. They watched tons of adverts and waited for a week, but all they got was a message saying they'd get paid "soon."
A third player warned others not to waste their time or help the developer make money by watching the commercials.
They called it fake because even though they got a message saying their withdrawal request was accepted, they never got paid.
After waiting a week and trying to contact customer service with no response, they concluded it was just another fake app.
Conclusion 
Besides the fake rewards, Fish Mania provides one of the worst gaming experiences possible!

They promote the game as a way to make millions each week, which is something so ludicrous I can't put it into words.
By playing Fish Mania, you are making developers richer at the end of every video you watch.
After testing so many games, I am confident you are much better off completing online surveys despite their low pay.
But if you want to make the most of your time online and shoot for the stars, here is my #1 recommendation. 
This step-by-step program helped me build this lucrative site that covers all my living expenses and allows me to travel for months and even years as a digital nomad.
Final Words
Thanks for reading my Fish Mania review. I hope it saves you time before it's too late!
Please use the box below to write whatever you want about this application.
Peace!