Welcome to my Piggy Match review!
I found Piggy Match through a banner advert on the phone while playing a fake money game.
This is another app making ridiculous cash prize claims in order to attract hordes of people willing to watch commercials.
It's crucial to avoid wasting time and concentrate on efficient ways to make money. Especially now when the economy is struggling, and our living expenses are going to the roof!
Therefore, you are here to know if Piggy Match will put real money in your pockets. Is it legit or fake? Let's find out!
Before you leave this page, don't miss out on the step-by-step program that helped me to generate $2,000+ each month and quit my job in 2019.
Piggy Match Review
Name: Piggy Match
Developer: Super Fun Club
Availability: Worldwide
Price: Free
Payout threshold: $200
Overall Rating: 0 stars
What is Piggy Match? 
Piggy Match is another casual puzzle game that allows players to collect virtual dollars and allegedly withdraw the money via PayPal or Cashapp.
Your job is simple: Tap groups of blocks of the same color to eliminate them and watch the video to claim your prize at the end of each level.
All the money in your account can be cashed out through PayPal or Cashapp after 24 hours or reaching $200.
Piggy Match has gone viral recently, reaching over 100k installs and an impressive 4.6-star rating. But do these numbers reflect how real players feel about the app?
We'll find out soon!
How does Piggy Match Work? 
Piggy Match is available on the Play store for all Android devices. There are no in-app purchases like other games that sell Vip memberships to remove adverts.
After launching the game, you will see the page encouraging you to beat the level to get cash and instantly redeem it.
There is a PayPal and Cashapp logo, suggesting that you can choose between these two payout methods.
Just tap play to get started. Then, you will see the standard grid with blocks of different colors, like hundreds of other similar elimination games.
These developers are just copying existing game codes and changing the themes to make them more attractive.
They will then add a pinch of unrealistic cash rewards, a few PayPal logos, and a temping advertisement to convince players this is not another fake game.
Well, back to the gameplay…
You will have to tap blocks of the same color to destroy them and finish the level with the least number of cubes on the grid.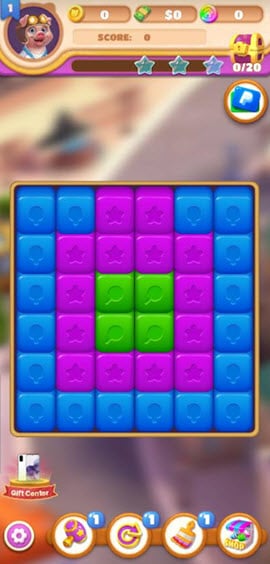 Whenever the progress bar hits a lucky star, you will get the chance to earn some cash. Just tap claim to add to deposit the money into your virtual wallet.
Once you complete the level, you will earn more cash rewards, which can be multiplied by up to 6 times if you tap "claim" and watch the video.
Gift Center
Believe it or not, Piggy Match is not only about dollars but also incredible prizes.
The developer suggests that if you collect enough puzzle pieces, you will be able to claim MacBooks, Playstation, iPads, and even a Tesla car. I am serious!
So, how do you collect these fragments? First, of course, by watching more videos in the bubble of puzzle section or by activating the lucky spin!
Plus, you can collect more puzzle pieces by touching bubbles floating on the game or after completing each level.
How Do You Get Paid?  
You can cash out all the money you collect after 24 hours or as soon as you reach $200.
In the withdraw section, it says if you pass level 12, your balance will be doubled by 1..5 times. So, it won't be double! Instead, it will be increased by 50%!
You must enter your PayPal email or Cashapp number to receive the reward. But will they pay you? That's what we will discover in the next section.
Piggy Match also allows players to redeem Amazon and Walmart gift cards. However, it appears that you cannot save gift cards using your balance, and there are no guidelines for doing so.

Is Piggy Match Legit? Does it Pay? 
No, it doesn't! You won't receive the funds in your cash balance by any means!
I played Piggy Match for a few minutes and waited 24 hours to see if I would be able to cash out $66. Nope!
Instead, I got a message asking me to watch 13 videos to approve the order.
As I started to play the game again, a new balance emerged with a new opportunity to withdraw the money at $200 or after 24 hours.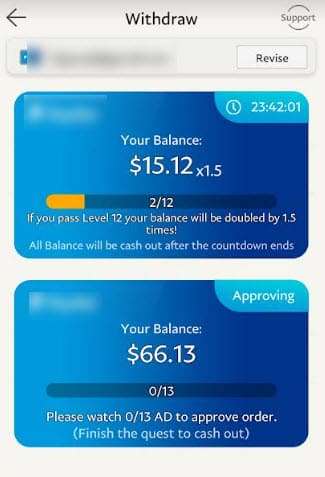 This reward platform is going viral! Cash out via PayPal, Visa, Gift Cards, and in-game currencies - Click here to find out how to generate an extra $10+ per day! 
I didn't proceed to finish this quest because I knew it was useless.
However, it's safe to assume they will come up with another excuse to make you watch more videos. Alternatively, they may instruct you to wait a few days.

I tested hundreds of similar games, none of which transferred more than $2 to my account.
Many individuals will proceed while still holding out hope that they will be paid as if they had a chance. No, and again, no!
Conclusion 
Piggy Match is almost identical to hundreds of elimination games that promise easy money and never deliver.
Save yourself the stress and frustration of losing hours on a game that only benefits the developer. The sooner you uninstall it, the better!
If you want to make money online, you should definitely stop playing mobile games.
Instead, you could build a simple publishing business, where you create helpful content and attract an online audience.
This excellent step-by-step program helped me generate over $2000 per month and work remotely for many years!
Joining this platform was the best decision I made in life!
Final Words
I really appreciate you reading my Piggy Match review!
What's your frank opinion of this match-3 game? Please, share some love by writing your own review down below!
Peace!