Welcome to my Solitaire Winner review!
Solitaire Winner claims to pay you lots of money for playing the popular patience game on your phone or tablet.
The developer entices people with the opportunity to redeem $300 once the cashout amount is reached.
To collect virtual dollars, you must organize a deck of cards into four piles, each with a different suit.
Additionally, you will be required to watch countless commercials that directly benefit the game owner.
If you are not willing to waste time with a fake reward app, you have come to the right place.
This review will determine whether Solitaire Winner is legit or another fake reward app designed to capitalize on people's nativity.
Before you leave this page, don't miss out on the step-by-step program that helped me to generate $2,000+ each month and quit my job in 2019.
Solitaire Winner Review
Name: 

Solitaire Winner

Developer:

Ida Studio

Availability:

 Worldwide

Price:

 Free

Payout threshold: 

$300

Overall Rating: 0 stars
What is Solitaire Winner? 
Solitaire Winner is another card game that credits your account with virtual dollars for arranging them and watching lots of videos.
You can then withdraw the money via PayPal or Amazon as soon as you accumulate $300.
The game will display video after video while you are trying to achieve the target.
You expect the developer to distribute part of the advertising revenue to players who meet the requirements.
However, the amount of cash offered exceeds what Solitare Winner generates from each user. This prompts the question, "Where is all the money coming from?"
How Does Solitaire Winner Work? 
Solitaire Winner is available worldwide for Android users and is developed using the Unity platform.
Upon launching the game, you will receive a welcome bonus of $17.18. They will also invite you to accumulate $300 with the promise of redeeming immediately.
Your job is to move cards between columns and build a deck from King to Ace with cross-colored cards.
The goal is to create four piles of cards with a different suit, from ace to king.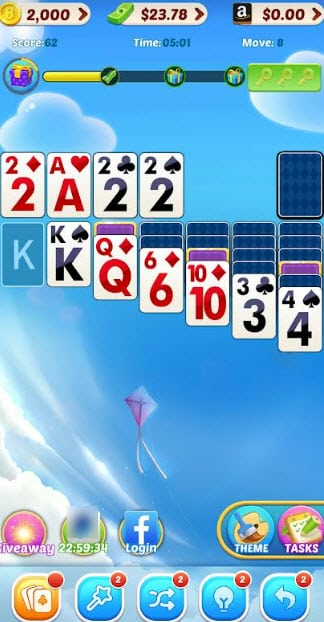 You can draw the cards from the tableau when you run out of moves. Additionally, you can use a few tools to help you out, such as refresh and back props.

Note that a progress bar moves wherever you place a card and advance in the game.
You will earn PayPal and Amazon cash when the bar reaches the gift icon. Plus, you may increase it by 500% by clicking the "Claim More" button and watching the video.
In the beginning, you will earn over $10 at a time and make progress at a fast pace.
Whenever you flip a card, you have the opportunity to scratch the card and win a nice bonus of up to $1000 or 1000 tokens if you match 3 symbols.
It takes a long time to get through the game as a 30-second advert will pop up every 3 or 4 moves, which is very annoying.
Win Gifts
Like hundreds of games, Solitaire Winner also features a giveaway section.
During the event, you can collect different puzzles redeemable for excellent prizes, such as Samsung Galaxy, Sony TV, Nintendo Switch, and other gadgets.
You can collect the fragments by playing the Lucky Spin or opening three chests in the game.
How do You Get Paid? 
There are three methods to cash out using the Solitaire Winner app.
As you are probably aware, there are three balances in which you may acquire virtual items; each of them must reach a certain threshold before you can withdraw the money.
Coin balance:

 collect 1 million coins to redeem $300 Google Play, Playstation, Steam, and other gift cards.

Banknoteight balance:

 Reach $300 within 24 hours to cash out immediately.

Amazon balance:

 cash out all the money once you watch 50 videos and play for eight days.
Is Solitaire Winner Legit? Does it Pay? 

No, it doesn't! Solitaire Winner is just another advertisement machine working 24/7 for the developer.
You are forced to spend more time watching videos than playing the game, which is atrocious!
One player said Solitaire Winner is probably the worst Solitaire version he ever played due to the insane number of commercials.
But of course, this is not the worst thing about this application.
After spending hours playing cards and watching videos, they will update the Solitaire Winner cash-out requirement to demand more views.
A player reported that Solitaire Winner set him back to the beginning after watching many videos and entering his account details.

This reward platform is going viral! Cash out via PayPal, Visa, Gift Cards, and in-game currencies - Click here to find out how to generate an extra $10+ per day! 
In other words, the cash reward is totally fake!
They're only leveraging your desire for quick and easy money for their own financial gains. And you won't get a penny!

Conclusion 
Solitaire Winner entices players with prizes, but like other Unity games, the developer does not keep his word.
If you check carefully, most commercials come with a small print at the bottom which says "result is not guaranteed."
Besides, the "Terms of Service" usually don't mention transferring funds to the player's PayPal accounts.
In other words, the developer has no obligation to pay users any cash or give away any prize.
Sadly, thousands of individuals are playing this game under the impression they have a chance to win, while in fact, they have no chance at all!
Avoid wasting hours on a game that exclusively serves the developer's best interests.
Instead, I suggest you build your own online business that runs on your terms and gives you freedom!
I am talking about publishing helpful content that attracts an online audience and generates revenue with banners and affiliate marketing.
No idea what I am talking about? Sign up for this free training and get the training you need to succeed online!
Final Words
Thank you so much for reading my Solitaire Winner review!
What's your frank opinion of this card game? Do you feel angry and frustrated for playing it? Please, share your thoughts in the comment box below.
Peace!