Welcome to my Donut Bobble review!
Perhaps you found this Donut shooting game through a commercial enticing you with fantastic cash rewards!
The advert shows the PayPal logo and lots of cash flowing to the balance account as if you were the luckiest guy in Vegas.
Some people even dream of using that money to buy an actual donut shop. I am not joking!
But what makes Donut Bobble more incredible is that the game is entirely free to play.
That means you will supposedly earn lots of money while having fun with your Android device.
Unfortunately, this opportunity seems to come straight out of a book of fairy tales with no connection to reality.
So, is Donus Booble legit or fake? Does it pay or not? Let's find out!
Before you leave this page, don't miss out on the step-by-step program that helped me to generate $2,000+ each month and quit my job in 2019.
Donut Bobble Review
Name: 

Donut Bobble

Developer:

Anne Brennan

Availability:

 Worldwide

Price:

 Free

Payout threshold: 

$10,000

Overall Rating: 0 stars
What is Donut Bobble? 
Donut Bobble (did they mean Bubble?) is a classic shooter game for Android that offers the opportunity to redeem large sums of money.
The developer entices the player with up to $10,000, which is one of the highest payouts among the so-called "cash games."
The fact that you can win a ridiculous $2,000 in less than a minute of gameplay naturally sets off alarm bells.
You can install the game completely free on the Play Store and start collecting virtual dollars in no time.
Although Donut Bobble has been installed over 10k times, there are still no reviews because of the "Early Access" classification.
How Does Donut Bobble Work? 
Donut Bobble requests permission to make and handle phone calls from the user before running the game.
Why would a video game desire to control my phone? That's another big red flag, in my honest opinion.
You can click deny and proceed with no issues. Next, they will show you a list of bounty missions and the corresponding prize.
Before getting into the game itself, it's essential to mention you will be able to collect three currencies: Coins, diamonds, and virtual dollars.
I will explain how you can collect each of these items and how you can redeem them for money.

How to Play Donut Bobble? 
Just swipe to aim and shoot at identical donuts to eliminate the entire set with at least 3 donuts together.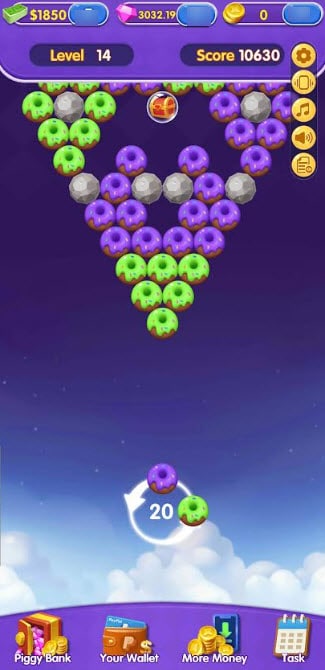 Each level has a bubble with a treasure chest hidden right at the back. Whenever you shoot at this bubble, you will receive a level reward worth hundreds of dollars.
If you tap the "Double reward" button, you can double your earnings and also win gems. This will trigger a commercial you must watch until the end to collect the prize.
One of these adverts promotes this legit gaming app; you must be careful because other videos may be about fake money-making applications.
Another way to make money from Donut Bobble is by opening the "more money" section, which connects users with a platform called adjoe.
First, you must allow usage tracking so that it can track the time you play a game or use another third-party application.
You will receive coins for every minute you use the application.
How do You Get Paid? 
Once you meet specific conditions, coins, virtual cash, and gems can all be exchanged for PayPal money.
If you open your cash wallet, you will discover that all payments you receive in the next 24 hours will be credited to your account when they are due.
The maximum cash prize is $10,000! Crazy right? But there is more!
You can cash out $2, $10 and $20 via PayPal if you get 2000, 10,000, and 20,000 coins, respectively.

Additionally, if you collect 5000, 50,000, and 100,000 diamonds, you will receive $0.50, $5, and $10 through PayPal.
Is Donut Bobble Legit? Does it Pay?
It will probably pay you the minimum cash prize of $2 after you collect enough coins. But that's the maximum you can get out of Donut Bobble. 
Yes, forget about the crazy $10,000 and even the $5 prize, which is nothing but pixels on your phone screen. 
After collecting the maximum cash amount or after 24 hours, you will press the button with high hopes of striking gold. 

This reward platform is going viral! Cash out via PayPal, Visa, Gift Cards, and in-game currencies - Click here to find out how to generate an extra $10+ per day! 
But unfortunately, the developer will update the withdrawal page with the following message:
"Watch 20 videos to activate the order, or you need to wait for 24 hours."

It's important to realize these are only empty words because no User Agreement grants you the right to payouts.
In other words, the developer has no obligation to transfer the money to your PayPal account. Now, if that sounds like a false advertisement, only a judge can give the final verdict. 
Conclusion 
Donut Bobble is another arcade game that entices players with unrealistic cash rewards with no regard for them.
Therefore, I don't recommend you play it unless cash is not your priority! 
The only people who benefit from this app are the developers and advertisers who operate a profitable business off of your time and data. 
Verdict: Not Recommended 
Earn a Full-Time Income Online
One of the best ways to make real money online is to start and operate your own business.
You may think it's too complicated and time-consuming, but I assure you it's worth trying. 
I started my affiliate site back in 2015 and still generate a decent income from it. So it stood the test of time and allowed me to enjoy life to the fullest in the past few years since I quit my 9-5 job. 
If you want to learn about it and how to succeed, don't miss out on this excellent step-by-step program. 
Final Words
Thank you so much for taking the time to read my Donut Booble review! 
What are your honest thoughts on this card game? Please leave your comments in the area below.
Peace!