Welcome to my Bubble Winner review! 
I was testing another shooter game yesterday when I stumbled across an advert for Bubble Winner. 
A familiar blond woman who promotes many fake reward apps was trying to convince me that this one was the real deal. 
In the advert, she apologized and said that due to a server error, many users received only $30. 
Now, the game's official decision is to make a difference by allowing players to win $500, paid directly to their PayPal account. 
In the end, she begs people to give her another chance! Will you trust her? Is Bubble Winner legit or fake? 
Let's find out! 
Before you leave this page, don't miss out on the step-by-step program that helped me to generate $2,000+ each month and quit my job in 2019.
Bubble Winner Review
Name: 

Bubble Winner 

Developer: 

Translation Group

Availability:

 Worldwide

Price:

 Free

Payout threshold:

 $5000

Overall Rating: 0 stars
What is Bubble Winner? 

This reward platform is going viral! Cash out via PayPal, Visa, Gift Cards, and in-game currencies - Click here to find out how to generate an extra $10+ per day! 
Bubble Winner is an Android shooter game that claims you can get random PayPal rewards by passing levels and watching videos. 
The app is operated by Anne Brennan, the same developer behind other money games like Pet Bobble, 2048 Merge Winner, and a few others. 
Bubble Winner is almost identical to the previous game I reviewed called Donut Bobble! 
Like the donut shooting game, you will accumulate virtual money, coins, and diamonds that can be exchanged for actual cash. 
The app has been installed over 50k and is still in development (Early access). That's why you cannot see any reviews on the Play Store. 
How Does Bubble Winner Work? 
Bubble Winner can be installed on Google Play and launched immediately without registration. 
However, the developer will ask permission to access your photos, media, and files. Not only that, but he also wants to make and manage phone calls using your phone. 
I have no idea why they request these permissions, but you don't need to accept them to gain access to the game.

Next, they suggest you earn at least $5000 through PayPal by completing levels and watching videos. 
You can add your account details by clicking the "fill in your account" button. 
You should also be aware that you must collect the money within 24 hours.
This is a well-known scarcity tactic to get people to take action quickly in the prospect of becoming rich.
How to Play Bubble Winner? 
Just aim and shoot to destroy a group of at least three same-color balls.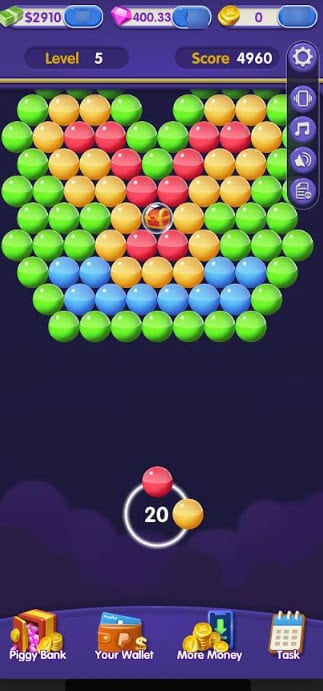 Whenever you hit the chest bubble, you will receive a bonus reward worth a decent amount of money.
Besides, you can even double the prize and gems by tapping the green button and watching the 30-second video. 
Once you eliminate all the balls on the screen, you will receive the level reward.
Again, you have the chance to multiply your earnings and collect diamonds by activating the commercial. 
Earn More Money
Bubble Winner also features the "More money" section, which consists of a list of sponsored games you can install and play on your phone. 
The platform is operated by Adjoe, which awards coins for every minute you play their games. It works similarly to Cash Giraffe. 

You can then exchange coins for cash rewards through Paypal. 
How do You Get Paid? 
Bubble Winner allows you to use all three virtual balances to withdraw money via PayPal: Coins, diamonds, and cash. 
You can request the payment once you meet specific conditions:
Coins:

 Collect at least 3000 coins to withdraw $3.

Gems:

 Collect at least 10000 diamonds to cash out $1.

Cash:

 You can redeem all of the money you earn within 24 hours. The maximum prize is $5000! 
To cash out, you must open your wallet, select the reward you want and follow the instructions. 
Is Bubble Winner Legit? Does it Pay? 
If you're lucky, you may get rewarded $1 or even $3! But don't expect to receive anything more than that.
The cash balance is entirely fake because no game developer could pay you so much money for playing and watching videos. 
So forget about growing your savings account with Bubble Winner.
The only person who is probably making that much money is the developer, who capitalizes on your video views.

After you reach $5000, they will ask you to watch many more videos to activate the order. But even then, you won't get paid! 
The game behaves like hundreds of other fake games that exploit your time for their own benefit. 
Bubble Winner doesn't even provide the Terms of Service, which states the rules and guidelines for using the app. 
This is a big red flag since, without such agreement, the developer doesn't need to reward users who meet the cash-out conditions. 
Conclusion 
Don't bother with Bubble Winner because it's just another fake money game designed to capitalize on your time and data. 
You may get paid $1 or $3 at most, but you can be sure the owner is making even more than that! 
If you want to get paid for playing games on your phone, you'd better stick with reputable apps like JustPlay or Mistaplay. 
Still, you should expect to complete their offer for very little money!
Instead of using gaming apps, I recommend that you create your own internet business.
I'm talking about producing helpful content that draws an online audience and earns you money from different sources. 
This excellent step-by-step program helped me to set up this site that works for me 24/7 and generates life-changing commissions.
Learn more about it and join for free here. 
Final Words
Thanks for reading my Bubble Winner review! If you have any questions or thoughts about this crazy game, share them in the comment box below. 
Peace!