Welcome to my WowTube review!
Do you want to be able to buy anything you want without any stress or worries?
Then, the advert encourages you to try WowTube, a reward app that supposedly pays you to watch short videos for free!
The commercial also entices the audience with the chance of winning $300 and shows a woman holding an expensive bag.
With so many applications treating people like rubbish, you must do proper research to avoid fake dollars on your screen!
In this review, I will expose WowTube and show you whether it pays or not. Can you cash out $5000 just for watching videos? Is it legit?
Let's find out!
Before you leave this page, don't miss out on the step-by-step program that helped me to generate $2,000+ each month and quit my job in 2019.
WowTube Review
Name: 

WowTube

Developer: 

GemCollector

Availability:

 Worldwide

Price:

 Free

Payout threshold:

 $5000

Overall Rating: 0 stars
What Is WowTube? 
WowTube is another reward app that tries to convince users they can win thousands of dollars for watching entertaining videos.
It reminds me of the popular ClipClaps, but paying ridiculously more!
I have already reviewed two very similar applications that don't pay anyone: MoneyVid and TubeBox. Here is my MoneyVid review! 
WowTube was launched recently and achieved over 10k installations in less than a week. So, it's attracting the masses at a staggering rate!
How Does WowTube Work? 
WowTube displays shorts from YouTube and gives you cash rewards for watching sponsored videos.
It's important to know that YouTube does not endorse WowTube, so you should not trust the company based solely on this assumption.
The same can be said about PayPal and Cashapp. Just because WowTube has the PayPal logo on its cash-out page doesn't mean they endorse the application.
WowTube is available on the Play Store and is completely free to download and use.
Unlike most legit applications, you don't need to create an account to access the platform and your digital wallet.
That's just another red flag among many inside the package!
After launching WowTube, swipe to watch YouTube shorts as you do on the official platform.

To collect virtual dollars, you must wait for the progress bar to complete and click the treasure chest.
However, you don't need to watch any video to make the bar move to the right!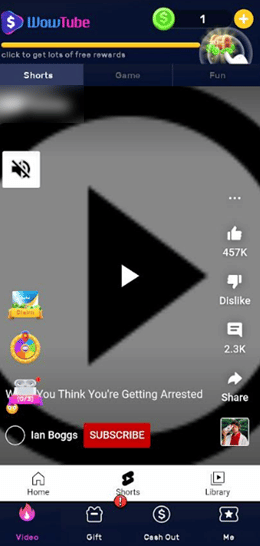 The whole point of WowTube is to expose you to their own advertisements every time you receive the cash reward.
Once you open the treasure chest, you will get Luck rewards worth a decent amount of money. Then, of course, you can click the button and watch a commercial to double your earnings.
In the beginning, you will earn hundreds of tokens, which are worth a decent amount of money.
I am talking about $10 for every 100 tokens! Therefore, you may rapidly reach the $500 minimum cashout level, leaving you with the impression that your employment contract is meaningless!
How Do You Get Paid? 
You can supposedly withdraw the money by selecting the cash out icon at the bottom of the token balance at the top.
Five payment options are available to you: PayPal, Cash App, Amazon, Google Play, and Steam.
However, you cannot redeem until you reach 5000 tokens ($500). That's not the issue, though.
The main problem is to receive the money because unless you get the cash in your account, it's far from real!
According to the app's instructions, your coin redemption application will be issued to your account within 3 – 5 business days.

Mystery gifts
WowTube is going the extra mile to make you watch as many commercials as possible.
But it's essential to make a distinction between videos and commercials. What they call "video" is actually an advert and not a YouTube short.
If you open the gift section, you will discover that you will get five free raffles for every two videos you watch.
Then, tap the open button to collect a random number of puzzle pieces corresponding to the iPhone 13, Nintendo Switch, Samsung Galaxy, and many other prizes.
You can supposedly claim these expensive products if you collect enough fragments for each prize.

This reward platform is going viral! Cash out via PayPal, Visa, Gift Cards, and in-game currencies - Click here to find out how to generate an extra $10+ per day! 
Is WowTube Legit? Does it Pay? 
No, it doesn't! WowTube doesn't reward users for watching videos like it's been advertised.

Therefore, the cashout opportunity is entirely fake, as you won't receive a dime after meeting all the conditions.
Once you collect $500 and try to cash out, you will be prompted to enter your account linked to PayPal or another cashout method.
They will tell you that your order has been successful and that WowTube will transfer the money to you in 72 hours.
But here is the catch: once you go back to the cash out page, the payment will be "processing," and it says you can activate the order immediately by paying the £0.69 fee.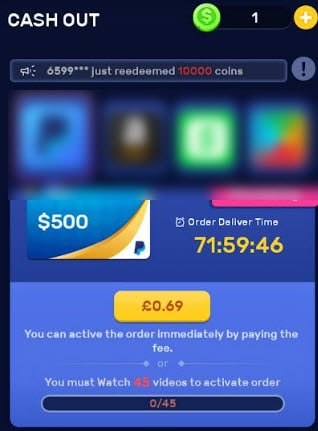 Alternatively, you can watch 45 videos to receive your cash reward. Heck! Paying a few pennies to receive hundreds of dollars makes no sense at all.
Here is my advice, don't pay any fee, and don't waste your time with WowTube!
Otherwise, you will go down the rabbit hole and end up frustrated like thousands of people who have already commented on my website.
If you have already done so, do not seek vengeance or feed on negative emotions. Nothing can be done because these apps seem to be allowed to run their business as usual.
Earn a Full-Time Income Online
Many people are trying to generate a good income from home or while traveling the world.
It is achievable, but you will need a new mindset, a strong commitment, and a desire to work hard.
As importantly, it would be best if you learned from people who walked the way to focus on practical methods that will give you the edge.
There are many paths you can choose on the internet, but content creation is what works for most people! Click here to find out how I achieved my goals and quit my job in 2019! 
Final Words
Thanks for reading my WowTube review. If you have questions about this app or want to share your honest opinion, leave us a comment below. 
Peace!