Welcome to my Lucky For Happy review!
I came across an advert where a woman brags about making $1000 in her spare time by playing Lucky For Happy.
She entices people by claiming that the more you play, the more you'll win.
At the end of the commercial, there is a banner with the promise that it's 100% real and that it pays immediately after playing for 1 minute.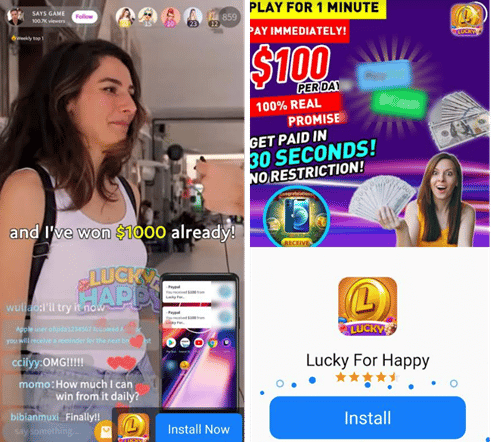 No doubt, thousands of people will install this application in high hopes of earning a significant amount of money.
If you are one of them, I urge you to read this review before investing your precious time.
Is Lucky For Happy Legit or fake? Does it pay or not? Let's dive right in to see how it behaves in real life.
Before leaving this blog, don't forget to check out the step-by-step program that helped me generate $2,000+ per month and quit my job in 2019.
Lucky For Happy Review
Name: Lucky For Happy
Advertiser: Happy Game Ltd
Price: Free
Payout threshold: $1000
Overall Rating: 0/5
What is Lucky For Happy?
Lucky For Happy is a simple board game that allows you to collect an insane amount of virtual cash.
But the crazy thing about it is that you can supposedly withdraw via PayPal and Amazon if you meet the requirements.
One might think that this is nothing more than a simulation. However, the advert said loud and clear that the money was real!
Besides, they are using the PayPal and Amazon logo in the payment section of the game. So, it's meticulously designed to make players believe they can eventually cash out!
The app is available worldwide for Android users and has been installed over 10,000 times.
How Does Lucky For Happy Work?
Installation
Lucky For Happy can be installed on Google Play for free. It has no in-app purchases and requires no registration.
How to Play?
Upon launching Lucky For Happy for the first time, it will show you a PayPal card with the progress bar towards the $1000 prize.
There is also a countdown from 24 hours, a button where you should bind your PayPal account, and the following message:
"You will receive a $1000 PayPal card by playing the game!"
Close this page to start playing.

You have to tap the dice to move the character around the board.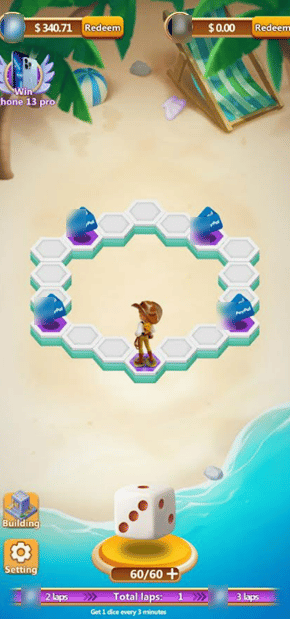 Lucky For Happy gives you 60 dices initially, but you can always get more by watching the video.
Whenever the character lands on the PayPal card, you will get generous cash rewards worth more than $100.
They come may be allocated to either your PayPal or Amazon virtual balance.
Just tap the "get" button to collect your reward.
At first, you won't be required to watch videos to get the prize, but they become necessary after you reach $300 or so.
Do you remember the advert said the game had no advertisements? That's not true!
Be aware that you cannot withdraw your funds until you reach $1000. This requirement applies to both cash balances!
After your character has completed a full circle, Lucky For Happy will give you 4 Gift cards you can flip. Of course, you will always have to watch a video to collect the gifts!
By flipping four cards, you will get puzzle pieces you can use to redeem for the real iPhone 13 Pro. 
Is Happy For Cash Legit? Does it PayPal?
No, it doesn't! There is no chance Lucky For Happy will transfer all that money to you.

Don't even waste your time sending emails and trying to find a solution because there is no way to cash out.
The money you see in Lucky For Happy is worth $0 in real life because the developer will not pay you.
I have tested so many fake games that I don't even need to download and play them to know the outcome.
Most of them will ask you to accumulate a specific amount of money only to come up with video requirements.
Lucky For Happy is no different!
It won't take long to reach $1000, and find that you will need to run an additional 30 videos.

This reward platform is going viral! Cash out via PayPal, Visa, Gift Cards, and in-game currencies - Click here to find out how to generate an extra $10+ per day! 
Remember they advertised the game by saying you would have to play for 1 minute? You were lied to!
I was reading the reviews on Google Play and was not surprised to find lots of complaints.

One player reported watching 10 videos, but Lucky for Happy kept saying there were still 30 videos left.
It was not counting down. But even if it was, he would probably hit another roadblock that would make him watch more videos.
Likewise, you won't get the iPhone even if you collect all the fragments.
Check out the top apps that will pay you to try new games! 
Conclusion
I advise you to uninstall Lucky For Happy because it's a dull game preying on people's time and mobile data.
You won't receive the money regardless of how many requirements you meet.
The way the developer advertises the game is enough to know what it is all about: A fake money game designed to maximize passive income for them.
The idea of making $1000 by playing a free casual game is nothing but a pipe dream.
Take it as a lesson and avoid any other similar game regardless of how appealing and convincing they are.
 Earn a Full-Time Income Online
Many people worldwide are making thousands of dollars by creating online content.
You don't need to be an expert to create a website and attract an audience.
Thanks to this excellent program, I set up a WordPress site and learned powerful techniques to rank articles on Google.
By following a clear plan of action in their training, I started making life-changing commissions and quit my job in 2019 to travel the world.
You can also build an online asset that will give you the freedom you want!
Final Words
Thanks for reading my Lucky for Happy review. If you played this game and would like to share your honest opinion, use the comment box below.
Your contribution is really important for the people who are reading this blog!
Peace!