Welcome to my Happy Animal Match review!
The commercial for this game shows a woman holding a wad of cash in her hands and saying:
"I got all this money from Happy Animal Match within 10 days". 
I couldn't resist and took a screenshot: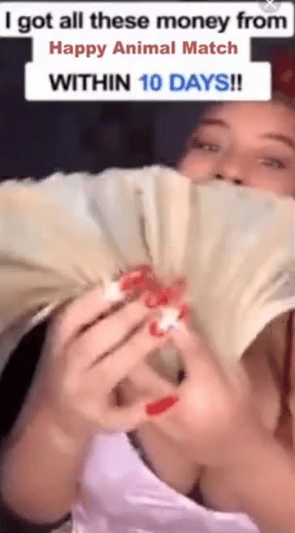 When I found that over 100,000 people had installed the game, I knew I had to take quick action.
Most people regret playing these games since they are only helping developers make profits.
Therefore, people must do proper research before investing their time. That's why you are here!
So, is Happy Animal Match legit? Can you earn lots of money just like that woman in the video? Let's find out!
Before leaving this page, don't forget to check the step-by-step program that helped me generate $2,000+ per month and quit my job in 2019.
Happy Animal Match Review
Name: Happy Animal Match
Advertiser: Master Li
Price: Free to play (VIP: $9.99/week)
Payout threshold: $100
Overall Rating: 0/5
What is Happy Animal Match? 
Happy Animal Match is a classic game where you match 3 of the same animals to complete the level.
The gameplay is similar to Candy Crush's, but with great cash incentives!
Like most money games, the developer will entice you to reach a specific amount before you can withdraw via PayPal or Amazon.
They also claim that you must complete 700 levels to redeem a $100 iTunes or Google Play gift card.
Happy Animal Match is free to play, but there is a weekly VIP membership that removes the adverts and adds extra bonuses.
How Does Happy Animal Match Work? 
The game is available worldwide for Android devices. So, you can install the app on Google Play and enjoy the game with no registration.
By clicking the "Permission" link,  the app has access to contents in your USB storage. In other words, the developers can read, modify and delete any files on your phone or tablet.
This is very concerning because you have no guarantee that your data will be safe!

How to Play? 
Playing Happy Animal Match is pretty straightforward.
Swap animals and try to place at least three identical animals side by side. When you do so, they will merge into a different creature.
Unlike similar games, it doesn't show the level of each animal, making it difficult to plan ahead.
The goal is to eliminate a specific number of animals using the least number of moves.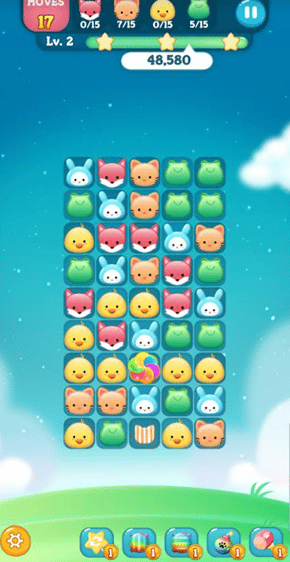 As you are playing Happy Animal Match, it will give you a few PayPal bubbles at the bottom. Click them to collect cash rewards.
Keep in mind you may have to click the button and watch the video to claim the reward.
In addition, you will get more virtual dollars after you complete the level.
It can be hard to achieve the goal without running out of moves. Therefore, you want to use some tools such as bombs, hammers, and rockets.
Withdrawing your Funds
The minimum cash-out requirement is $100, and you can withdraw via PayPal or Amazon gift cards.
Simply tap the PayPal logo, choose the payment method, and press "Cash out."
You will have to enter your correct email address and wait for 1 – 3 working days. It seems pretty easy, right?
So, what happens next? Will the money be deposited into your account?

Is Happy Animal Match Legit? Does it Pay? 
No, it doesn't!
As you already know, you cannot cash out until you reach $100. However, lots of players report getting stuck before achieving this amount.
Happy Animal Match will stop giving cash coupons when you are close to the payout threshold. From prizes will stop when you get $95 – $96!
This is a common tactic deployed by app developers to increase advertising revenue. This slot game behaves similarly! 

This reward platform is going viral! Cash out via PayPal, Visa, Gift Cards, and in-game currencies - Click here to find out how to generate an extra $10+ per day! 
Remember, you agreed to watch countless videos with the expectation of receiving the money. Instead, they made you waste all that time for nothing!

Conclusion 
Happy Animal Match doesn't provide a real opportunity to earn money by matching animals.
I am sure you would install other popular match-3 games if your sole intention were to have fun and pass the time.
Instead, you installed Happy Animal Match in hopes of earning lots of money like the woman in the advert.
I'm afraid this will never happen. Or else everyone would have quit their jobs by now!
I advise you don't even think about purchasing the VIP membership, or you will also waste your hard-earned money.
If you want to get paid by playing a match-3 game, try Bitcoin Blast. It does transfer BTC via Coinbase, but you may have to play for months to earn the equivalent of $1.
A much better option would be to install the Freecash app, and the complete game offers worth a few dollars.
This app went viral in the past few months and is paying everyone who accumulates at least $0.10 by completing simple tasks.
Final Words
Thanks for reading my Happy Animal Match review. I hope it was informative and helped you save time!
Kindly use the comment box below to share your honest opinions about this game.
Peace!