Welcome to my Golf Cash review!
I was playing one of those fake games to review for my blog when I stumbled across an advert for Golf Cash.
The graphics looked good, but what caught my attention was the opportunity to earn real money by completing levels.
Considering the sheer number of deceitful applications on Google Play, I decided to investigate and find the truth.
I installed the app and tried to complete all the requirements to see if it would transfer the money. 
So, is Golf Cash legit or fake? Keep reading to find out!
Before leaving, don't forget to check out the step-by-step program that helped me reach 2,000 USD+ per month and quit my job in 2019. No special skills are required! 
Golf Cash Review
Name: Golf Cash
Developer: Mega World Wide
Availability: Worldwide
Minimum payout: $0.25
Price: Free to join (no in-app purchases)
Overall Rating:

2.5/5
What is Golf Cash?
Golf Cash is a 3D golf game for Android devices that supposedly rewards players with real money.
The developer also operates Scratch4Cash, Scratch Cards Pro, and Scratch2Win.
Golf Cash has been installed 100K times, which is remarkable considering Mega World Wide launched the game three months ago.
At first, I thought it would offer unrealistic payouts just like other fake games. But I couldn't be more wrong!
The pay rates are comparable to legit loyalty apps for gamers like Money Well and Mistplay.
It also requires that users complete game offers to cash out. That makes the reward system way more realistic and trustworthy.
How Does Golf Cash Work?
Golf Cash is available for free on the Play Store for Android devices. 
After installing the app, they show you a quick tutorial that explains the game's mechanics.
The goal is to complete the level by hitting the ball into the hole.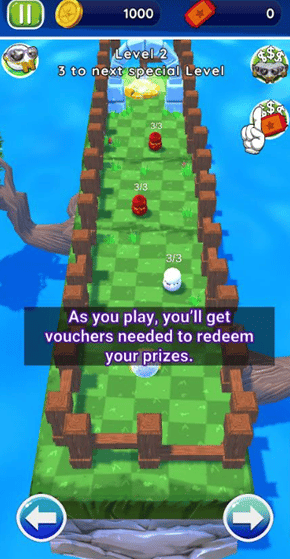 Keep in mind there is a limited number of strokes, so use them wisely.
You will get one new stroke every minute, but you can also purchase 5, 20, and 50 strokes with coins.

Just swipe your finger to aim and shoot the ball.
Once the ball hits the hole, you will pass the level and earn 1000 – 1500 coins. Tap the green button and watch the video to multiply your coin reward by 3.
Sometimes, you need to tap the left or right arrow to rotate the camera before shooting. 
Golf Cash claims you will win real money every ten levels.
But there is a catch – You will need to collect vouchers! 
Collecting Vouchers
Once you finish the 10th level and tap the claim button, you will find a list of payouts starting at 0.25 USD.
But to withdraw the money, you must collect 25000 vouchers by installing and playing third-party games.
Golf Cash will ask you to allow usage tracking so they can monitor your playtime and reward you accordingly.
Also, you cannot unlock higher prizes before claiming the previous one.
After you tap "claim" again, it will open a list of games with the number of vouchers you can earn per minute of gameplay.
Select "Play now," install the app on Google Play, and enter the game through Golf Cash's "your Apps" section.
This step is crucial because if you open the game from the main window, it won't track your playtime, and you won't receive the vouchers.
As expected, the more you play the game, the fewer vouchers you will get per minute.

How to Withdraw Your Funds?
You can only cash out once you collect enough vouchers depending on the cash amount.
The first prize is $0.25, and you need to collect 25,000 vouchers.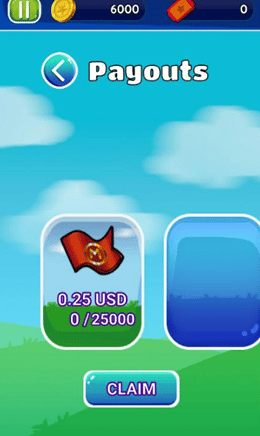 It takes a very long time to reach the target, but you will get there if you stick to it.

This reward platform is going viral! Cash out via PayPal, Visa, Gift Cards, and in-game currencies - Click here to find out how to generate an extra $10+ per day! 
Is Golf Cash Legit? Does it Pay?
Yes, Golf Cash is a fair game that does payout!

When I saw $0.25 on my PayPal account, it shocked me because it's not common to find an honest developer these days.
It took just a few hours for the money to be deposited.
I checked lots of reviews and found that many players were able to cash out multiple times with no issues.
Unfortunately, not everyone is happy with Golf Cash since they have to install and play other games. Besides, some people complain about glitches and low pay.
Indeed, the app will entice you to play partner games for hours to collect all those vouchers.
They are full of advertising, so you will waste a lot of data.
Conclusion
Golf Cash is a 100% legit money game!
The earning potential is very low, and it takes ages to accumulate 25,000 vouchers to cash out.
But that's what anyone should expect from a legitimate app that pays users for playing games.
There are too many deceitful applications that promise hundreds and even thousands of dollars.
They use the PayPal logo in the advert to make it more appealing.
I am glad to attest that Golf Cash is not one of them, and you will probably receive your winnings as long as you meet the requirement.
Earn a Full-Time Income Online
I was never fond of spending hours online in return for pennies.
That's why I set up an affiliate website to make money on my own terms and achieve freedom!
Thanks to this step-by-step program, my posts rank high on Google and attract thousands of visitors per day. 
As a result, it generates a decent income month after month! 
I love operating an online business because I can open my laptop whenever and wherever I want and work independently!
Therefore, I get the chance to travel the world and do whatever I want with my time. 
If you want to learn more about how you can do the same, check out my top recommendation.
Final Words
Thanks for reading my Golf Cash review. Did you play this game and receive the cash as promised?

Please, share your experience in the comment box below!
Peace!