Welcome to my Scratch Magic review!
Over 50,000 people have installed Scratch Magic to play free scratch-offs and possibly win real money.
I found this game through a commercial showing a PayPal account with a $100 balance.
They say all you have to do is play games, collect coins and earn cash rewards!
I have tested countless scratch card games, most of which don't play fair with users.
How about Scratch Magic? Is it legit or fake? In this review, I will show you exactly how it works and whether you will receive the payment as advertised.
Before leaving, don't forget to check out the step-by-step program that helped me reach 2,000 USD+ per month and quit my job in 2019. No special skills are required! 
Scratch Magic Review
Name: Scratch Magic
Company: Scratchmania
Eligibility: Worldwide
Minimum Payout: $0.25
Price: Free
Overall Rating: 1/5
What is Scratch Magic?
Scratch Magic is a game where you collect virtual dollars by playing scratchers on your Android device.

This reward platform is going viral! Cash out via PayPal, Visa, Gift Cards, and in-game currencies - Click here to find out how to generate an extra $10+ per day! 
According to the app description on Google Play, the game requires no deposits.
Besides, the developer claims that payments are guaranteed.
Of course, this seems too good to be true, and you may wonder how the developers can afford to pay everyone.
After all, the game is entirely free!
You will soon find out how they generate revenue while you are playing.
How Does Scratch Magic Work?
You can download and install Scratch Magic on Google Play in any country.
Next, you need to follow a quick tutorial before scratching.
Scratch Magic's menu has a variety of scratch card tabs, each with a bigger prize.

You start the game in the first tab, which has 1 million prizes of up to $2.
To unlock additional levels, you need to scratch a specific number of cards.
How to Play Scratch Magic?
It's pretty simple!
The first step is to scratch the "winning numbers" section to uncover two numbers.
Next, scratch the lower section called "Your Numbers."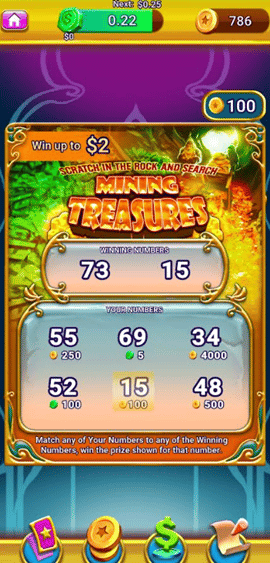 If any of your numbers match any winning numbers, you will be awarded the reward indicated by that number.
Prizes comprise virtual cash and coins that you can use in the game.
Although each scratch card is free, you must buy them with digital currency (coins).
Each scratch card consumes 100 coins from your balance, and the game starts with 500 coins.
At first, it seems very easy because you frequently earn coins to keep the ball rolling.
But it won't take long before you run out of coins and bite the bait.

Collecting Coins
The developers have cleverly integrated a game platform similar to Mistplay, Cash 'em All, and JustPlay. Check out my JustPlay review here!
Therefore, it will entice you to download and play these games to collect coins.
But there is a catch! The more you play, the longer it takes to collect the same number of coins.
I downloaded and played it for a while to see if the coins would be credited, and it did. They gave me over 600 coins, so I could scratch an extra six cards.
However, I quickly ran out of coins again since the scratchers didn't help me as before.
Besides, I had accumulated $0.22 with my first 500 coins and nothing with the additional 600 coins I had collected.
This is where the developers will start making profits because they get paid whenever you download and play those games.
So, I collected another 600 coins only to see them vanish without making a single cent.
How Do You Get Paid?
Scratch Magic has a minimum payout threshold of $0.25, and you can only cash out with PayPal.

Open the payout screen and select the amount ($0.25, $0.50, or $0.75) to claim your cash prize.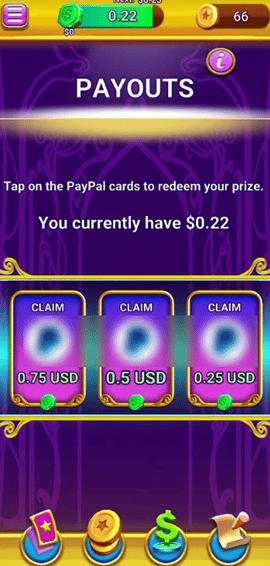 The app asks you to fill in your PayPal email address and password.
This looks very suspicious because companies don't need your PayPal password to transfer the money.
According to the company, the money will be available in 24 hours.
But I don't recommend putting your PayPal account at risk for pennies. It's not worth it.
Is Scratch Magic Legit? Does it Pay?
Scratch Magic is a legit app, but after reading many reviews, I found that many players are not receiving the money.
Some of those who got paid said they couldn't collect more virtual dollars to receive a second payout.
Most people struggle to reach $0.25 and give up because they only collect worthless coins!
As I mentioned, I made $0.22 reasonably quickly, but the scratchers didn't give me a single penny for my successive 70 attempts.
This tells me the game is rigged to entice you to complete the game offers.
But the developer gives you useless coins instead of sharing the commission with you as other apps do.
Conclusion
I strongly advise you to avoid Scratch Magic and similar scratch card apps!
They are nothing but a waste of time since the most you can get are a few cents of the dollar.
What's worse, you are at risk of sharing your PayPal password with the developer.
If you want to get paid for playing games, use legit game apps here in this post.
Earn A Full-Time Income Online
The feeling of being your own boss and working remotely is indescribable.
By creating a website and putting in the effort, I generated enough commissions to quit my job in 2019
Then we bought a one-way ticket to South East Asia and have enjoyed life like never before.

If you are interested in learning how to replicate my results and pursue your dreams, check out this post for all the details! 
Final Words
Thanks for reading my Scratch Magic review. I hope it helps!
If you want to share your experience with this game, feel free to use the comment box below.
Peace!