Welcome to my Bank Bingo Slot review!
Thousands of people are installing Bank Bingo Slots with high hopes of solving all their financial problems.
The advert for this game claims you will get an average of $600 per month and make you rich in 2022.
Besides, it shows a fridge full of cash, followed by a luxurious Lamborghini!
It's very unrealistic, but the use of the PayPal logo convinces many players who believe the company is sponsoring the game.
I decided to put this application to the test and read lots of reviews to find what players are thinking about it.
Is Bank Bingo Slot legit or fake? Does it pay once you meet the cashout requirement? Let's find out!
This Amazing System Helped Me Build A Profitable Website And Earn Over $2K Per Month. Check out the key steps and start today!
Bank Bingo Slot Review
Name: Bank Bingo Slot
Company: BiuBiuBiu
Availability: Worldwide
Type: Entertainment with no financial risk
Price: 100% free
Payout threshold: $1000
Overall Rating: 1/5
What Is Bank Bingo Slot?
As the name suggests, Bank Bingo Slot is a game that combines bingo and slots under the same roof.
The game was developed by BiuBiuBiu using Unity.
You can activate the slot machine at the lower portion of the screen to mark your cards with cash bags.
Once you complete a horizontal, vertical, or diagonal line on your card, you get BINGO!
As a result, you will earn all the virtual dollars inside those bags.
You will also collect puzzle pieces for a chance to win iPhones, Macbooks, AirPods, and more!
Bank Bingo Slot has been rated 4.5 on the Play Store, which seems great!
However, many 5-star reviews were left by players who were still pursuing the minimum cashout limit.
How Does Bank Bingo Slot Work?
Installation
You can install Bank Bingo Slot for free on Google Play. There is no need to create an account or provide any information.
How to Play Bank Bingo Slots?
Once you launch Bank Bingo Slot, it says you can redeem an iWatch worth $499 just by clocking in and spinning 20 times for three days.
Crazy, right?
Next, you will see a 5-reel slot machine and a 5×5 bingo card right above it.
The slots feature a variety of symbols, such as banknotes, coins, and money bags.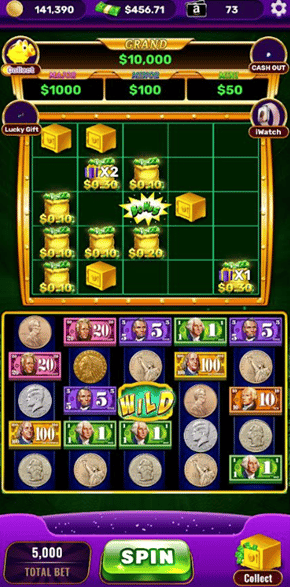 You need to press the spin button and wait for the reels to stop.
Once it does, all the money bags will be automatically stamped on the corresponding places in your scorecard.
Earning Cash Rewards
Each bag that I mentioned in the last section contains anywhere between $0.10 and $0.30.
Whenever you call Bingo, all the virtual dollars in these bags will be added to your balance
The cash prizes add up if a bag lands in the same position more than once.
In addition, Bank Bingo Slot rewards players whenever banknotes and coins land in a specific pay line.
It gives you different prizes from $5 to $300 depending on the winning combination.
If you want to understand more about the pay lines, open the settings page and read the instructions.
I must confess I had a hard time understanding the winning combinations.
You will always get cash prizes as long as you keep spinning and watching the videos.
You will also get Amazon cards and puzzle pieces to win a lucky gift from time to time.
How do You Get Paid?
You can either open your cash balance or tap the "cash-out" icon on the right-hand side.
Then, you will find three options:
PayPal – Earn $1,000
Cash App – Earn $1000
Amazon gift cards – Collect 300 Amazon cards
According to the game rules, Bank Bingo Slots will send your reward within seven business days when you pass the assigned level.
However, Bank Bingo Slot has no levels because it's only about collecting virtual cash. So, I found this statement weird!
Is Bank Bingo Slot Legit? Does it Pay?
No, it doesn't! This app is nothing more than a slot simulation with no actual cash rewards.
First of all, it's important to realize the developer is generating revenue according to how many videos you watch.
That explains why you will spend hours on this game trying to reach endless requirements.
As you know, you will need $1,000 to cash out, but that's only the first condition!
Once you get there, Bank Bingo Slot will require that you watch 60 videos to activate the order, which is a big lie!
Believe it or not, there will be another 80 videos waiting for you and another excuse. In the end, they won't pay you a dime!
Please don't fall for it because the money only flows in one direction: from advertisers' bank accounts into the developer's pockets.
You will get no compensation for the time and data you wasted watching those commercials.
Click here to find legit apps with real prize draws! 
Conclusion
Avoid Bank Bingo Slot because it doesn't provide a real slot experience. So, the rewards are totally fake!
The game is not intended to reward players who accumulate $1,000 since the developer could never afford it.
The only ones who benefit from these games are developers and companies that pay them to run advertisements. Learn more about fake money games here! 
Verdict: Not Recommended
There are many legit methods to make money online, but becoming a content creator is one of the best options.
With proper training and enough motivation to succeed, you can achieve great results just like I did.
I was a complete newbie when I joined this step-by-step program back in 2015.
They helped me set up this website, attract visitors and make life-changing commissions.
I feel blessed to have found Kyle and Carson along my make money online journey.
Final Words
Thanks for reading my Bank Bingo Slot review. So, what are your thoughts about this game? Write down in the comment box below!
Peace!