Welcome to my Chain Cube 3D review!
The creator of Chain Cube 3D is promoting his app as an opportunity to win lots of money by merging Cubes.
You have to aim and shoot cubes of the same number to collect diamonds.
Once you reach the Payout threshold, you can supposedly exchange them for real cash rewards!
The game will entice you to watch a commercial to open the chest and collect the diamonds.
As a result, you should be prepared to invest a significant amount of time and data.
But what if Chain Cube 3D is fake? Can you imagine the frustration if they ignore your payment request?
That's why it's essential to read reviews, especially about money-making apps.
So, is Chain Cube 3D rewarding players? Is it legit or fake? Let's find out!
Before leaving this blog, don't forget to check out the step-by-step program that helped me generate $2,000+ per month and quit my job in 2019.
Chain Cube 3D Review
Name: Chain Cube 3D – Drop Number 2048
Advertiser: 4Fun Club
Price: Free
Payout threshold: $5
Overall Rating: 0/5
What is Chain Cube 3D?
Chain Cube 3D is an Android game where you merge cubes to collect generous cash rewards.
The app was released in 2021 and has over 1 million installs on Google Play.
There are lots of similar games promising much bigger cash rewards! For example, Shoot Cubes 2048 is enticing players with cash prizes worth more than $500.
Chain Cube 3D also gives puzzle pieces you can redeem for Free Fire, Roblox, and League of Legend skins.
How Does Chain Cube 3D Work? 
Chain Cube 3D is available Worldwide for Android devices. You can install it on Google Play and start the game immediately without creating an account.
The game consists of a board with numbered 3D cubes. Your job is to aim and shoot at identical cubes, so they merge into higher numbers.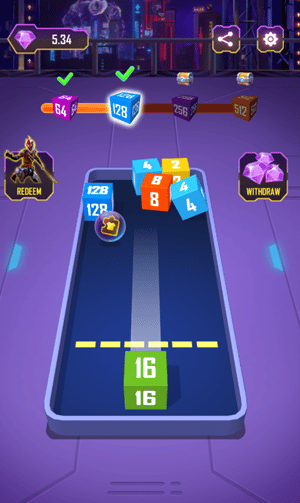 The resulting number will always be double the previous one and follows the sequence: 2, 4, 8, 16, 32… 2048. 
That's why games like Chain Cube 3D are known as 2048 games.

The cube bounces up and may combine with another cube of the same number.
Whenever you unlock the new number, you will get the chance to open the chest and win diamonds.
To collect the reward, you must tap the "claim" button and watch the video until the end.
Advertisers pay the developer to display those videos, so you are helping them make more money by viewing them.
You can expect to earn anywhere between 0.10 – 0.16 diamonds.
But since one diamond is worth one cent, each box gives you fractions of a cent. 
Sometimes, bubbles will appear on the board in front of the other cubes. You will collect skin pieces for League of Legends, Free Fire, or Roblox when you hit them.
Don't waste your time with fake money games! Instead, check out this excellent reward app and get paid for your online activities! 
Withdrawing Cash and Skins
You can withdraw money by first opening the diamond balance.
Then, select your withdrawal method, enter your account information and select the cash amount.
Note that if you are a US resident trying to cash out for the first time, the minimum payout threshold is $5. In other countries, the minimum is just a few cents!
After withdrawing your first $5, you can supposedly redeem anywhere between $1 and $1000.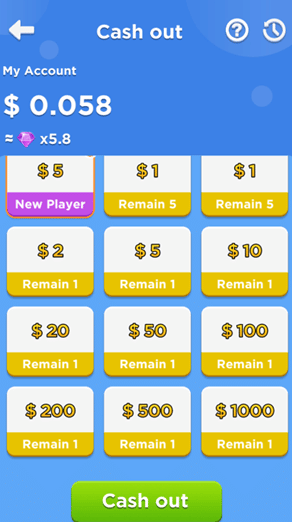 Since each diamond is worth $0.01, it will take ages to accumulate $5 and cash out.
Once you collect 100 skin pieces, you can redeem skins for your favorite game.
Is Chain Cube 3D Legit? Does it Pay? 
If you are playing Chain Cube 3D in a country where you can cash out a few cents, then yes, you may get paid.
However, if your cash-out requirement is $5 or more, forget about it! You won't get paid!

This reward platform is going viral! Cash out via PayPal, Visa, Gift Cards, and in-game currencies - Click here to find out how to generate an extra $10+ per day! 
I have checked lots of reviews on Google Play and couldn't find a single person who received more than $1!
Many players reported getting stuck before reaching the payout threshold of $300 because they stopped getting diamonds.

The developer is not serious about rewarding players as payments would decrease his profits considerably.
Since the app is not obligated to pay, you will be left empty-handed.
The same applies to game skins! Unfortunately, you won't get them even if you collect 100 skin puzzles.
Conclusion 
Chain Cube 3D has excellent graphics and gameplay, but the reward aspect is a complete joke!
The developer uses virtual dollars and game skins as bait to hook the player for many hours.
As a result, you will watch hundreds of videos that won't earn you any money. Learn more about fake money apps here. 
If you installed Chain Cube 3D with the sole intention of getting paid, I recommend that you uninstall it.
It's now worth playing even if you live in a country where you can cash out a few cents.
The reason is that you will waste a lot of mobile data which most likely costs more money.
Earn a Full-Time Income Online
You can make thousands of dollars by becoming a content creator. People have used this strategy for decades to earn a steady income while working remotely.
If you want to start your content-based business and grow a large audience, this excellent training will guide you every step of the way. 
It helped me set up this website, earn my first affiliate commissions and scale to a job-replacing income.
In short, it has completely transformed my life!
If you have enough motivation to succeed, start the free lessons and take massive action!
Final Words
Thanks for reading my Chain Cube 3D review! Have you tried to cash out? Did you receive the payment or not?
Please, share your experience with this game in the comment box below.
Peace!