Welcome to my ChipWin 2248 review!
Over 1 million people have installed ChipWin 2248 after watching a crazy commercial on their phones.
The advert entices people with the opportunity to win a ton of money just by merging numbered chips.
I have seen this story being told hundreds of times and know the outcome!
Google Play is jam-packed with casual games promising big cash prizes, but none have been proven to pay.
That's why I am very skeptical.
But, perhaps ChipWin 2248 is the one who will finally pay you at least $500 and allow you to live a luxurious lifestyle.
So, is ChipWin 2248 legit or fake? Will it transfer the money to your PayPal account? If you value your time, keep reading to discover the truth.
Also, don't forget to check out the step-by-step program that helped me generate $2,000+ per month and quit my job in 2019. There is a free starter membership to test the waters!
ChipWin 2248 Review 
Name: ChipWin 2248
Advertiser: BeX.mobile
Price: Free
Payout threshold: $500
Overall Rating: 0/5
What is ChipWin 2248? 
ChipWin 2248 is an Android game where players can supposedly earn cash rewards by connecting chips.
The gameplay is not innovative, and you can find hundreds of similar games on Google Play.
But of course, people are installing this game to collect virtual dollars and cash out.
ChipWin 2248 gives players a ludicrous amount of money every time they merge PayPal chips and watch the video.
How Does ChipWin 2248 Work? 
Installation 
You can install the game for free and play immediately with no registration.
I checked the permission section and found that ChipWin 2248 has access to photos, media, and files.
That means the developer has significant control over the contents in your phone. For example, he can read, modify and even delete your files without your explicit permission.
Sign in Bonuses 
When you open the game, it shows a page with big cash prizes if you sign in for seven consecutive days.
You will receive a sign-in bonus of $50 on the first day and goes up to $150 on the 7th day.

Just tap the "collect" button and watch the commercial until the end to collect the reward.
VIP Membership
After collecting your sign-in bonus, ChipWin 2248 will encourage you to purchase the VIP function for £4.39 per week. There is a 3-day free trial.
As a VIP user, you will enjoy the following features:
Remove interstitial adverts during the gameplay.
20 Lucky Coin every day – Use the Coin to skip videos and get rewards directly.
Activate VIP exclusive, which provides lots of prizes and exclusive rights.
How to Play ChipWin 2248?
It's super easy! You just have to link all the chips of the same number by sliding your finger over them.
You can connect at least two chips horizontally, vertically, and diagonally. So, there are lots of opportunities to make progress!
After connecting the discs, they will combine to form a single chip with a higher number.
For example, two numbers 16 will unlock a chip number 32.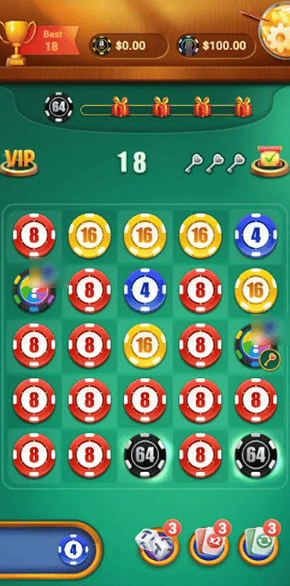 The progress bar will advance and eventually hit the gift symbol by merging the chips.
As a result, it will trigger the Big Win section where you can flip the cards to win PayPal or Amazon dollars.
You will also get PayPay cards whenever you link a chip with the PayPal logo. To collect the money, you are given a choice to watch the video or use lucky coins.
The catch is that you can only get lucky coins by purchasing a VIP membership!

Another way to trigger rewards with ChipWin 2248 is by collecting three keys to open the Lucky Chests. These chests may give you more Amazon and PayPal dollars.
How do You Get Paid?
You can cash out only after your PayPal or Amazon balance reaches $500 and $1000.
Once you reach the cashout limit, tap the redeem button and enter your email linked to your PayPal or Amazon account.
Here is something very important you should know. The form has two spaces where you need to enter your email twice.
However, many players make a serious mistake of entering their password there.

This reward platform is going viral! Cash out via PayPal, Visa, Gift Cards, and in-game currencies - Click here to find out how to generate an extra $10+ per day! 
If you did that, I urge you to log into your PayPal or Amazon account and change your password immediately.
Never enter your password on these apps because you never know what the developer is up to.

I have seen reports from people who lost a lot of money after playing games that behave similarly.
Are you tired of fake money games? Check out this top reward app!
Is ChipWin 2248 Legit? Does it Pay? 
No, it doesn't! ChipWin 2248 won't pay you a dime regardless of how hard you try!
Even though the game has been officially released on Google Play, there are no reviews.
This is a big red flag because you want positive reviews if you have a nice product and are doing the right thing!
Well, not the creator of ChipWin 22 and now you know why!
After collecting $500 in my PayPal balance, a white hand pointed to the cash right at the top.
Then, I pressed the redeem button and entered a fake email address to test the system. I knew I would never get paid, so I didn't bother.
Next, there was a 72-hour countdown with the following message:
"You can get $500 in 3 days. This order has been successfully submitted, and your money will be transferred to your PayPal account in 72 hours."
After closing the page, I discovered that I had to watch 100 videos in order or pay £0.59 to activate the order.
Here is the screenshot as proof: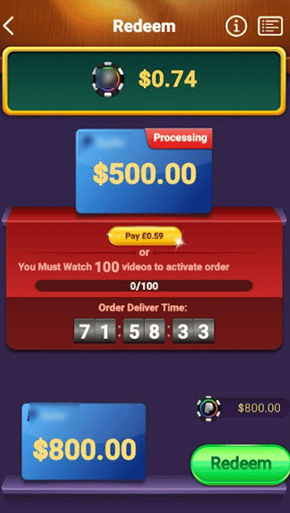 ChipWin 2248 is not only training you to waste your time, but also they are after your money!
Legit platforms never ask users to pay a fee to receive money stored in a virtual wallet.
Don't fall for it because they will take your money and never pay out.
Conclusion 
Don't waste your time playing ChipWin 2248 because the cash rewards are fake!
Not only are the developers generating profits with advertisements, but they are also trying to get money from unsuspecting people.
First, they ask you to reach $500 by playing the game and watching many misleading videos.
Then, you discover you must watch an additional 100 videos or fake the relatively small fee of £0.59.
Of course, many people will pay the fee since they are about to win $500 with little effort!

It's a clever tactic to profit from your time and money by selling the illusion of easy money. 
As you probably know, there are lots of fake money games out there trying to take you for a fool.
Making money by playing mobile games is possible. Click here to find the best apps! 
Final Words
Thanks for reading my ChipWin 2248 review. I hope it was informative and helped you save time.
If you have any questions or thoughts about this game, please use the comment box below!
Peace