Welcome to my POP Chip Star review!
I am writing this article to expose another app advertised as a real cash game!
The commercial for POP Chip Star claims that if you download it now, you can get a $100 bonus.
Besides, it promises to pay directly to your PayPal account with no withdrawal requirements.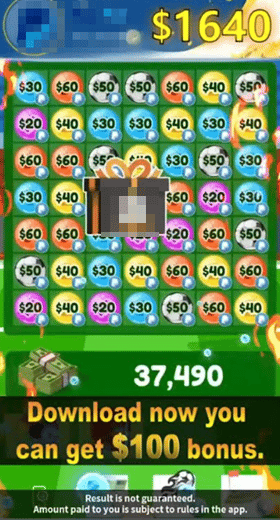 In the end, a large PayPal logo with $4900 appears. At the bottom of the page, there is a small print that says:
"Result is not guaranteed. Amount paid to you is subject to rules in the app."
So, can you make real money just by playing this elimination game? Is it legit or another time-waster?
Let's find out!
Before leaving, don't forget to check out the step-by-step program that helped me generate $2,000+ per month and quit my job in 2019. There is a free starter membership to test the waters!
POP Chip Star Review 
Name: POP Chip Star
Advertiser: Mike Ross Daniel
Price: Free
Payout threshold: $1000
Overall Rating: 0/5
What is POP Chip Star? 
POP Chip Star is another elimination game where you touch groups of identical chips to pop them.
You will collect virtual cash in your PayPal or Amazon wallet as you destroy them.
Once you launch the game, the developer claims this is a real cashout game and that you can withdraw all the money.
However, the app description says absolutely nothing about rewards, as if it were a typical game.
It only mentions that the more chips you eliminate, the higher your score.
POP Chip Star has been installed over 100k times and rated 4.6 stars out of 5. It seems like most users are happy as they are making a ton of money!
But if you check the reviews, you will find lots of complaints and no trustworthy reports of real payouts.
How Does POP Chip Star Work?
Installation 
POP Chip Star is available for Android 4.4 and over on Google Play. After installing the game, you can play it immediately without registration.
The permission section reveals that the developer has access to contents in your USB storage, such as photos, media, and files.

Therefore, they can read, modify and even delete data stored on your phone or tablet.
How to Play? 
Simply tap where you find two or more identical chips to eliminate them and earn points.
To reach the target and complete the level, you must destroy as many blocks as possible.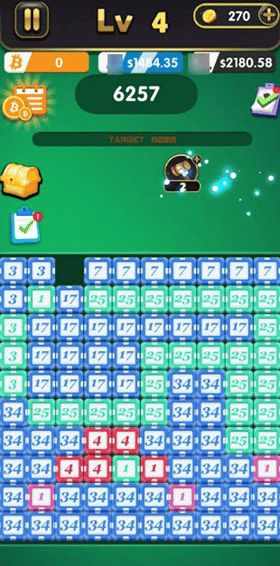 Use the hammer or the pencil to eliminate certain blocks and achieve a high score.
By eliminating a large number of chips, you have the chance to win PayPal or Amazon cards with a decent amount of money.
The first prize I received was a whopping $1396.11. That's insane!
POP Chip Star will give you so much "money" that you will reach $10,000 in less than 1 hour of gameplay.
In addition, the game claims that you can withdraw 0.1 BTC directly after completing the 3-day mission. That is worth more than $3000!
For example, you need to reach level 10 and open six chests on the first day.
Speaking of chests, you can use keys to unlock chests and collect even more cash rewards.
How Do You Get Paid? 
When you open the PayPal wallet, POP Chip Star says you will redeem all your collected money within 24 hours.

However, you can cash out as soon as you reach $1000 or after collecting your first reward.
Just tap "Fill in account" and enter your email address linked to your PayPal or Amazon account.
Be careful because POP Chip Star provides two spaces and tells you to input your PayPal account.
Many people will put their email addresses in the first field and their passwords in the second.
Don't enter your password because you don't know what the developer is up to! There is a significant risk involved!
If you already did, I urge you to log into your account and change your credentials as soon as possible.

This reward platform is going viral! Cash out via PayPal, Visa, Gift Cards, and in-game currencies - Click here to find out how to generate an extra $10+ per day! 
Is POP Chip Star Legit? Does it Pay? 

Do, it doesn't! You will watch hundreds of videos and won't earn a single penny.
I read lots of reviews on Google Play, and all I could see were complaints and lots of frustration!
The game will let you redeem right after receiving your first PayPal coupon.
However, the withdrawal page will be amended with the requirement to watch one more video.
Great! So, you agree to play again and watch another video to activate the order.
But now, they say the order is processing, and the delivery time is 72 hours. Watch 80 videos to apply immediately without waiting!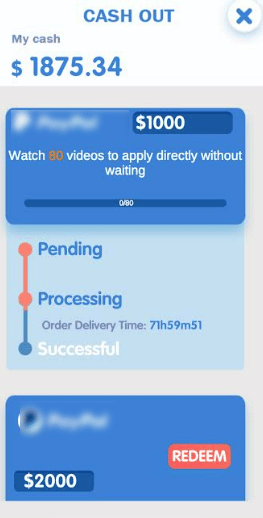 That's nonsense!
Have you ever heard that statement: Fool me once, shame on you. Fool me twice, shame on me!
Right! I suppose this also applies to those who watch those 80 videos only to fill the developer's pockets.
The number of negative reviews from people who went through this and didn't get paid is staggering.
Please, don't play POP Chip Star with the expectation to cash out, or you will be very disappointed.
All you're doing is watching videos that help developers generate money from advertisements.
Here is a legit elimination game that pays real Bitcoin. 
Earn a Full-Time Income Online
Playing mobile games won't help you earn thousands of dollars as most money games advertise.
They are only designed to waste your time and maximize profits for app developers.
If you want to earn this income level, you must change direction and focus on providing value.
One of the best methods is launching a website and publishing helpful content that ranks on Google and attracts visitors.
It takes time, but the income potential is high if you think outside the box and work consistently. Not to mention it gives a high level of control and freedom over your life!
My advice? Join this step-by-step program and follow their clear plan of action. That's what I did!
This training helped me create this website you are reading and go from $0 to $2,000 per month.
It's a blessing because it gives me the autonomy to run my business remotely and the way I want.

Final Words
Thanks for taking the time to read my POP Chip Star review.
If you want to share your thoughts about this game and how you feel about it, leave us a comment below. I'd love to hear from you!
Peace!