Welcome to my Match Snow review! 
Perhaps you already downloaded Match Snow with the expectation of winning something big! 
The commercial portrays a guy saying you will get $100 per day just by playing this casual game on your phone.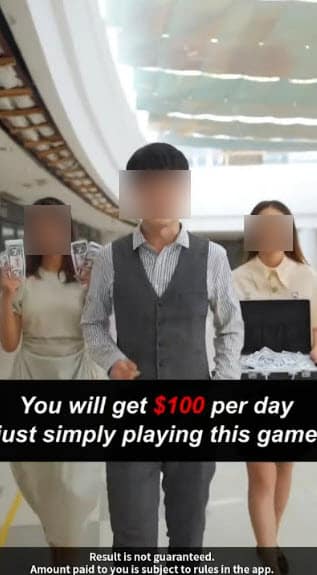 Behind him, two smiley women show off stacks of cash in their hands as if the app could help anyone become filthy rich! 
Then, it shows a game simulation with a cash balance growing at the speed of light, reaching over $1000 in a few seconds. 
It's crazy to even think about the possibility of winning so much money with a risk-free game. 
Will the app actually transfer the money, or is it all a scheme to convert users into advertising profits? Let's find out! 
Before you leave this page, don't miss out on the step-by-step program that helped me to generate $2,000+ each month and quit my job in 2019.
Match Snow Review
Name:

 Match Snow

Developer: 

Hayenda

Availability:

 Worldwide

Payout threshold:

$14,999

Overall Rating: 0 stars
What is Match Snow? 
Match Snow is a casual puzzle game where players supposedly earn real cash rewards for matching animals. 
You just have to swipe and align at least three creatures at the same level to unlock a new one! 
It follows the same concept as hundreds of games I exposed in this blog, such as Fruits Legend and Witch Gems. Here is my Fruits Legend review! 
Match Snow is trying to convince people they will be able to withdraw money via PayPal once they accumulate a ridiculous amount of cash. 
Of course, this is a tempting offer, especially since the game is completely free! So, what have you got to lose?
How Does Match Snow Work? 
Match Anow is available on Google Play for all Android users and is 100% free. 
The app makes money by flooding gamers with advertising while they try to collect virtual rewards. 
Most commercials persuade viewers that they can make easy money and get rich quickly.  
That's how you discover many other games using the same tactic to increase profits while ignoring all payment requests. 
The game consists of a 5×5 grid with different high-latitude animals, such as polar bears, penguins, and seals. 

Simply swap to match at least three identical animals. As a result, they will merge into a higher-level creature and trigger a high cash prize worth hundreds and even thousands of dollars.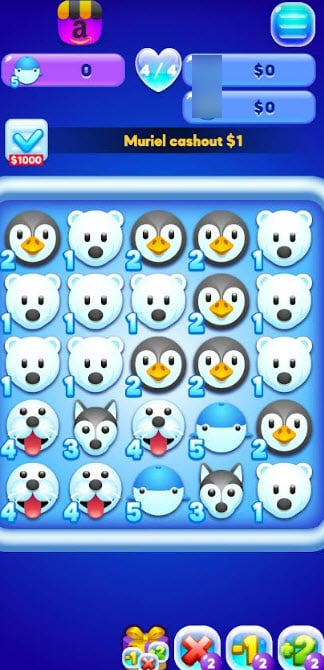 They come as PayPal or Amazon cash and are added to separate balances. 
You can also collect cash rewards by merging animals with PayPal and Amazon balls. 
After the second cash prize, you will be enticed to watch the video until the end as a condition for receiving the money in your account. 
Match Snow provides a few tools to make it easier to merge the creatures and make progress. For example, you can use the red cross to eliminate any animal on the grid. 
How do You Get Paid? 
Inside the PayPal wallet, you will find that all the money you collect will be redeemed after 24 hours. 
However, you can supposedly cash out immediately without waiting if you collect the magic amount of $14,999! 
Just fill in your account details and hope for the best! 
Your Amazon balance can be redeemed after collecting at least $10,000, but much higher rewards are waiting for you!
But are they for real? Find out in the next section! 
Is Match Snow Legit? Does it Pay? 

No, it doesn't! Like hundreds of fake money games, Match Snow will make you jump through hoops and never pay you a dime! 
The developer advertises the apps as an opportunity to receive immediate cash rewards, but that's not true! 
Once you meet the first condition, you will be asked the wait for another 24 hours or watch 80 videos.
Unfortunately, many people will choose the second option since they are eager to win thousands of dollars. 
Again, no compensation will be given unless you watch another 60 videos to activate the order. 
It's essential to realize this is a game lost from the beginning as this is not an actual money-making application. 

This reward platform is going viral! Cash out via PayPal, Visa, Gift Cards, and in-game currencies - Click here to find out how to generate an extra $10+ per day! 
Otherwise, the pay would be ridiculously low, and every user would have to register with an email address, Google, or social media account. 
Once user said that after watching 80 videos, Match Snow asked him to pay a $3.99 cross-border transaction fee.  

Sadly, he paid that ridiculous fee only to be told he would have to wait 15 days. Of course, he will not receive a dime after the deadline because the cash is totally FAKE! 
I believe it's not even possible to get the money back, which is disgusting, to say the least! 
Conclusion 
I hope more people find this review before installing, wasting time and money with Match Snow! 
The game uses the same marketing tactic as countless apps to increase corporate profits without regard for players. 
Cash prizes are totally fictitious, as no firm would provide so much money for simply playing and watching commercials. 
There are legitimate sites where you get paid to play games and install applications. Here is my top-rated gpt site! 
You should not expect to make a ton of money with it, but at least members get paid fairly for their online activities. 
Earn a Full-Time Income Online
The best approach is always to operate your own online business, which can help you boost your online income to extraordinary heights.
You can follow this excellent step-by-step and learn from those who walked the way!
That's what I did back in 2015 to create this lucrative site from scratch. Thanks to my affiliate site, I can work from home and enjoy unlimited travel while earning passive income on my online accounts. 
Final Words
Thank you for taking the time to read my Match Snow review!
So, how do you feel about this match-3 game? Please leave a message in the box below to help ward others. 
Peace!