Welcome to my TallyUP review!
TallyUP is being advertised as an opportunity to win big money just for playing mini-games against opponents.
The application is 100% free and allows you to participate in exciting battles whose winners will double their earnings.
It reminded me of another popular gaming app called Givvy, but way more competitive and addictive!
Unlike many fake money games, TallyUP is not enticing players with unrealistic cash rewards.
Instead, you will start with as little as 1 cent and double your earnings as you defeat your rivals.
Once you hit $10, you should be able to withdraw the money using PayPal. But the question is: Does TallyUP actually pay? Is it legit or fake?
Let's find out!
Before leaving this page, don't forget to check out the step-by-step system that helped me to generate $2,000+ a month and quit my job in 2019.
TallyUP Review
Name: 

TallyUP – Tiny Games, Big Money

Developer: 

TallyUP!

Membership Eligibility:

Worldwide (18+)

Price:

 Free 

Overall Rating: 3/5
What is TallyUP Review? 
TallyUP is an Android app where you match wits with other users in addictive mini-games.
This gaming application allows users to participate in tournament challenges and level up for real cash prizes.
You start with $0.01 and risk winning double or nothing.
The great thing about TallyUp is that you don't have to make any deposits to play with your own money.
If you end up with $0, you can always spin the wheel for a chance to start over!
TallyUP has been installed over 100k times and received a 4.4 rating on the Play Store.
How Does TallyUP Work?
TallyUP is supported by adverts, but the good news is that you will only see them occasionally.
To access the mini-games, you must create a free account using your Google account or phone number (the US or Canada).
You begin the first game Magnet Madness with $0.01, and play against another player who also has a penny.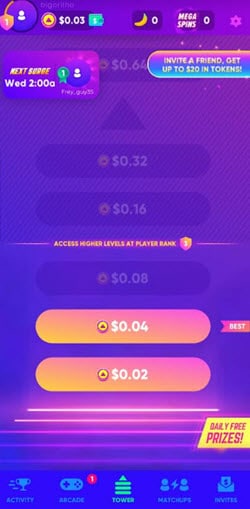 In this game, you will collect coins by charging your magnet higher than your opponent.

If you get ten coins before your rival, you will get $0.01 and leave the contest with a total of $0.02. Otherwise, you will lose $0.01 and walk away with $0.
Whenever your balance drops to zero, you can boost your balance up to $0.50 by spinning the wheel.
Another option is to invite a friend and play the mega spin wheel for a chance to win much higher prizes of up to $20.
As you achieve specific milestones, you will unlock new games. However, you cannot just pick the ones you want to play since TallyUP selects one randomly.
I enjoyed the Monkey Business because it doesn't involve as much luck as Magnet Madness and Crystal Caverns.
The Crystal Caverns is 100% luck, so I don't recommend risking a large sum of cash because if you play this game, there is a 50% chance of losing.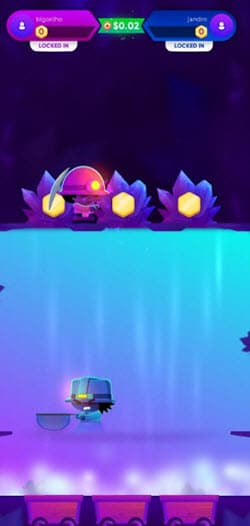 However, most games require strategic thinking, so it's possible to move up the tower quickly if you are a good strategist.
In the arcade section, you can earn a few cents and bananas by completing goals. Use Bananas to get special tournament access, game advantages, and other VIP perks.
How do You Cash Out? 
Although you see cash amounts in the tower, you are winning tokens currently worth $0.01.
You can supposedly withdraw via PayPal once your balance reaches $10.
Pros and Cons

Pros
There are few adverts. 

The games are very addictive and fun.

User-friendly. 

There is no cost to play the games. 
Cons
Sometimes, you will play AI opponents or bots instead of real players.

Many players report glitches that allow the opponent to win.

Games rely strongly on luck!
Invite a Friend
Each friend who joins using your affiliate link gets you (and your friend) one free mega spin, allowing you both to win up to $20 worth of tokens.
Open the Invites section, click "send invite link," and share it through social media.
Is TallyUp Legit? Does it Pay? 
I cannot give you 100% certainty that you will get paid, and that's because it's tough to find people who succeeded.  

This reward platform is going viral! Cash out via PayPal, Visa, Gift Cards, and in-game currencies - Click here to find out how to generate an extra $10+ per day! 
After browsing the Play Store for a long time, I noticed numerous negative reviews from players who cannot cash out. 
It's really tough to reach $10 and withdraw the money. But I found people who made it and still didn't receive the money. 

A woman said that just when she was ready to cash out, her account was disabled, and all her previous earnings were gone. 
She spent a month playing TallyUp games to have everything vanish overnight! 
Don't get me wrong! You may get paid, but there is no guarantee that you will receive the money even if you reach $10.
Another concern about TallyUP is that not all opponents are real people.
Plus, considering some games rely on luck, it's possible that bots have an unfair advantage over players, making it very hard to win.
In reply to a review on Google Play, the company claimed that their top player SuperDad cashed out over $3,000!
I checked the top balance earners and found the same user has now reached over $4,000, which is quite hard to believe.
Yes, you can see a list of players and how much they have earned, but the question is: Are those top earners even real?
Conclusion 
There is no solid proof that TallyUP is a fake app, but I wouldn't hold much hope for the $10 prize. 
That's because some games like the Crystal Cavern rely heavily on luck, and the company has the final word regarding cash rewards. 
I really enjoyed playing TallyUP mini-games since they are fun and require strategic thinking to beat your opponent. 
But those who are just playing it for the money should look elsewhere. 
That's because it may take a very long time to cash out, and there are no guarantees the company will compensate you for your effort. 
A decent app that many people recommend nowadays is JustPlay! I recommend you check my JustPlay Review here! 
This popular application allows you to play sponsored games and get paid every 24 hours if you meet the target. 
Earn A Full-Time Income Online
It feels great to get rewarded for your playtime, but here is the thing.
You can use your time to build a thriving internet business that could even replace your 9-to-5 job.
For example, a website can attract thousands of readers per day and generate revenue using different models.
One is affiliate marketing, which is receiving commissions for promoting the products of others.
With this strategy, I have been able to pay all my living expenses and achieve freedom by earning a reliable income online. 
If you want to build a lucrative site as I did, join the best step-by-step program here! 

Final Words
Thanks for reading my TallyUP review. If you have questions or thoughts about this gaming app, leave us a comment below.
Peace!