Welcome to my Border Agent review!
Thousands of people are playing Border Agent with high hopes of making an easy $1000!
You are probably on the same boat, shooting soldiers and watching videos to comply with their never-ending requirements.
This application is enticing players with virtual dollars and the opportunity to cash out at least $1000 via PayPal.
In one of their commercials, the guys claim there is no withdrawal restrictions as winning will be paid straight to your account.
It's hard to imagine players generating extra income with this uninteresting game.
So, is Border Agent legit or fake? Does it pay or not? Let's find out!
Before leaving this post, remember to check out the step-by-step system that helped me to generate $2,000+ each month and quit my job in 2019.
Border Agent Review 
Name:

 Border Agent

Developer: 

YY Happy

Availability:

 Worldwide

Price:

 Free

Payout Threshold:

 $200

Overall Rating: 0/5
What is Border Agent? 

This reward platform is going viral! Cash out via PayPal, Visa, Gift Cards, and in-game currencies - Click here to find out how to generate an extra $10+ per day! 
Border Agent is a casual Android game where you shoot the enemy and collect PayPal cash as you make progress.
Whenever you defeat the agent or soldier, you will collect coins that you can use to level up your destructive impact.
As you shoot the opponents, you will get occasional PayPal bubbles that trigger cash prizes.
Virtual dollars accumulate in your account, but you can withdraw the funds once you reach $1000.
That same old tactic is found in hundreds of other money games! 
How Does Border Agent Work? 
Border Agent is accessible to Android users worldwide and is absolutely free to play.
After launching the app, it will show you an enticing message: "FREE CASH – Collect a $1000 PayPal card to withdraw cash."
Border Agent is perhaps one of the most boring games I have ever played!

I may have tested over 300 games on this blog alone, not to mention the hundreds I have played since 1987. 
Your character keeps shooting toward the enemy without any action from you. However, you can touch the screen to shoot faster and collect more rewards in a short time.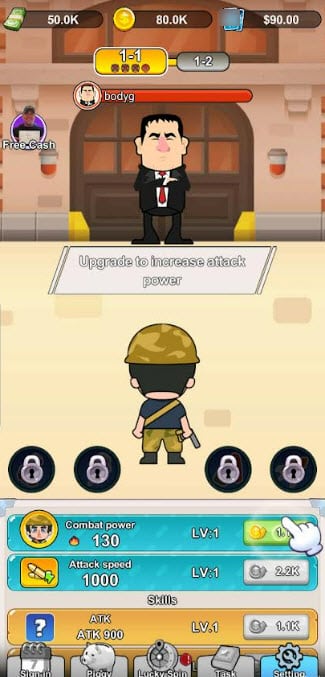 By defeating the agent, you will gain coins that can be used to level up and increase the attack power.
Border Agent will also display bubbles with the PayPal logo occasionally.
Clicking the bubble will activate PayPal cards, which can only be added to your account when you hit the get button and watch the commercial.
Believe it or not, the massive $1000 prize is one of many incentives that Border Agent offers its players. 
I am sure you have noticed the iPhone 14 and the Airpods icons on the side. 
You can redeem the iPhone after collecting 150 puzzles by spinning the wheel, Signing in, or completing tasks (watching videos).
As for the Airpods, you can win them just by playing the game for three days. How generous! 
How Do You Get Paid? 
At first, Border Agent makes you think you can withdraw the money when you reach $1000. 
But as you will see in the next section, that's only the tip of the iceberg, as additional requirements will emerge! 
Discover the best survey apps to make money here! 

Is Border Agent Legit? Does it Pay? 
Not, it doesn't! You should not expect to make real money with Border Agent as virtual dollars have no real-world value. 
The game is advertised as an opportunity to withdraw with no restrictions. But, of course, that is a blatant lie because you will face restriction after restriction!
First, they claim you will receive the money after you reach the $1000, which, unlike this dice game, takes little time to achieve.
Great! So, you enter your PayPal email and press confirm, only to find that you need to view five videos to cash out. 
That's the ultimate red flag you need to confirm that a game is not rewarding players. 
Despite being as clear as crystal, many individuals will only learn the hard way!
So, can you guess what happens after watching meeting this requirement? Your order will stay under review, and you will be asked to watch another 30 videos in 1 day. 
Here is the proof that Border Agent doesn't pay a dime!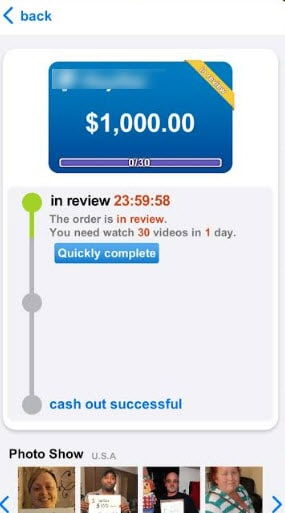 Conclusion 
Border Agent is an unattractive game that can only generate profits by enticing players with real cash rewards. 
That is the method developers use nowadays to increase revenue without worrying about content.
People desperate for money will cling to anything that can bring quick and instant results. Unfortunately, this is the right recipe for failure and disappointment! 
Don't waste your time with Border Agent because it doesn't even provide an entertaining experience, let alone $1000! 
If you want to get paid for playing games on your Android, there is no better option than joining a gpt site with gaming offers. 
Earn a Full-Time Income Online
Instead of earning pennies with games, you could grow an online business with the potential to generate thousands of dollars a month.
For example, the page you are reading belongs to a site that attracts thousands of people worldwide and generates decent revenue. 
Thanks to this step-by-step program, I created this website from scratch even though I had no previous experience in web design and marketing.
It covers all of my living expenses and gives me the kind of freedom that no other business or job can! 
Click here to learn more and start now! 
Final Words
Thank you for reading my Border Agent review! Please, share your thoughts about this game in the comments section below. 
Peace!