Welcome to my Space Alien 2248 review!
I'm writing to expose another money game that has gone viral in the last two weeks.
Space Alien 2248 has been promoted as an opportunity to win over one thousand dollars by merging weird creatures.
You have to swipe and connect aliens of the same level to unlock excellent cash rewards!
The balance grows at the speed of light, reaching over $5000 in less than 10 minutes of gameplay.
Of course, it feels like the developer is printing money for you out of thin air!
Given the absurd minimum cash withdrawal of $14,999, you're probably wondering if this is another trick!
Is Space Alien 2248 legit or fake? Will they pay you through PayPal and Amazon? Let's find out!
Before you leave this page, don't miss out on the step-by-step program that helped me to generate $2,000+ each month and quit my job in 2019.
Space Alien 2248 Review
Name: 

Space Alien 2248: Chains Saga

Developer:

 JIAYI LIU

Availability:

 Worldwide

Price:

 Free

Payout threshold:

 14,999 USD

Overall Rating: 0 stars

This reward platform is going viral! Cash out via PayPal, Visa, Gift Cards, and in-game currencies - Click here to find out how to generate an extra $10+ per day! 
What Is Space Alien 2248?
Space Alien 2248 is an elimination game in which players link identical alien creatures to collect virtual cash.
After the 24-hour countdown, the game claims to transfer all the money to your PayPal account.
But I am not talking about a few pennies here and there! Instead, space Alien 2248 is giving cash coupons worth thousands of dollars that are added after each video.
That's why the game is becoming increasingly popular among people who dream of making easy money. 
Earn cash for answering quick surveys with this top-rated app! 
How Does Space Alien 2248 Work?
Space Alien 2248 is available on the Play Store for Android users worldwide. It is entirely free to join and does not require registration.
The developer's primary objective is to persuade gamers to view as many videos as possible. 

This is because the app generates revenue through adverts, so the more you watch them, the more it profits from your time.
Upon launching Space Alien 2248, there is a message saying this is a real cashout game that you can redeem money in your wallet. 
You will collect virtual dollars by playing the elimination game, which involves linking and merging creatures. 
The merging is successful when you connect aliens of the same level or in the following order: 2, 4, 8, 16, 32, 64… 2048.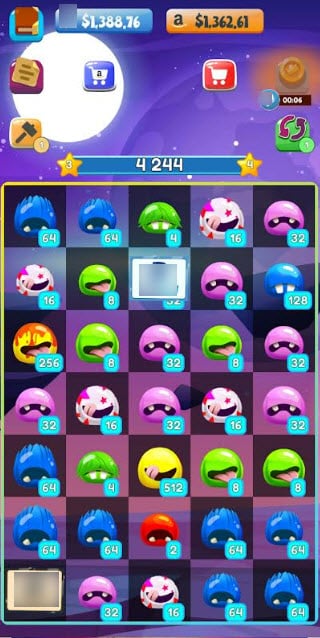 As a result, the beasts will merge into a higher number aliens and occasionally trigger a PayPal or Amazon cash reward. 
You then have to click the "confirm" button and watch the video to collect the virtual cash. 
The first couple of rewards are worth more than a grand, which is ridiculous.
I lost count of how many identical games I reviewed in this blog with the same income claims! Here is my Monster Emoji review.
If you don't click to confirm, the advert will be pushed down your throat anyway! 
You may also see PayPal or Amazon cards replacing some aliens on the grid. You can merge these items with a creature of any level to trigger more cash rewards! 
How Do You Get Paid? 
Despite rapidly accruing thousands of dollars, you may only withdraw to your PayPal account after 24 hours or when you hit $14,999.
As for Amazon Gift Cards, the minimum payout amount is $10,000! 

Is Alien Space 2248 Legit? Does it Pay? 
No, it doesn't! 
After testing so many games like Alien Space 2248, I didn't even need to install and go through all the nonsense again. 
However, my aim is to provide you with the most accurate and complete information on any reward app. 
That is why I test every one of them to expose their strategies in detail.
I believe this will help empower more people to avoid future traps designed to waste their time and hard-earned money. 
With Alien Space 2248, you will be lured into watching lots of videos to reach the target because you don't want to wait 24 hours. 
However, the closer you get to $14,999, the less money you will get.
It plays with your psychology because if the incentive drops and it feels so close to cashing out, you are less likely to give up!
But make no mistake. You won't receive the money regardless of what appears on your screen after the first condition is met. 

Conclusion 
Alien Space 2248 is a fake money game that will make you watch countless videos with no chance of winnings. 
They give you over $1,000 in the beginning to give the impression you will reach $14,999 quickly.
But as you get closer to the payout threshold, the rewards decrease to less than $3 at a time, making players feel like donkeys chasing the carrot. 
These app developers should not be allowed to make ridiculous income claims to boost their own profits. It's shameful! 
Please save time playing Alien Space 2248 or any game that entices you with unrealistic cash prizes. 
They are nothing but marketing tools that earn passive income for the creators. 
Final Words
I hope this review answers all your questions about Alien Space 2248. So, how was your experience? Let us know in the comment section below.
Thanks for reading!