Welcome to my Huuuge Tube review!
The company behind Huuge Tube is enticing people to install the app, watch short videos and earn real cash.
One of their commercials with the Halloween theme claims that users who download the game now will receive $300 directly.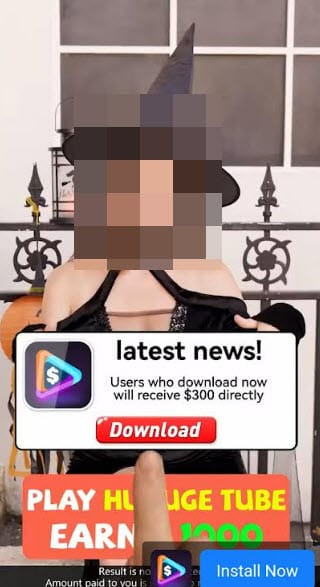 But there is more! At the end of the video, there is a banner that says 5 hours for $3,000. 1 Hour = $590.35.
Many people are not resisting the temptation even though the left side of their brain screams FAKE!
If you are considering investing your time using Huuuge Tube, please read this post until the end.
Will $500 or more eventually land in your pockets? Is it legit or fake? Let's find out!
Before you leave this page, don't miss out on the step-by-step program that helped me to generate $2,000+ each month and quit my job in 2019.
Huuuge Tube Review
Name: 

Huuuge Tube

Developer: 

Dillon Sinclair

Availability:

 Worldwide

Price:

 Free

Payout threshold:

 $500

Overall Rating: 0 stars

This reward platform is going viral! Cash out via PayPal, Visa, Gift Cards, and in-game currencies - Click here to find out how to generate an extra $10+ per day! 
What Is Huuuge Tube? 
Huuuge Tube is another attractive application that claims to pay users large sums of money for viewing YouTube shorts.
The platform generates revenue by bombarding you with advertisements and gives you coins redeemable for cash.
Unlike a popular app called ClipClaps, Huuge Tube tries to convince users they can withdraw at least 500 USD quickly.
Note the app is still classified as "Early Access," meaning hasn't been fully launched yet.
As a result, users are unable to rate the application and answer pertinent questions, such as whether the company pays or not.
How Does Huuuge Tube Work? 
Huuuge Tube is a free Android app that does not require creating an account.
Upon launching it on your phone or tablet, you will be greeted with a compelling question: Are you ready to win cash by watching short videos and playing games?

Tap confirm and then select the withdrawal method, such as PayPal Dana, Coinbase, and PicPay.
Next, Huuug Tube will start running YouTube shorts, primarily funny and interesting videos that go viral on social media.
At the top of the screen, you will see a progress bar completed in less than 5 seconds.
When it's complete, click this bar to collect coins and click the "Claim 2x" button to double your winnings.
Each coin is worth 0.10 USD, and your first prize will kickstart your balance with 2000 coins worth 200 USD!
That's how you collect coins in the video section effortlessly.
In addition, you can also enter the tab where you can choose from a variety of games you can play inside the app.
But unlike loyalty apps for gamers like Mistplay or JustPlay, you don't get rewards for installing and playing them.
Instead, Huuuge Yube will display a page full of banners and a coin bubble floating on your screen.
They want you to click the bubbles to collect coins, but only after watching the commercial!
You can find the list of games by switching tabs, and while playing them, the coin bubble will always disrupt your gaming experience.
How do You Get Paid? 
You can withdraw 500 USD after collecting the minimum cashout amount of 5000 coins.
Enter your cash balance, select the reward and enter your account details. 

Is Huuuge Tube Legit? Does it Pay? 
No, it doesn't! This app behaves similarly to one I reviewed a few days ago called VicTube! Here is my VicTube review! 
The closer you get to collecting 5000, the fewer coins Huuuge Tube will give you after each video. 
Despite that, it will take a little while to meet the payout threshold and see the message that you can redeem now. 
Unfortunately, the developer is only using fake cash to boost profits at the expense of the player's time.
Virtual dollars are nothing but bait to get people to use this tedious application and watch commercials.
After you press the redeem button, the app says you must activate the order by watching 15 videos within 24 hours.
It threatens to invalidate your order if you don't complete this task in time. 
Instead of watching videos, the developer gives you the alternative of paying a USD 1,99 service fee to activate the order instantly.
I urge you to refrain from paying this outrageous fee since the money will never be sent to your account! 

Conclusion 
Don't waste your precious time trying to make money with Huuuge Tube, or you will end up "huuugely" frustrated! 
YouTube videos and games are just an excuse to make it seem like you are getting paid to do something. 
However, the developer would never transfer so much money simply because advertisers don't pay that much.
And even if they didn't, app developers would only share a small slice of the pie. 
These apps using PayPal logos and big cash prizes are not serious about rewarding anyone except the developer.  
So, do yourself a favor, uninstall Huuuge Tube for good, and never consider a similar application again. 
If you want to make real money online, here is my recommendation: Build an online business and attract an audience you can monetize. 
You can generate excellent commissions by setting up a website and promoting products as an affiliate, as I do. 
What I love about this method is that I earn passive income while enjoying life and traveling. But of course, first, you have to learn and put in the work to reap the rewards later! 
Click here and follow the best step-by-step program to create lucrative sites! 
Final Words
Thank you for taking the time to read my Huuuge Tube review. I hope it was eye-opening! 
Please leave any concerns or questions in the comments section below.
Peace!