Welcome to my Cake Shop review!
Another elimination game made with Unity is enticing players with the opportunity to win over $1,000!
Cake Shop is all about connecting identical candies of the same level to merge them and earn incredible cash rewards.
One of the advertisements states that you could make $300 each day, which defies logic!
It's hard to believe that one can win so much money by playing casual games that are 100% free.
With that in mind, you probably wonder if Cake Shop is legit or fake. Can you withdraw the funds to your PayPal account?
Let's find out!
Before you leave this page, don't miss out on the step-by-step program that helped me to generate $2,000+ each month and quit my job in 2019.
Cake Shop Review
Name: 

Cake Shop: Merge Sweets

Developer: 

My Game Space

Availability:

 Worldwide

Price:

 Free

Payout threshold:

 $1,500

Overall Rating: 0 stars
What is Cake Shop? 

This reward platform is going viral! Cash out via PayPal, Visa, Gift Cards, and in-game currencies - Click here to find out how to generate an extra $10+ per day! 
Cake Shops is a tempting match-3 game where you merge sweets to unlock great cash rewards.
The puzzle game is based on the same principle as Candy Crush and has the same appetizing theme!
By placing at least three identical sweets side by side, you will earn virtual cash that will be transferred into your PayPal or Amazon account.
Then, you can supposedly cash out if you meet the conditions in the app.
Cash Shop is still in the Early Access category, meaning you cannot publish reviews and rate the game on Google Play.
How Does Cake Shop Work? 
Cake Shop is available for all Android devices in the Google Play store.
There are no in-app purchases, and the game doesn't involve any kind of investment.
After launching the game, you will discover a great offer: winning an Apple Watch by checking in for three days.

Next, you will see the special cash page, with the PayPal card and a progress bar that goes from $0 to $1500.
There is also a cash-out button, suggesting you can withdraw this money once you reach the target.
The goal is to swap and place three or more treats of the same level together. As a result, they will merge into a higher-level candy and generate instant cash rewards.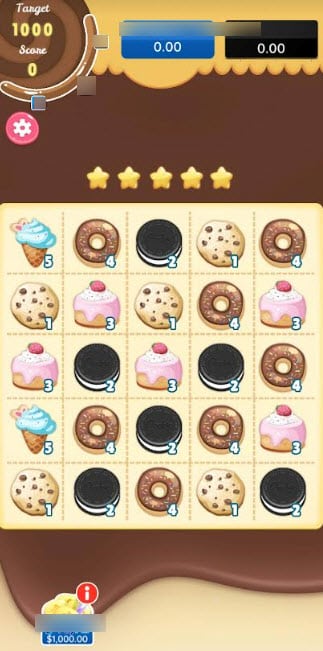 When you achieve a combo, Cake Shop may trigger a PayPal card worth over $100!
However, you can only receive virtual dollars if you press the "get" button and watch a commercial.
You can also activate more cash rewards by achieving score milestones and opening gift boxes. 
If you open four boxes, you will receive puzzle pieces that may be redeemed for an iPhone 13 Pro.
Join this legit money-making app and earn an excellent signup bonus! 
How do You Get Paid? 
There are two withdrawal options: PayPal and Amazon gift cards. The former quires at least $1,500, whereas the latter requires $1,000 to cash out!
Is Cake Shop legit? Does it Pay? 
Not, it doesn't! Cake Shop will let you accumulate $1500 and submit your payout request within 30 minutes or so. 

However, none of the cash and other prizes you see are real, meaning you have no chance of winning. 
Once you press the Redeem button, Cake Shop will tell you that you must meet two conditions: 
First, reach $1,500, and second, watch 15 videos! 
They did not immediately inform gamers since the plan is to introduce more requirements gradually so they are less susceptible to giving up.
As you watch videos to meet your goal, your Cake Shop will continue to reward you with hundreds of dollars, which will count towards the next payout limit of $2000.
The caveat is that larger cash incentives require even more video videos. So, for example, the $2000 payout is only activated after watching 25 videos. Do you see the pattern here? 
So, what happens after players complete the video condition? Simple! They will put your order under review and ask you to watch an additional 30 videos in 1 day! 
Here is the proof: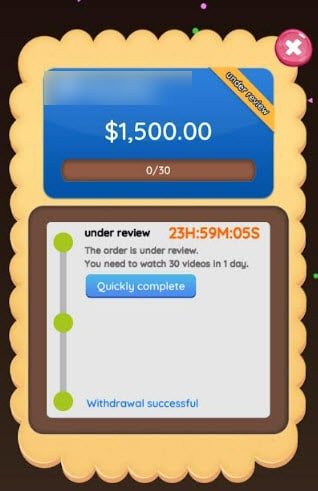 My advise? Uninstall this application immediately and never look back because real money goes straight into the developer's pockets. 

Conclusion 
Cake Shops is just another fake money game meant to keep you hooked for hours with the premise of making money. 
Unfortunately, you won't receive a dime despite meeting all the video requirements. 
I hope you understand that this is only a marketing tactic to increase the time players watch commercials. 
That's how developers get compensated by advertisers without having to reward users!
Verdict: Not Recommended
Earn a Full-Time Income Online
If you want to leverage your time on the internet to get paid what you deserve, you should start an online business!
I am blessed I found this opportunity in 2015 and took consistent action to make it happen! 
For many years, I have been covering all my living and travel expenses with the revenue generated by my website. 
It gives me total flexibility to make my own hours and operate from wherever I want.
That's incredible, as I could travel for three years while growing my own business from my laptop! 
You can do the same and achieve remarkable results by following a superb step-by-step course developed by Kyle and Carson. 
Click here to learn more about it! 
Final Words
Thank you for taking the time to read my Cake Shop review. I hope it helps to raise awareness! 
Please comment below if you want to share your thoughts about this app. 
Peace!