Welcome to my Champions 2048 review!
The Android game Champions 2048 is enticing players with the opportunity to cash out thousands of dollars after 24 hours. 
One of their adverts claims that transactions only take one minute, which seems too good to be true! 
Your job is to combine balls of the same team to unlock larger balls and unlock insane cash prizes. 
Of course, you are here to discover whether this game will pay you or waste your time with multiple video requirements. 
So, is Champions 2048 legit or fake? Does it pay or not? Let's find out! 
Before you leave this page, don't miss out on the step-by-step program that helped me to generate $2,000+ each month and quit my job in 2019.
Champions 2048 Review
Name: 

Champions 2048

Availability:

 Worldwide

Price:

Free (no in-app purchases)

Payout threshold:

 $1000

Overall Rating: 0 stars
What Is Champions 2048? 
Champions 2048 is a game in which players combine balls of various sizes and watch videos in exchange for virtual cash.
I reviewed many similar games with different themes, such as jewels, fruits, billiards, crypto coins, etc. 
The topic of Champions 2048 is football, with each ball size represented by a team flag.
You will receive cash added to your balance whenever you unlock a new level ball with a different flag. 
Considering the game is funded by advertisers, it will entice you to multiply your earnings by watching a video. 
Champions 2048 has been installed over 50k times and is growing exponentially due to intense marketing campaigns. 
Don't waste time with fake reward apps! Instead, earn real money with this top-rated GPT Site! 
How Does Champions 2048 Work? 
Champions 2048 is available to download for free from Google Play on any Android smartphone.
Unlike legit reward apps that pay real money, you won't be required to open an account. 
Instead, they will show you an enticing page with the Paypal logo and tell you to reach $1000 to withdraw the money immediately. 
The game feature a football pitch where you drop the balls to combine identical ones. 
Whenever two balls of the same team collide, they will merge into a bigger ball of another team.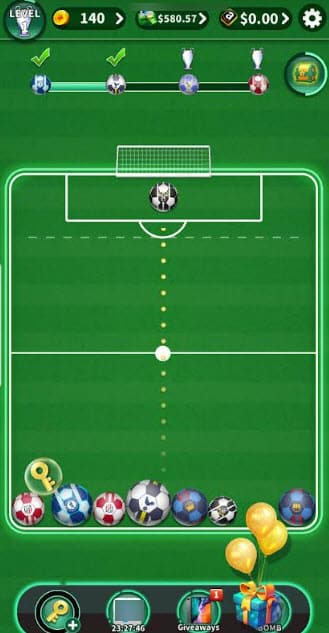 As you advance in the game and unlock larger balls, Champions 2048 will award you decent cash rewards. 
Merging the highlighted ball triggers the lucky wheel and allows you to win more cash, keys, or puzzle pieces.
You can frequently boost your cash earnings by tapping the button and watching a video. 
When you get three keys, you may open three treasure boxes and earn even more rewards!
Giveaways 
While playing Champions 2048, you will collect puzzle pieces redeemable for excellent gifts such as $200 cash, MacBook Pro, Samsung Galaxy S20, and more! 
The giveaway section also features the lucky Spin, which you can activate for free and win more fragments. 
How do You Get Paid? 
Champions 2048 claims you can cash out any amount after 24 hours.
However, like other money games, it will encourage you to earn $1,000 to withdraw the funds immediately.
You can supposedly cash out using a few payout methods, including PayPal, PayPay, NPay, and Paytm. 
Amazon gift cards can be redeemed once you meet two conditions: Watch 50 videos and play Champions 2048 for at least eight days. 
Additionally, you may trade coins for Google Play, Playstation, Steam, and Walmart gift cards. For example, you will need 1 million coins to redeem a $500 gift card. 

Is Champions 2048 Legit? Does it Pay? 
No, it doesn't! Champions 2048 cash rewards are fake, meaning you won't receive a single penny despite your best efforts. 
The app will gradually decrease your earnings to make you play for longer until you eventually reach $1,000. 
I predicted another condition would appear after clicking the cash-out button. And again, I was 100% right! 
Champions 2048 will ask you to watch 20 videos to submit another payment request. Here is a screenshot as proof! 

This reward platform is going viral! Cash out via PayPal, Visa, Gift Cards, and in-game currencies - Click here to find out how to generate an extra $10+ per day!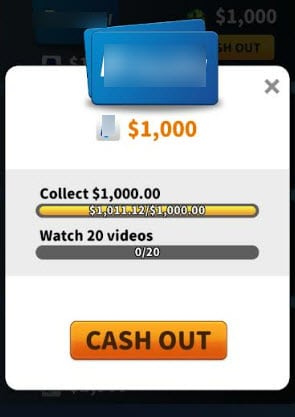 But what guarantees do you have that the developer will pay you after that? None! 

I didn't even continue because the outcomes would be similar to hundreds of similar games I had already tested.
It's pointless to watch so many videos to show proof of the obvious! Besides, many players reported having to watch even more videos after that! 
The game offers unrealistic cash rewards and behaves like countless other games designed using Unity. 
But you don't need to take my word for it. Just look at the review section, and you will find hundreds of users who didn't make a dime. 
Every time you complete a video task, another target is set, and you are persuaded to waste even more time! 
Conclusion 
I strongly urge anyone reading this article not to expect to earn real money with Champions 2048 or any other unrealistic money game. 
App developers have been using the same tactic for years now, so you should be able to identify them just by their empty words. 
Don't install the app if its commercial persuades the audience with the opportunity to win lots of money!
The developers are constantly making profits from people's urge to make easy money because they are an easy target. 
 Verdict: Not Recommended 
If you want to learn the same strategy I use to make money online, check out my top recommendation here. 
The platform will help you create a lucrative site you can grow from scratch and reach a steady income you can rely on. 
Final Words
Thanks for reading my Champions 2048 review. I hope it helps you understand how it doesn't operate in your best interest. 
Peace!