Welcome to my VibeTik review!
Ready to strike it rich just by watching a few videos?
Well, that's what the developer of VibeTik, the latest sensation on the Play Store, wants you to believe!
Have you seen how they are promoting this application?
If not, let me paint you a picture of how they are trying to convince people to press that shiny download button. 
They have this advertisement similar to the one used by Cashyy Tube, a popular app I reviewed a while ago. 
Paint two girls sitting on the couch. One of them is happily watching videos on her smartphone, while the other is wide-eyed at the amount of money her friend is making.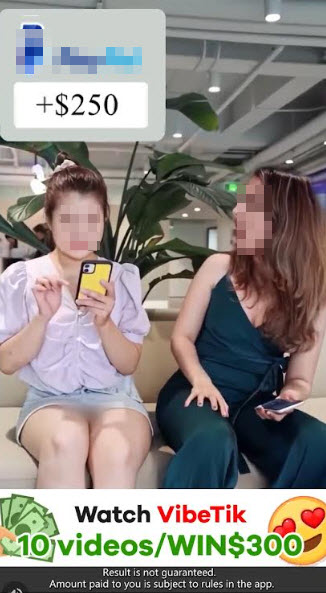 When the amazed friend asks, 'How come it's so easy to withdraw your earnings?'
She replies, 'I use VibeTik – just watch videos and cash out whenever I want, no minimum limit.'
And wouldn't you know it, the advert wraps up by flashing a cash balance of $1350 below a profile picture of a lovely girl. 
The promise of easy money can be a powerful lure, an irresistible bait dropped by clever developers.

This reward platform is going viral! Cash out via PayPal, Visa, Gift Cards, and in-game currencies - Click here to find out how to generate an extra $10+ per day! 
But let's take a step back and think rationally. That's what we do when things seem too good to be true, right?
Is VibeTik legit or fake? Will they transfer the money to your PayPal account or leave you with an empty wallet? Let's find out! 
Before leaving this post, check out the step-by-step program that helped me build an affiliate site and quit my job in 2019. It's free to join, and you don't need any previous experience.
VibeTik Review 
Name: 

VibeTik

Developer: 

Rainbow Dream

Availability:

 Worldwide

Price:

 Free

Payout threshold:

$500

Overall Rating: 0 stars
What is VibeTik? 
VibeTik is an Android app that brings you short videos from YouTube.
But here's the exciting part – it offers you insane cash rewards just for watching these videos. It sounds pretty awesome, right?
Now, these aren't just a few pennies. We're talking about big amounts here!

So, when you collect 5000 coins, they claim you can cash out $500 to your PayPal account.
To add to the excitement, they even have mini-games within the app to help you collect more coins. It's like you will get rich just by using YouTube through this app! 
Heck! With the generous cash rewards VibeTik offers, you could be raking in more money than the content creators themselves. 
How Does VibeTik Work? 
Let's delve a little deeper into VibeTik. Available on the Play Store, this free app doesn't even require registration.
Now, you might think that's convenient, right? But let's pause here because it's our first red flag!
Why? Well, reward apps usually worry about fraudulent or multiple accounts, which could eat into their profits.
So, if they're not bothered about it, it begs the question: Are they paying out any money? 
And let's not forget about privacy! The app shares data with third parties and doesn't offer encryption.
That's like leaving your house doors open! It can expose your data, leaving you vulnerable to all sorts of online threats.
Even Norton, the well-known security software, flagged VibeTik.
It warned that behaviors like auto-install and self-update could be risky. Plus, this app seems a bit of a battery hog, using up power even when you're not actively using it.
Get paid for watching videos on this proven app!

Collecting Coins
So, how do you collect those sparkly precious coins? 
Simply tap the green coin icon on the left when the round progress bar completes a circle.
This triggers the reward, but you need to watch a sponsored video to claim it.
Then there are those golden eggs floating around your screen; tap on them, and there's another reward – and another advert to watch.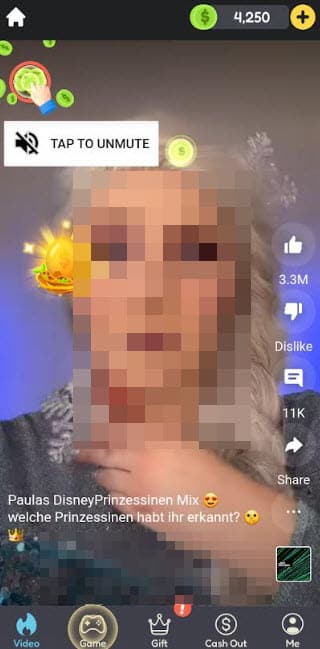 By offering these fantastic cash rewards, people are encouraged to stick around and watch more sponsored videos.
It's a smart way to fill the developers' coffers while keeping users hooked!
Mystery Gift 
Oh, and there's also a mystery gift section where you can win big prizes like an iPhone, MacBook Pro, Gucci perfume, and even a PS5!
For every two videos you watch, you get a free raffle ticket to collect puzzle pieces for these prizes.

But guess what? You have to endure another advert before you can collect those pieces.
VibeTik Legit? Does it Pay? 
It's time to pull back the curtain on VibeTik and discover the truth.
This app, as tempting as it sounds with its attractive prizes, doesn't pay a dime! 
You read it right – the cash rewards are completely fake, just like a three-dollar bill! 
VibeTik uses these 'prizes' as a carrot on a stick, encouraging you to spend hours on the app, watching ad after ad in the hopes of cashing out.
This is a well-worn tactic in the world of fake money games – they start by showering you with a decent number of coins, making you feel like you're on the fast track to the $500 payout.
But then, the cash rewards start to shrink. They dwindle down to 4 coins, even 1 coin at a time. And yet, it still feels like you're closing in on your target. You can almost touch that $500!
The moment of truth comes when you're ready to cash out. You enter your PayPal email address twice, and there it is, a message saying, "Congrats, you'll get $500 in 3 days."
But wait, what's this? A bait-and-switch? Yep! 
Just when you think you hit the jackpot, they slap you with two additional conditions that can only benefit the developer. 
You either have to watch 30 more videos (more adverts, of course!) or shell out £0.69 to activate your order. 
It's a sneaky attempt to dip into your pockets, all while dangling that unattainable $500 just out of reach.
And would you believe it? This app behaves just like Cashyy Tube, Tube Mate, RichTube, and Cat Tube.
It's like they're all members of the "Not Paying You A Dime Club!"
So, my advice? Don't pay. Not only will you waste precious time, but you'll also risk losing your hard-earned cash in this mirage of easy money.
Conclusion 
VibeTik is advertised as a reward application where you get paid to watch videos, but the harsh truth is that it doesn't pay a dime. 
So, I advise turning your back on these illusory cash apps and investing your time wisely.
GPT sites can't replace your 9-5 job, but you can actually get paid for simple online tasks like answering surveys and completing offers. 
Here is my top-rated gpt platform for 2023 and beyond! 
I've been a faithful user of this site for over 5 years, and I can confidently say that cashing out has never been a problem.
Oh, and did I mention? My affiliate journey has made me thousands of dollars! 

Yes, it does take time, but if you want to make money with referrals, you have to learn proper strategies and roll up your sleeves just like I did. 
Final Words
Big thanks for sticking around for my VibeTik review! 
Have you tried VibeTik and felt betrayed? I'm keen on hearing your experiences and thoughts on it. 
Peace!