Welcome to my Cashhy Tube review!
You know those adverts that make you go, "Really? Is that even possible?" I bet the one that springs to mind is Cashyy Tube's promo!
Picture this: two girls, one of them using the app and earning over $50 via PayPal!
Her friend rolls her eyes at the PayPal logo and asks why she can easily withdraw rewards.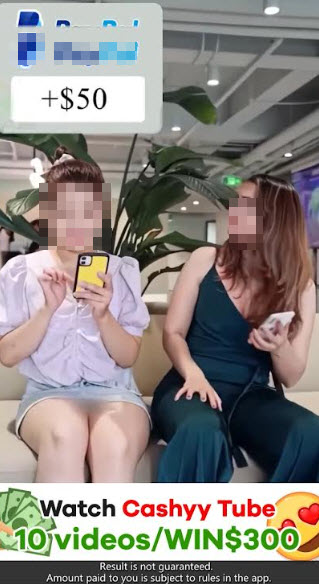 Then, you see girls showing off their TikTok dance skills, all while promoting Cashyy Tube as a potential moneymaker.
The commercial go as far as to claim you can earn $300 for every 10 videos you watch. Yeah, right!
I've reviewed my fair share of apps with the word "Tube" in their title, and let's just say that most of them have been a letdown or downright scams.
So naturally, the questions in your mind are probably: "Is Cashyy Tube legit or just another fake app?
Will they transfer your cash to PayPal or devise an excuse to avoid paying you? Let's find out!
Before leaving this post, check out the step-by-step program that helped me build an affiliate site and quit my job in 2019. It's free to join, and you don't need any previous experience.
Cashyy Tube Review

This reward platform is going viral! Cash out via PayPal, Visa, Gift Cards, and in-game currencies - Click here to find out how to generate an extra $10+ per day! 
Name: 

Cashyy Tube 

Developer: 

Team Kolala

Availability:

 Worldwide

Price:

 Free

Payout threshold:

$500

Overall Rating: 0 stars
What is Cashyy Tube? 
With over 5 million installs on the Play Store, Cashy Tube claims to let you earn cash by watching videos.
But hold your horses, folks, because these aren't the fun, TikTok-style videos featuring beautiful girls dancing you might be hoping for.
Oh no, we're talking about those sneaky annoying commercials that will have your brain begging for mercy!
That's right, instead of being entertained, you'll be bombarded with adverts trying to make you believe money grows on trees.
Cashyy Tube also features mini-games you can play, but don't expect a peaceful gaming experience.
An ever-present "cash egg" will be fluttering around, ready to trigger yet another reward, followed by – you guessed it – another commercial! 
You'll accumulate coins that can be exchanged for cash rewards after 24 hours. And here's the kicker: once you reach a whopping $500, you can cash out instantly!
But let's not get too excited yet, as this might be another app preying on our hopes and dreams.

How Does Cashyy Tube Work? 
Cashyy Tube is accessible on the Play Store and doesn't require registration.
Before you rush to install it, be warned: the app doesn't encrypt your data, and there's no option to delete it.
That's a red flag waving in the wind, my friends, as it raises serious concerns about privacy and data security.
Encryption protects your information by ensuring that even if a hacker intercepts it, they can't read it.
Therefore, you are vulnerable to data breaches, cyberattacks, and identity theft without data encryption. 
Let's say you decide to take the plunge and launch the app. You will then be greeted with a "lucky user bonus" of 2,000 coins. 
Tap 'get it free' to access a page displaying various cash-out options, including PayPal, Amazon, Cash App, Google Play, and Steam.
The app encourages you to collect coins, which can be exchanged for your preferred withdrawal method.
To cash out the enticing $500, you need 3,000 more coins. But how can you achieve this?
Cashyy Tube works just like TikTube, Rich Tube, TT Tube, and the ever-growing list of similar apps. Here is Tik Tube review! 
The video and game tabs showcase a page crammed with banners and mini-games.
They advertise the opportunity to earn money by watching shorts on your phone.

So, I expected it would pull up videos from YouTube or TikTok like the other "Tube" videos I mentioned.
But, that's not the case. The videos are actually 30-second advertisements promoting sneaky money-making applications.
Unlike reputable applications like JustPlay and mRewards, playing games isn't necessary to collect tokens.
Instead, sponsored videos appear when the progress bar completes a full circle, and you tap the 'Double' button."
Watch these videos, and you'll earn coins. So, you see, the whole setup is designed to help the developer maximize profits from advertisers at the expense of your time. 
But here's the $500 question: is the developer sharing all their earnings with users? It certainly looks too good to be true! 
Is Cashyy Tube Legit? Does it Pay? 
Nope, Cashyy Tube doesn't pay a dime! Those cash rewards are nothing but well-crafted bait to reel you in and exploit your time.
The developer knows precisely how to entice users into sticking around for hours, watching adverts to pursue unrealistic payouts.
This strategy is far from new; it's a classic technique that countless money game apps employ.

At first, they'll shower you with a decent number of coins, creating the illusion that you'll quickly reach the $500 mark.
But as you inch closer to the 5,000-coin goal, your cash rewards start dwindling, dropping to 2 or 4 coins at a time.
Still, you persevere, and finally, you reach the threshold to cash out. Amazing, right? Well, not so fast…
So, you enter your PayPal email address twice, and the app congratulates you, saying you can get $500 in three days.
Hold on, three days? Are they planning to deliver the money by carrier pigeon? 
It claims that your order has been successfully submitted and that your cash will magically appear in your PayPal account within 72 hours.
But wait, they forgot to mention the requirements were not over! 
They spring a classic bait-and-switch on you, presenting two additional conditions to withdraw your hard-earned "cash."
You must choose one: either watch 30 more videos to "activate" the order or pay £0.69 for instant activation. Really?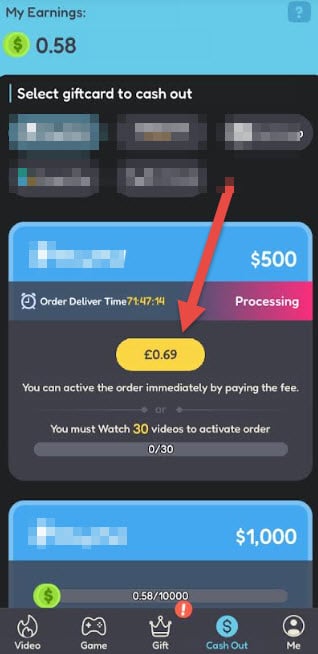 Now they're trying to dig into your pockets while dangling that carrot in front of you.
And guess what? Even if you watch all the videos, they will still demand money to transfer your money.
Here's my advice: don't fall for it, or you'll waste your time and risk losing your hard-earned money too! 
Your payment goes through the Google Play Store, but there is no way to get a refund.
Ultimately, that $500 payout remains a mirage, and you're left with nothing but frustration and an empty wallet.
No Reviews on The Play Store
It's important to note that Cashyy Tube is currently in Early Access on Google Play Store.
Early Access is a stage where developers test their apps or games, gather feedback, and make improvements before officially launching.
During this period, public reviews on the Google Play Store aren't enabled, but users can still provide feedback directly to developers.
However, many developers of fake cash games are misusing the system by keeping the Early Access classification for an extended period to avoid public reviews.
That means new users won't see that the app isn't paying as promised. Most people will put in hours of effort, totally unaware of what they will face while trying to cash out.
Early Access is meant to improve an app, not to evade criticism.
So, in my opinion, Google Play should revise its policies and oversight for these apps.
They could create more robust mechanisms to prevent misuse of the Early Access stage.
For instance, enforcing stricter time limits for how long an app can remain in Early Access or perhaps enabling some form of public feedback even during this stage.

This way, users can make more informed decisions, and developers are held accountable for what they advertise.
Conclusion 
Cashyy Tube is a disappointing app that preys on users' desire to earn easy money. 
Its tantalizing cash rewards keep you hooked, but the payout remains an unattainable dream.
The developer shamelessly profits from adverts and even charges you a transaction fee that goes straight to their corporate accounts. 
So, do yourself a favor and steer clear of this app. It's nothing more than a money-making machine for the developers and their sponsors while leaving you with zilch.
If you're still set on making money while watching videos, consider alternatives like ClipClaps, Givvy Videos, or TV-Two. Read my ClipClaps review here! 
These apps do pay out, but fair warning: the income potential is relatively low. So you may earn just a few cents for hours of your time. 
There's no such thing as free lunch. Earning money often requires hard work and dedication, and apps that promote the idea of quick cash with little effort almost always have hidden agendas! 
Earn a Full-Time Income Online
If you want to generate hundreds and even thousands of dollars per month, there is a proven method I want to share with you. 
I've been successfully using this strategy for over seven years and the best part? It's available to anyone, even those without special skills.
We're talking about growing and monetizing an online audience through affiliate marketing and advertising.
Now, I know what you're thinking – there are countless other methods out there.
But trust me, this one has been a consistent performer for decades!
Take my own experience, for example. I started my site in 2015 and achieved time and location freedom without having millions in my bank account. 
Make the choice today to invest in your future and escape the shackles of a 9-5 job. Click here to learn step-by-step! 
Final Words
Thank you so much for reading my Cashyy Tube review! I genuinely hope it's been enlightening and beneficial for you.
Don't hesitate to join the conversation. Your thoughts, experiences, and questions are valued and welcome.
Peace!