Welcome to my Relx Box review! 
It was just another ordinary day when I found myself scrolling through the Play Store, searching for the next big thing in reward apps.
You know the drill – countless options, each promising a fortune in gifts and rewards.
That's when I ran into Relx Box, an app that had impressively crossed the 500,000 download mark!
"What's the catch?" I wondered as the list of physical gifts up for grabs caught my eye – from Nintendo Switches and iPhone 13s to AirPods and laptops.
The best part? It's free to enter, so there's no risk of losing your hard-earned cash.
As someone who has reviewed many reward apps, I must admit that I approached this one with a healthy dose of skepticism.
After all, most of these apps turn out to be disappointing or outright scams.
So, is Relx Box legit or just another elaborate hoax? Can you win these fabulous prizes, or is it all just smoke and mirrors?
Stay tuned, dear reader, as we dive into the nitty-gritty of Relx Box in this in-depth review. 
Before leaving this post, check out the step-by-step program that helped me build an affiliate site and quit my job in 2019. It's free to join, and you don't need any previous experience.
Relx Box Review 
Name: 

Relx Box

Developer: 

lfengtechnology

Availability:

 Worldwide

Price:

 Free

Overall Rating: 0 stars
What is Relx Box?
Relx Box boldly claims to offer users an effortless and free way to snag amazing prizes like iPhone 13s, laptops, AirPods, and more. 
It's a straightforward app where you crack open boxes to gather shards, each linked to a specific jaw-dropping prize.
To unlock these treasure troves, you need coins earned while using the app and watching videos. 
After collecting enough shards for a specific prize, you can supposedly claim it, with the promise of doorstep delivery within 7 working days.
But hold up! Here's the first red flag you should pay attention to. Despite Relx Box racking up over 500k installs on the Play Store, it still carries the "Early Access" tag.
What does that mean? Well, the developer doesn't allow anyone to post reviews on their official Google Play page. Suspicious? Absolutely!
Could they be trying to sweep negative reviews under the rug? It sure looks that way!
How Does Relx Box Work? 
You can install Relx Box free from the Play Store, and no registration is required!

After loading the app, you will land on the main draw page with the blind box and an open button underneath.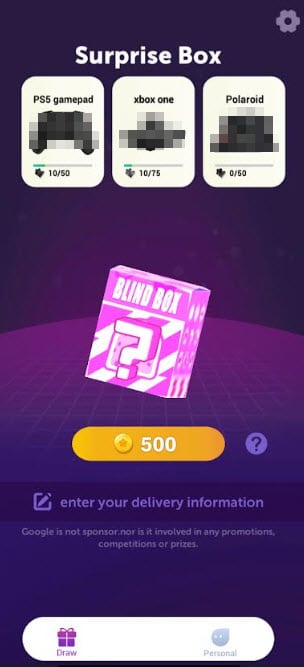 You can tap it three times to open the box and claim shards corresponding to a specific prize.
Tapping this button may trigger an annoying advert, which is how the developer generates income from the app.
Opening each additional box will cost you 500 coins. Although you start with zero coins, you'll earn 10 coins per second effortlessly while the app runs in the background.
To collect more coins, head over to the "personal" tab, where you'll find four options:
Daily Check-in – Earn 1,000 coins.

Watch a video for 10 minutes – Earn 500 coins.

Watch a video for 5 minutes – Earn 500 coins.

Open the blind box 2 times – Earn 500 coins.
Get this: Relx Box snatches these videos straight from YouTube, so you're essentially binge-watching YouTube while racking up coins.
Once you've enough coins, return to the "draw" page and open more boxes!
As you collect random fragments for iPhones, laptops, AirPods, and other gifts, you'll have to put up with the occasional advertisement.
And heads up – most of these adverts promote sketchy cash games that might lure you down a slippery slope. Stay alert!
At the end of the day, it's all about the developer fattening their wallet with advertiser profits.
Redeeming Prizes
Each prize demands a specific number of shards before you can redeem it. Here's the lowdown on what you need for each:
Laptop – 100 shards

iPhone 13 Pro – 75 shards

AirPods 3 – 100 shards

Lipstick – 100 shards

Switch – 100 shards

Xbox One – 75 shards

Polaroid – 50 shards

Mechanical Keyboard – 50 shards

$1000 Amazon gift card – 50 shards

PS5 gamepad – 50 shards
Once you've gathered enough shards for your chosen prize, you must provide some delivery info: your name, address, and phone number.

The developer promises to ship your prize within seven working days. 
Relx Box Legit? Does it Reward Users? 
No, it doesn't! Relx Box suggests that you will participate in a draw for a chance to win those amazing prizes. 
However, there's zero evidence to suggest that the developer is actually sending out these prizes to users who've collected enough shards.
If you tap the exclamation mark to read the app's instructions, there is a section where they are supposed to inform the probability of winning. 

This reward platform is going viral! Cash out via PayPal, Visa, Gift Cards, and in-game currencies - Click here to find out how to generate an extra $10+ per day! 
But nope, they dodge that bullet, leaving you with the impression that snagging those amazing prizes is a sure thing.
At first, it feels like you'll have all the required fragments in no time. But, as you inch closer to your goal, your shard earnings take a nosedive.

It starts with 10 shards and drops to a fraction of a fragment, making it almost impossible to meet the requirement. 
So, what's the endgame here? They lure you into watching advert after advert, which is precisely what the developer wants. That's because each video you view translates to more revenue in their pockets! 
Sure, a few brave souls might stick with it and collect all the shards. But you shouldn't hold your breath waiting for that prize to arrive—it's never coming!
Relx Box is not operating a real sweepstakes program. If it were, there'd be clear-cut rules and a registration form.
So, save time opening boxes and watching videos because the rewards are entirely fake! 
Another concern that you should consider is data privacy.
You may expose yourself to potential data misuse by providing your personal information.
For instance, the developer might sell your data to third parties, use it for targeted advertising, or end up in the hands of high-skilled hackers. 
If Relx Box isn't actually delivering any prizes, it begs the question: what are they doing with users' names, addresses, and phone numbers?
Earn a Full-Time Income Online
Are you tired of fake reward apps prying on your time? It's time to shift gears and concentrate on strategies that work in your best interest. 
I'm excited to introduce you to the same business model that has allowed me to generate a dependable income from my laptop.
Welcome to the world of content marketing! This powerful approach is all about crafting valuable, informative content that ranks high on Google and draws in a massive, targeted audience.
Trust me when I say content marketing has the potential to revolutionize your life!
Click here to learn step-by-step how I did! 
Final Words
Thanks for taking the time to read my Relx Box review.
If you have any questions or want to share your experience with this application, please don't hesitate to leave a comment below.