Welcome to my Tik Tube review!
Get ready because we're about to dive deep into Tik Tube, the latest buzz in the world of money-making apps.
This popular app is marketed as an opportunity to earn real money by watching short videos on your phone.
It also states there is no limit to how much you can spend on your purchases and that you can win $300 if you keep watching.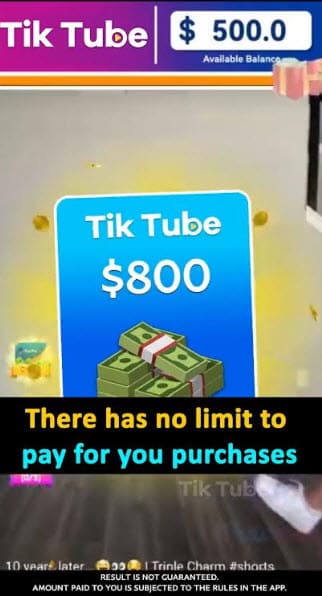 Sounds too good to be true, right? But it doesn't stop there!
The advert has a girl showing off an iPhone box and a Coach bag as if you could buy everything you ever wanted with the cash rewards.
And I just found recently another advert where a guy boldly claims he's making $1200 every day.
Most people don't realize there is a small print at the bottom that says, "result is not guaranteed."
I bet most people watching these tempting videos don't know about the implication of such a statement.
Naturally, you're here because you're scratching your head, wondering if Tik Tube genuinely pays hundreds of dollars or is just a grand facade. Is it legit or fake?
It's time to pull back the curtain and uncover the truth!
Top recommendation: This step-by-step program helped me achieve 2,000 US Dollars per month and quit my job in 2019. The Free starter membership is available here!
Tik Tube Review
Name:

Tik Tube 

Developer:

StepsFun TT VA

Availability:

 Worldwide

Price:

 Free (no purchase required)

Minimum payout:

500 USD

Overall Rating: 0/5
What Is Tik Tube?
Tik Tube is another Android app that proposes to pay users lots of money for watching YouTube shorts.
It's almost identical to Huuuge Tube, an app I tested and reviewed a few days ago.
Although the application displays YouTube shorts on your phone screen, you only get points when you tap the progress bar and watch the commercial.
You can then exchange points for cash and withdraw your funds via PayPal, Coinbase, Dana, PicPay, and more!
It's also possible to open the mystery chest and collect tickets to win Macbook Pro 13, PS5, AirPods, iPhone 13, and more!
Isn't it incredible that a free app is willing to give so much for so little? It indeed seems too good to be true!
How Does Tik Tube Work? 

Tik Tube can be downloaded for free on the Play Store and is accessible anywhere in the world.
Seems like an easy entry, right? But before you hit that 'install' button, here's something crucial to consider.
Tik Tube doesn't encrypt your data.
If you're unfamiliar with the term 'encryption', it's essentially a safety lock for your information.
When data is encrypted, it's scrambled and hard to understand unless you have the 'key' to unlock it.
So, without this safety lock, your data on Tik Tube is exposed.
This means hackers could easily read, use, or even steal your personal information. This could lead to identity theft or your information being sold on the dark web.
But unfortunately, there are more issues!
Not only is your data open for anyone to see, but you also can't delete it. Once it's in the Tik Tube system, it's there to stay.
If you've ever shared anything you later regretted, you know how important it is to have the option to delete it. On Tik Tube, there are no takebacks!
Lastly, for our European friends, this app is a no-go according to the GDPR, the General Data Protection Regulation.
The GDPR protects your right to have your data erased. An app that doesn't let you delete your data? That's a big red flag.
Collecting Virtual Cash
When you first open the app, you're greeted with a lively welcome page.

It's filled with vibrant pictures of previous lucky winners and a selection of six payout platforms for you to choose from.
They've got a global list to suit your preference: PayPal, PicPay, Dana, Coinbase, Ovo, and Mercado Livre.
The app gets straight to business by asking if you're ready to win some cash. Sounds exciting, huh?
All you need to do is watch videos. Next, it will prompt you to choose your preferred payout option, revealing a jaw-dropping range of withdrawal options from $500 to $5,000!
Now, that's a pretty impressive income potential, don't you think?
It makes you want to quit your job and use Tik Tube to fund a dream lifestyle in Bali.

This reward platform is going viral! Cash out via PayPal, Visa, Gift Cards, and in-game currencies - Click here to find out how to generate an extra $10+ per day! 
So, how does the app fill your screen with these videos?
Here's how: Tik Tube is designed to tap into the vast content library of YouTube by using its API.

This is essentially a gateway for third-party applications, like Tik Tube, to fetch content and display short videos on their platform.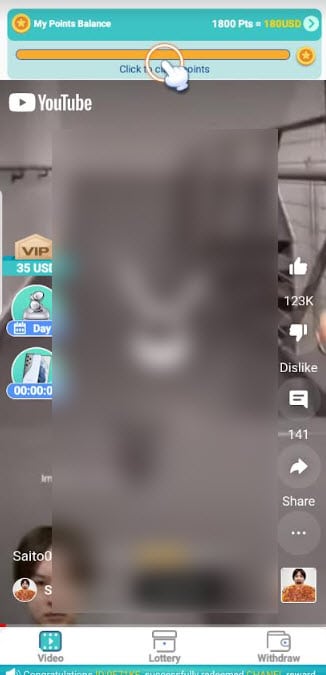 Now, to the fun part – collecting virtual coins and diamonds. How, you ask? Simple.
Just tap the coin icon on the right once the round progress bar completes every 10 seconds, and you've got some coins.
A "claim 2x" button will pop up to double your earnings. Remember, you've got to watch the video until the end to claim these coins.
Also, you get diamonds for merely browsing videos. Each slide to the next YouTube video rewards you with gems, which can later be exchanged for cash rewards as well.
How Much Are Coins and Diamonds Worth? 
So, let's talk conversion rates. A quick trip to the reward section reveals that you need 5,000 coins to withdraw $500.
Doing the quick math here, each coin is essentially worth $0.10.
On the other hand, you need a stash of 100,000 diamonds to cash out $600. Therefore, each diamond, in essence, translates to $0.006.
In practice, it takes a lot longer to accumulate gems!
Mystery Chest
In the Mystery Chest area, you may enter tickets to win prizes such as a Nintendo Switch, iPhone 13, Rolex, AirPods, and more!
For every two commercials you watch, you will get a free mystery box to collect for different products.
You may presumably claim the item by collecting 100 or 50 fragments.
VIP Benefits 
On the left side of the screen, you will see a VIP badge with 25 USD.
This page lets you purchase the Tik  Tube VIP membership for 3.99 USD weekly.
According to the developer, the VIP allows you to add 10 USD  for watching any short video and collect 1000 USD.
Then, you can supposedly withdraw the money via PayPal and do so repeatedly.
Please do not buy anything on impulse until you have read the next section, which reveals whether or not you will be paid.
Find out legit game apps in this post! 
UPDATE: Tik Tube has changed since its launch and no longer offers VIP memberships.

Is Tik Tube Legit? Does it Pay? 
No, it doesn't! The developer implies that this is a real money-making platform, enticing the user to reach 5,000 points.
However, unlike CliClaps, Tik Tube will not share part of its earnings with those who spend time watching videos.
Here's the catch – when you finally reach the $500 mark, the app cheerfully informs you that your order has been successfully filed, and you'll see the money in your account within three days.
Sounds great, right?
The problem is that you must complete another task: watching 30 videos. Alternatively, you can pay a £0.69 fee to activate the order immediately.
At this point, you might be so invested and eager to get your reward that you decide to pay up.
Evidently, they're attempting to make money off of you in whatever way they can, including luring you to spend your hard-earned money.
This is a classic bait and switch. You're drawn in with the promise of earning money quickly, but when it comes to payout time, the rules change, the goalposts shift, and you're left facing unexpected demands or costs."
However, you will never get paid even if you become their most profitable user!
No Terms and Conditions
Another problem is the lack of any terms and conditions.
Every legit reward app provides this document as a way to set clear rules and expectations between the app and the user.
The user agreement, which is another way to call it, is a safety net for both parties. But with Tik Tube, you're going in blind. No rules, no security, and no guarantees.
What Users Are Saying?
Even though it has been installed by a million people, the developers still have it listed as "early access" on Google Play.
That might not sound like a big deal, but it means that users can't publish reviews there and give others a heads-up that they are not getting paid.
It's a pretty clever strategy if you think about it – definitely a sneaky one.
It allows the developers to keep running the app without negative backlash. It's safe to say that it's quite shady, and to me, it feels pretty outrageous.
Fortunately, there are other platforms where users can voice their experiences. Take Trustpilot, for example, where over 40 reviews have been posted about Tik Tube. Guess what? 93% of them are one-star reviews!
And you know the only reason they're not zero-star reviews? Because the minimum rating is 1 star!
People are furious with this app, and for a good reason. They spend their valuable time watching videos and not getting anything in return.
One person even mentioned that they watched over 100 videos and still haven't received any money.

Conclusion 
Tik Tube is nothing but a fake reward app that will never transfer the money stated in your cash balance.
The app scrapes YouTube videos and bombards users with commercials under the pretense of giving away at least USD 500.
Like similar apps, it will also give people the illusion of earning amazing prizes like the iPhone 13.
I strongly advise everyone reading this message to uninstall this app and never pay any fees to Tik Tube!
Otherwise, you will waste not only time but also your money!
Earn A Full-Time Income Online
You can build wealth online by becoming a content creator and promoting products as an affiliate.
Some people prefer to become YouTubers, while others prefer to set up websites and rank articles on Google!
I chose the second option in 2015 and didn't regret my decision!
Thanks to my website, I am now making a job-replacing income without relying on a rigid 9-5 job.
This means I can travel whenever I want, set my own schedule, and make decisions that grow my online business.
If you want to learn the proper steps to create a profitable site, as I did, discover my top recommendation here! 
Final Words
Thank you for reading my Tik Tube review; I hope you found it helpful. Please let me know in the comments section below if you have any questions.
Peace!