Welcome to my CashBaron review!
I was browsing the Play Store a few days ago when I accidentally found CashBaron, which allows us to earn money for playing games.
The company claims to offer easy and fast payouts redeemable for gift cards and even crypto.
Not only that, but they also mention that CashBaron is the highest-paying reward app on Google Play, offering over $100 on a single offer! 
You probably know plenty of similar Android applications rewarding users for simple tasks. 
Unfortunately, developers can be greedy enough to ignore your payment requests simply because profit is their top priority.
Is this the case with CashBaron? This review will take a close look at this platform and show you the pros and cons. Is it legit? 
Let's find out!
Top recommendation: This step-by-step program helped me achieve 2,000 US Dollars per month and quit my job in 2019. The Free starter membership is available here!
CashBaron Review
Name:

CashBaron: Play to Earn Money

Developer: 

BitBurst GmbH

Availability:

 Worldwide

Price:

 Free (no purchase required)

Minimum payout:

$15 (US); £14 (UK)

Overall Rating: 3/5
What is CashBaron? 
CashBaron is a free Android app that rewards users for completing offers and completing online surveys. 
The platform is operated by BitBurst GmbH, a German company that operates popular applications like Poll Pay, CryptoBull, and Easy Bucks. 
One of the most common tasks consists of installing a game and playing until you reach a specific level or milestone. 
Once you collect enough coins, they can be traded for PayPal cash and Gift cards. 
Cash Baron has been installed over 50k times on the Play Store since its release in May 2022. 
How Does CashBaron Work? 
CashBaron is accessible on the Play Store and requires a quick sign-in with Google. 
But before that, it's important to mention the company will entice you with a starting bonus of $3 worth of coins. 
Also, they will ask your permission to agree with the Terms of Service and Privacy Policy. 
CashBaron promises never to collect or share your data with third-party companies without your consent. 
After you join using your Google account, you will be encouraged to complete your first profiling survey to claim the $3 bonus. 

I was disappointed because Cash Baron did not mention the bonus being conditional.
Anyway, the first survey took me just 3 minutes to complete, and the 3,000 coins were promptly added to my account.
How Much are Coins Worth? 
In the UK, where I am testing this application, you can exchange a minimum of 9,500 coins for £14 via PayPal, Amazon, Google Play, Zalando, or Spotify. 
Therefore, you are getting £1.47 for every 1000 coins. 
Keep in mind that if you want to be paid using PayPal, you will be charged a fee of 650 coins.
In the US, you will need 15,000 coins to withdraw the minimum cash amount of $15. 
Collecting Coins
CashBaron's dashboard is divided into three sections where you may find opportunities to gather coins:
Featured
In this section, you will find a list of featured offers where you can collect thousands of coins for playing games, using apps, and more.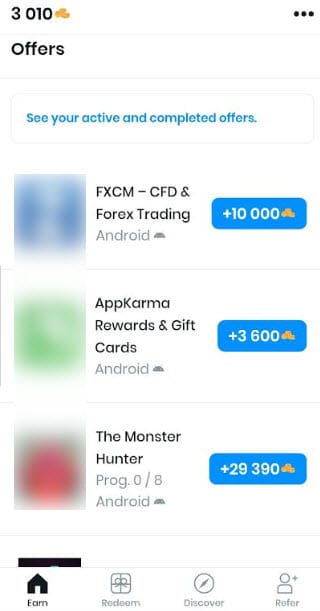 Read the instructions carefully before completing the offer to ensure you get credited. 
For example, the first offer on my list consists of installing Lords Mobile and reaching castle 11. The payout for this offer is 4,200 coins, which is slightly more than £6.

Remember they said you could find offers paying over $100?
Yep! I found one of these deals, but as expected, the game requires players to make deposits that will squeeze their profit margin. 
Surveys
Online surveys allow users to get paid for sharing their thoughts on various topics.
The first step is to complete the profile survey with questions about your age, employment, career, and more. 
It only takes 3 minutes to complete and awards 3000 coins. 

This reward platform is going viral! Cash out via PayPal, Visa, Gift Cards, and in-game currencies - Click here to find out how to generate an extra $10+ per day! 
After completing the first questionnaire, you can access a selection of surveys with a 15% bonus if finished within the first 3 hours.
Most surveys are less than 10 minutes long and award between 300 and 700 coins.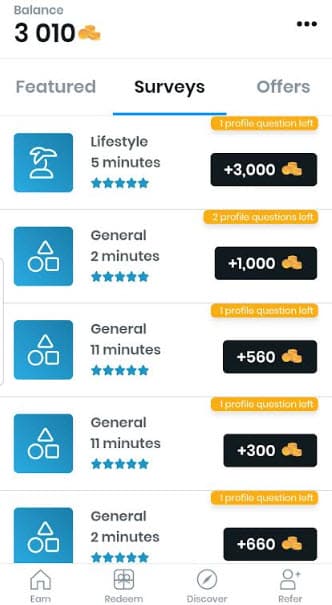 Be prepared to be disqualified and lose time, as marketing research companies often look for specific people. 
The good news is that you will get ten coins if you disqualify. 
Offers
CashBaron has partnered with three third-party offer providers to provide even more opportunities. These are BitLabs, Adjoe, and AyeStudios. 
BitLabs and Adjoe provide the same kind of deals that are listed in the "Features" section.
Adjure works slightly differently in that you are given a list of games and rewarded for your gameplay.
You may expect to get 3 – 9 coins every level! But, of course, accumulating coins becomes progressively harder at higher levels. 
Refer a Friend
Another way to collect coins with CashBaron is to invite your friends to join the platform using your referral code. 
You will get a 15% commission on every survey and offer they complete, and, in turn, your friend will receive 250 coins as a starting bonus. 
Is Cash Baron Legit? Does it Pay? 
Yes. CashBaron is a legitimate application that will transfer money if you reach the coin threshold. 
However, it's essential to know that the earning potential is very low, like any other reward app. 
Many individuals are disappointed with CashBaron since they are frequently rejected from surveys. 
Many reviewers complained that they were continually kicked out of all questionnaires he attempted to complete. 
After completing my profile, I applied for surveys and got disqualified on my first two attempts. So, I can attest to the difficulty! 
It can be bad luck, and I want to believe that marketing research companies are only trying to find a suitable candidate. 
But the fact is that making money with online surveys is usually very time-consuming and requires a lot of patience. 
People also believe that marketing research firms obtain the information they need and screen out participants in order to avoid paying them.
Since Cash Baron collaborates with other firms to deliver surveys, it is unlikely to be held responsible for disqualifications.
Some people also complain that the app needs to track their playtime correctly. 
Pros & Cons

Pros 
Easy to use

Quick sign in

Earn 3000 points ($3) after a short profile questionnaire. 

Cash-out through PayPal and Gift cards. 

There is an abundance of offers depending on your country. 
Cons
The minimum cashout amount is too high. 

It's hard to qualify for surveys. 

Low earning potential. 
Conclusion 
CashBaron is a legit app that shares part of the platform's revenue from affiliate marketing. 
The company gets paid when you install a game, complete an offer or answer a survey.
In turn, the company behind CashBaron shares part of the revenue in the form of points redeemable for cash rewards. 
Unfortunately, many people complain about frequent survey disqualifications, making it extremely hard to cash out. 
Therefore, I would consider other options if I wanted to get paid for taking surveys. Here is a decent survey app! 
How I Make Money Online
Most people join reward platforms because they provide a convenient and easy way to make extra cash. 
However, as you are aware, it can be very time-consuming, and there is no guarantee that you will receive the funds.
If you have the time and energy, I encourage you to focus on content marketing.
This is because once you have a large audience, you may turn it into a profitable online business that pays you hundreds or even thousands of dollars every month!
Can you imagine how much freedom you'd have if you could work from your laptop as a digital entrepreneur?
I've been running a lucrative website for many years and know how much time it has saved me from the conventional 9-5 grind.
It enabled me to travel to different continents while making money in the background. 
If you want to succeed with this type of online business, I recommend you learn from expert marketers.
Click here to discover the best step-by-step training! 
Final Words
Thank you for reading my CashBaron review. If you have questions or thoughts about this app, feel free to use the comment box below. 
Peace!