Welcome to my RichTube review!
Believe it or not, I have found another app proffering easy money just by watching short videos!
RichTube claims you can earn up to £800 during the countdown and cash out instantly when you reach £240. If only life were that simple, right?
Well, it's not just RichTube; we've seen this story before with TT Tube, StarTube, and countless others.
The app is entirely free to use, thanks to the avalanche of advertisements.
So, although there's no risk of losing your money, it's essential to know your time is on the line. 
It sounds like a great opportunity, but your skeptical mind can't stop wondering: is RichTube legit or fake?
Will it actually pay out or drain your time? Let's find out! 
Before you leave, click here and discover the step-by-step program that helped me build an internet business and generate over $2,000+ monthly. No special skills are required! 
RichTube Review
Name:

 RichTube

Developer: 

Siangtimah

Availability:

 Worldwide

Payout threshold: 

£240

Overall Rating: 0 

This reward platform is going viral! Cash out via PayPal, Visa, Gift Cards, and in-game currencies - Click here to find out how to generate an extra $10+ per day! 
What is RichTube? 
With over 10,000 installations, this free Android app claims to pay us big money for watching videos.
The developer displays YouTube videos on their platform and awards virtual cash while you leave it open. 
But there is more! At regular intervals, RichTube also offers a generous cash bonus if you watch their sponsored video. Sounds dreamy, right?
However, there's one issue hard to ignore. The app is still in early access, meaning no reviews are available on the Play Store.
That's a major bummer because it prevents us from discovering whether users are getting paid or not. 
Besides, countless fake games are using this classification to hide the truth. 
How Does RichTube Work? 
RichTube is available on the Play Store for Android devices worldwide and is 100% free.

When you first open the app, it greets you with an £80 reward just for checking in on Day 1. How generous!
RichTube fetches these videos from YouTube through the Google API interface. You can select from different categories, such as gaming, news, sports, music, and more. 
As you explore the app, you'll observe a banknote icon on the left, encompassed by a circular loading bar.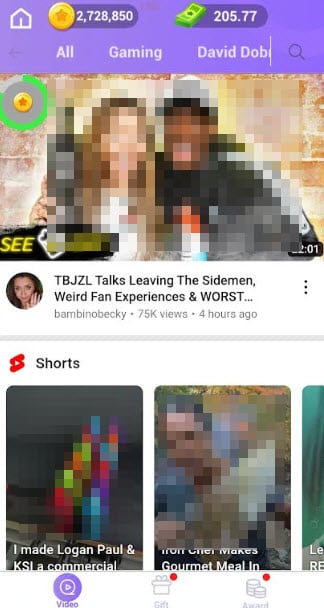 As it completes a full circle, cash rewards are automatically added to your balance as if it was printing money out of thin air.
But there's more! On the third turn, RichTube gives you a large cash bonus with the irresistible offer to multiply it by five if you watch the video.
This dear friends, is an advertisement, meaning the developer cleverly generates income every time you watch them.
Interestingly, the bar keeps turning, and you continue to earn cash even if you don't select any YouTube videos. 
In addition, you'll get 500 coins per second, which can be exchanged for cash rewards. 
Withdrawing Funds
In the balance section, you'll be greeted with a message stating that all rewards will be redeemable after the 24-hour countdown.
However, you can cash out instantly if you reach the £240 threshold. 
Most people will try to comply with this requirement as soon as possible. 
To proceed with the withdrawal, tap the field that says "enter your withdrawal account," select your preferred method, and enter your account information.

RichTube offers nine options, including popular platforms like PayPal, Cash App, Paytm, Coinbase, and more. 
Now, let's not forget about those coins. You can redeem £240 once you collect a staggering 3 million coins. But how long will it take to redeem?
Are cash prizes even real? We will cover this and more in the next section. 
Is RichTube Legit? Does it Pay? 
Drumroll, please… No, it doesn't! The crafty developer is simply exploiting people's time and profiting from their views, with no chance of ever transferring the money. 
It's easy to get carried away by the thrill of easy riches. Unfortunately, however, the app will just lead you down a never-ending rabbit hole.
Reaching that enticing £240 payout threshold will take ages – and I am serious! 
I wouldn't recommend even trying, as it would take countless hours of your precious time.
So, what's the catch? Well, the cash rewards dwindle as you get closer and closer to the payout threshold.
Eventually, you'll find yourself earning mere pennies after each video. And when you get to £205, the app will replace cash rewards with just coins! 

It's disheartening, but maybe you're still nurturing hope for achieving that 3 million coin milestone, right?
Well, brace yourself for further disappointment because those coin earnings will take a nosedive too!
That's right, folks – it's a classic win-lose situation: the user loses while the developer wins!
Even if you reach the target or wait for the 24-hour countdown, RichTube will probably come up with another requirement to activate your order.
Yes, they will certainly persuade you to watch more videos, but it's pointless! 
Conclusion 
Don't waste your time with RichTube; the cash rewards are completely fake!
It's all smoke and mirrors, designed to keep you watching sponsored videos and lining the developer's pockets.
I am sure you don't enjoy feeding someone else's bank account, so the sooner you uninstall this app, the better! 
The lesson here? I know it sounds cliche, but it's important to remember you guys that if it sounds too good to be true, it probably is! 
Earn a Full-Time Income Online
Imagine making thousands of dollars on your own terms, leveraging the power of the internet! 
You can transform this dream into reality with determination and perseverance. 
For most people, including myself, content marketing was the answer! 
By creating helpful articles and ranking them on Google, I can generate a decent income month after month. 
Today, I enjoy the freedom of working whenever and wherever I want! 
My journey to success starts with a single step: Joining this excellent training program, where I learned everything to succeed in this industry!
Final Words
Thanks for reading my RichTube review! I hope it was eye-opening! 
If you have any thoughts, questions, or experiences with the product, please don't hesitate to share them below. 
Peace!