Welcome to my TT Tube review!
Just yesterday, I stumbled upon an advert that raised my eyebrows and tickled my curiosity.
It was about an app called TT Tube, which seemed to have discovered the secret to printing money. Yep, another one!
In the video, someone using the popular AI software ChatGPT types the following:
Hello, I need gas money, but I have nothing now. What should I do?
ChatGPT then answers you can try to download this software and get $100 just for downloading. 
Next, it featured girls dancing while a virtual cash balance skyrocketed to hundreds and even thousands of dollars!
They really want you to believe the secret to wealth and prosperity is watching girls on TikTok! Seriously?
But wait, there is more! It also claims you can withdraw money without limits, moving it to your wallet anytime.
The more you watch, the more you earn!
Naturally, I couldn't help but be very skeptical. So, is TT Tube legit or a trick to profit from your time?
Let's find out!

This reward platform is going viral! Cash out via PayPal, Visa, Gift Cards, and in-game currencies - Click here to find out how to generate an extra $10+ per day! 
Before you leave, click here and discover the step-by-step program that helped me build an internet business and generate over $2,000+ monthly. No special skills are required! 
TT Tube Review
Name:

 TT Tube: Short Videos

Developer: 

Planet Event

Availability:

 Worldwide

Payout threshold: 

$1000

Overall Rating: 0 
What is TT Tube? 
TT Tube is an Android app that supposedly pays users to watch TikTok shorts. 
And I am not talking about a few cents occasionally, like the popular ClipClaps.
Instead, this application gives points worth massive cash amounts ranging from $10 to $100! 
It's mind-boggling that someone running this app can generate enough revenue to give such unrealistic cash prizes. 
As of writing, TT Tube is going viral jumping from 1k to 10k installations in just one day! 

Now, without further ado, let's explore the inner workings of this intriguing application and find the truth. 
How Does TT Tube Work? 
You can download TT Tube for free from the Play Store and jump right in without registering an account.
Upon launching the app, you must agree not to use cheats to obtain cash.
Well, why would anyone want to cheat when they are earning insane amounts of cash? Anyway.
After that, you can select either PayPal or Cash App as your preferred withdrawal method and enter your account info. 
Next, TT Tube entices you to collect $1000 to be able to cash out and reward you with 1000 points worth $100. 
But look! You can tap "collect x2", watch the commercial, and double your reward like magic. 
Imagine making an extra $100 just because you agreed to watch a 30-second video!  
Once you access the dashboard, you will see a page full of adverts with links to third-party websites about investing and loans. 
There is a good reason TT Tube is promoting this to users.
They know users are desperate for cash and will likely be seduced by these financial solutions, like a moth drawn to a flame. So, be careful! 
At the top, you will see a round progress bar with banknotes and a hand pointing to it.

You can activate the cash bonus by simply tapping this icon and watching the video when the bar is full.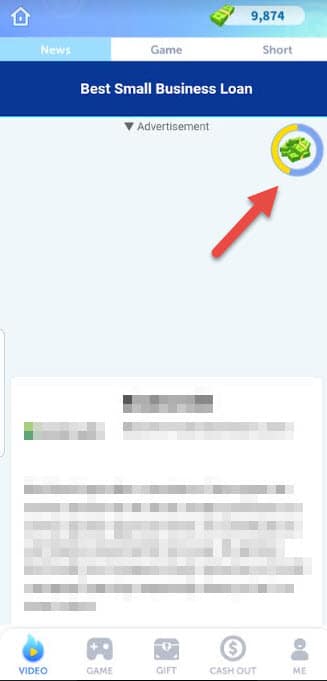 It's interesting to note that TT Tube pulls up content from TikTok or another similar app through API.
So, you can watch those funny videos by navigating to the "shorts" tab at the top. 
You will also see the progress bar to activate rewards while you are watching shorts. 
However, as I previously mentioned, you can only get the reward if you watch the sponsored video. 
Just rinse and repeat until you reach the $1000 payout threshold. 
Is TT Tube Legit? Does it Pay? 
No, it doesn't! It may come as a shock for many, but the developer doesn't pay a single dime to those who meet the requirements. 
TT Tube is only a facade to keep players engaged and watch countless videos that make them money. 

The developer is using the classic bait-and-switch tactic like countless other money-making applications. 
At the start, you receive a considerable amount of cash to lure you in with the prospect of a quick payout. 
However, the rewards decrease gradually until you make one dollar or even less after each video. 
Since my mission is to warn as many people as possible about such apps, I decided to stop my testing at 9,806 points. 
Why waste more time just to prove something I have already done with hundreds of fake money apps? 
I know that if you press the cash-out button, they will come up with an excuse to watch more videos to make more profits. 
So, avoid TT Tube at all costs because, in the end, the outcome is always the same: Frustration! 
Be aware of many other TT Tube clones out there! Here are some examples:
Earn a Full-Time Income Online
Making thousands of dollars online is life-changing! 
I can say this from my own experience because online revenue lets me enjoy my life in ways I never thought possible.
By becoming an internet marketer, I was able to quit my job back in 2019 and embark on a non-stop, three-year-long travel adventure!
Let me explain how this became possible:
First, I learned to leverage various digital platforms and tools to promote products or services.
This fantastic step-by-step program taught me how to set up and grow a content-based business. 
Then, through consistent effort, I built a solid online presence that allows me to work remotely. 
You can also take advantage of the digital economy and build your income-generating online assets. 
Final Words
Thanks for reading my TT Tube review. I hope it helps!
Kindly spread the word by sharing your personal review in the comment section below. 
Peace!
Tik Tube Review – Is it Fake? Earning $500 With YouTube Shorts