Welcome to my EasyBlox Obby review!
I just came across another advert targeting Roblox enthusiasts craving free Robux.
The commercial suggests users could earn millions of Robux worth an exorbitant sum of money!
Just to give you an idea, the official website offers 10,000 Robux for a steep price of $100.
So, it's crazy to think that an app developer can transfer this high prize in exchange for watching a few videos!
Having reviewed numerous reward apps that target gamers, I can spot this type of offer from a mile away.
And the bad news is that I have yet to find one that rewards users!
So, is EasyBlox Obby the exception to the norm? Does it pay, or is it another fake Robux application?
Let's find out!
EasyBlox Obby Review
Name:

 EasyBlox Obby

Developer: 

Firefly 2023 Studios

Availability:

 Worldwide

Payout threshold: 

10,000 Robux

Overall Rating: 0 stars

This reward platform is going viral! Cash out via PayPal, Visa, Gift Cards, and in-game currencies - Click here to find out how to generate an extra $10+ per day! 
What is EasyBlox Obby? 
EasyBlox Obby is a viral Android app that supposedly rewards users with an insane amount of free Robux.
This virtual currency is used in the popular online game Roblox. 
With over 1 million downloads, it's evident that players are eager to get items, upgrade, and benefit from other perks.
Collecting the reward within the app couldn't be easier, yet tedious!
Wait for the progress bar to complete and watch the short commercials that support the developer.
This application is identical to Robu TV and countless others I reviewed on this blog. 
How Does EasyBlock Obby Work?
You can use EasyBlock Obby on your Android phone or tablet without any registration requirements.
The app is 100% free and can be easily installed on the Play Store.

Upon launching the app, it presents an offer to win 10,000 Robux.
The first step is to enter your Roblox account ID so you can allegedly redeem the game currency.
You'll be granted a lucky user bonus of 2000 Robux, giving you that initial motivation boost.
The dashboard opens to a blog page with sponsored content and banners with buttons.
Of course, the developer is making money from all these things! But there are a lot more adverts to come for sure!
At the top of the screen, you see a progress bar and a finger pointing to it.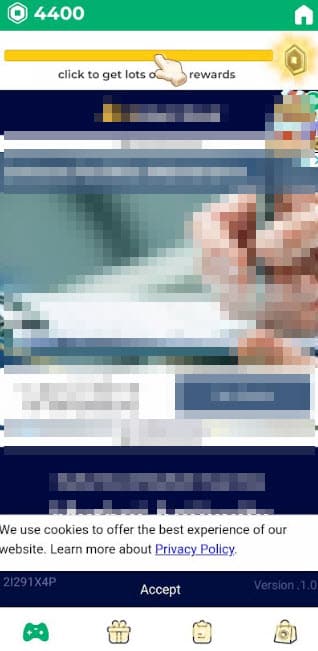 Simply tap the bar to activate the reward, then choose the "Get Double" option to earn twice the amount of Robux.
Note that pressing this button will prompt a brief advertisement to play.
To successfully claim your currency, EasyBlock Obby wants you to watch it until the end.
And you know why, right?
This requirement is because the game developer generates revenue from the advertisers.
After that, you must wait 5 seconds for the bar to fill again to claim more Robux.
After watching two videos, you can open a mystery box and get fragments for Roblox skins.

Now is the moment we've all been waiting for has arrived: it's time to reveal the answer to the burning question.
Is EasyBlock Obby Legit? Does it Pay? 
No, it doesn't! Ladies and Gents, the developer of EasyBlock Obby is not running any philanthropic program for Roblox lovers.
Unfortunately, it only serves as bait to attract players who don't want or cannot afford to spend their money on game currency.
The real purpose behind this app is to generate revenue for the developer by bombarding users with adverts.
You will be enticed to collect 10,000 Robux, but your earnings will gradually decrease as you approach the target.
They use this powerful psychological strategy to keep players hooked for longer and profit even more from their time!
Say goodbye to the 1000 Robux rewards and brace yourself for fractions of Robux after each video! Yep, I am talking about 0.1 or less!
Great, but don't get too excited when you finally press the redeem button.
Pressing the redeem button will reveal yet another ridiculous requirement: watching a specific number of videos. 

And even if you jump this hoop, the developer will not send you any Robux, as it's totally fake! 
Conclusion 
Don't waste your time using EasyBlock Obby with the hopes of saving a ton of money on free Robux. 
The developer is clearly using these alluring rewards to profit from unsuspecting gamers! 
The same can be said about games that promise unrealistic cash rewards. They are all fake! 
Please, be mindful of opportunities that seem too good to be true, as there are plenty of deceitful applications and sites out there. 
If you are a gamer on a tight budget, join a reputable platform that pays you for completing simple online tasks. 
You will collect points for answering quick surveys or completing offers.
You can then exchange points for PayPal cash, which you can use to acquire your favorite game currencies. 
Click here to read my full Prizerebel review! 
Final Words
Thanks for reading my EasyBlock Obby review! I hope it was informative and eye-opening! 
If you have any questions or comments about the app, feel free to share them below.
Peace!