Welcome to my Star Quiz Review!
So there I was, testing a game on my phone to review on my blog, when boom!
The Star Quiz advert popped up with its fabulous opportunity to make quick and easy cash. 
The video had this attractive banner at the top, saying, "Download Star Quiz, 10 problems – Win $500."
Then, it shows this lovely lady stacking tons of cash into her drawers like she was making thousands of dollars daily! 
She says, "all this money is earned by answering questions on my mobile phone. You can withdraw the cash to your payment wallet whenever you want.
But wait for a second. With so many fake money games on the Play Store, how can I trust this one is the real deal? 
Is Star Quiz legit, or is it just another smart digital toy to profit from your time? Let's give in!
Before you leave, click here and discover the step-by-step program that helped me build an internet business and generate over $2,000+ monthly. No special skills are required! 
Star Quiz Review Review
Name: 

Star Quiz Review

Developer: 

Nio Onex

Payout threshold:

$300

Price:

 Free

Type:

 Entertainment (no financial risk)

Overall Rating: 0 

This reward platform is going viral! Cash out via PayPal, Visa, Gift Cards, and in-game currencies - Click here to find out how to generate an extra $10+ per day! 
What is Star Quiz? 
Star Quiz is a free Android app that claims to pay lots of money for answering easy Trivia questions. 
The concept is simple: you answer simple questions across different categories, such as brands, movies, geography, celebrities, and more. 
You can also get cash by visiting the Hall and watching more videos at short intervals. 
Once you reach $300, you can cash out using PayPal! Sound like the easiest way to make money online and too good to be true! 
With over 10,000 installs, Star Quiz is gaining some traction in the Google Play Store.
That's due to massive advertising campaigns that bombard thousands of people searching for instant gratification. 
How Does Star Quiz Work? 
Let's take a closer look at Star Quiz and walk you through the process of earning virtual cash. 

You can download the app on the Play Store and play for free without any limits. 
Upon launching the app, you'll be greeted with an unbelievable welcome bonus of $100. Talk about a warm welcome!
The app clearly states that once you collect $300, you can cash out your earnings via PayPal. 
But before you start playing, they will prompt you to enter your email and first and last name.
It's a bit strange, considering PayPal only requires your email address. Anyway…
With your account all setup, you're ready to dive into the first quiz and earn some cash.
The first introductory quiz is all about branding.
To complete the quiz and earn cash, you must correctly identify a series of well-known company logos.
Each correct answer will net you between $2 and $4, which is a lot more than what people earn with 20 – 30 minute surveys. 
But wait, there's more! At the end of the quiz, you have the option to multiply your winnings by three.
All you have to do is tap the button and watch a short promotional video.
Mind you. This video is an advertisement, meaning the developer earns revenue from your views.
It's essential to be aware of unrealistic cash rewards, as they are a major red flag! 
Once you've finished the first quiz, you can choose from other categories to continue playing and collecting more virtual dollars.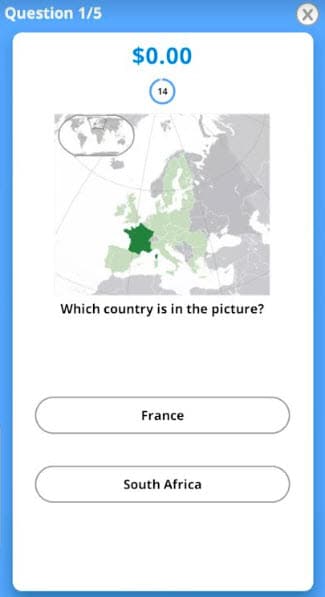 Some quizzes are actually quite challenging! 
The app also encourages you to visit the "Hall" section, where you can allegedly earn cash quickly. So, you don't even need to answer questions if you don't want to! 
Essentially, the Hall is filled with banners and links to various investment-related websites.
You'll notice a round progress meter on the right side of the screen. Once it's complete, you can click on it, watch another video, and receive even more cash. 
Then, rinse and repeat until you reach the minimum payout amount of $300! 
Is Star Quiz Legit? Does it Pay? 
No, it doesn't! As much as we'd like to believe in the magical money-making potential of Star Quiz, it's nothing more than an illusion! 
The trivia game is merely a façade to bombard unsuspecting users with adverts and profit from their time. 
You might think you're on the fast track to cash out, but once you approach the $300 target, your earnings drop to $0.15 or less! 

So, it's very frustrating for those who have already invested a long time in the trivia game. 
This smart trick lures people into more video-watching while the developer reaps all the benefits. 
And even if you reach the elusive $300 goal, don't expect to get paid. 
After clicking the "cash out" button, they ask you to watch 20 reward videos, which will just steal more time from you.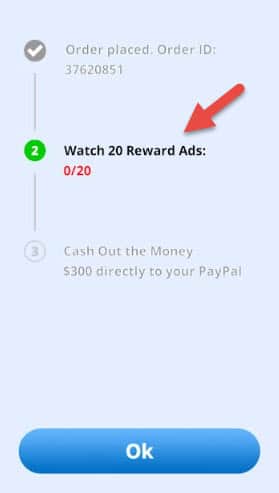 Conclusion 
At first glance, Star Quiz seems to provide a fun way to earn cash by answering trivia questions. 
But unfortunately, the developer fails to deliver on its payouts, causing disappointment and anxiety. 
So, avoid Star Quiz or any other game that makes exaggerated claims. Free apps will never turn you into a Slumdog Millionaire! 
Earn a Full-Time Online
Imagine a life where you make an income online and enjoy the freedom to work from anywhere! 
Most people get overwhelmed by so many opinions and never take the first step toward achieving their goals. 
My advice? Focus on a single strategy and invest your energy in mastering it. 
In a sea of many possibilities, I will share what worked for me. 
In 2015 I built this affiliate site where I publish helpful content, rank on google, and attract visitors from all over the world.  
You can also embark on a similar journey to achieve outstanding results by putting in the time and effort.
This step-by-step training is the one that made all the difference! 
They helped me start this business from scratch and implement all the strategies to succeed in this industry. 
Final Words
Thank you for taking the time to read my Star Quiz review!
If you have any thoughts you'd like to share, please don't hesitate to drop a comment below.
Peace!