Welcome to my Rich Banknote Cutter review!
As fate would have it, I stumbled upon this gem of a game through an advert yesterday.
And what a smart way to persuade people to click the install button! 
People beaming with happiness, dollar signs everywhere, and claims like "Anastasia won $1914" and "Mike won $22,000."
Who wouldn't want to give it a try? After all, it's as simple as cutting banknotes in half, and BAM – You're rolling in cold, hard cash! 
I know what you're thinking: "Is Rich Banknote Cutter legit or fake?
Does it actually pay out, or is it just another clone among the swarm of fake games infesting the Play Store? 
Well, my dear readers, that's what we're here to find out.
Before you leave, click here and discover the step-by-step program that helped me build an internet business and generate over $2,000+ monthly. No special skills are required! 
Rich Banknote Cutter Review
Name: 

Rich Banknote Cutter

Developer: 

Onfire Soft

Payout threshold: 

£704.10

Price:

 Free

Type:

 Entertainment (no financial risk)

Overall Rating: 0 

This reward platform is going viral! Cash out via PayPal, Visa, Gift Cards, and in-game currencies - Click here to find out how to generate an extra $10+ per day! 
What is Rich Banknote Cutter?
Rich Banknote Cutter is an intriguing mobile game where players earn virtual dollars by shooting at banknotes.
By cutting the notes, you collect cash and move one step closer to the payout threshold of £704.10. 
But there is more. Upon meeting specific conditions, you can also win the amazing iPhone 14 worth $1599! 
Despite the unrealistic offers, thousands of people are eagerly taking a chance in the hopes of winning. 
I am not optimistic about Rich Banknote Cutter because it's a clone of Crazy Cut Money! 
Everything in this game, including the prizes, is the same! 
How Does Rich Banknote Cutter Work? 
Rich Banknote Cutter is available for Android devices and is entirely free to play! 

Upon launching the app, you're immediately greeted with the familiar PayPal logo and a progress bar.
The magic amount to cash out? A whooping £704.10!
It's as if they're whispering in your ear, "we could pay your rent this month if you just play our cool game"! 
And, of course, watch a few short promotional videos along the way. Can you imagine?
Let's not forget the 24-hour countdown, a constant reminder that time is money! 
Ah, the age-old scarcity tactic! 
How to Play?
Rich Banknote Cutter features a couple of banknotes flying on screen.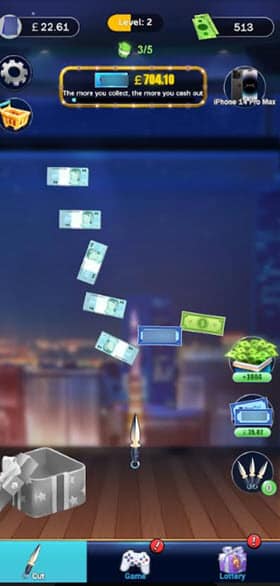 You just have to tap the screen to shoot the knives at the correct time to hit as many notes as possible. 
As you successfully slice the PayPal banknotes, virtual currency is added to two separate balances:
One has the PayPal logo, and the other a green banknote symbol. 
By cutting all the banknotes, Rich Banknote Cutter will grant you a substantial cash prize ranging from £30 to £70. 
However, you must tap the "Collect" button and watch the video to receive the reward.

Each time you do so, it counts as a view that generates advertising revenue for the game developer. 
Sometimes, you will also get the chance to flip four cards and collect cash and jigsaws. 
You can supposedly use these puzzle pieces to redeem the iPhone 14 Pro. 
To claim this prize, you will need to collect a total of 350 puzzle pieces and watch 250 videos. 
If you don't manage to cut all the banknotes with the limited number of knives, the game will refresh. 
But don't worry; you can try again as many times as you want!
How to Cash Out? 
Initially, Rich Banknote Cutter requires you to reach a balance of £704.10 to transfer the money via PayPal.
Alternatively, you can cash out £140.82 if you collect 68,000 green banknotes.
You'll likely meet these criteria in less than 30 minutes as long as you accept all the videos they throw at you.  
But I suggest you keep your expectations low, or the next section will come like a storm and shatter your sandcastle.

Is Rich Banknote Cutter Legit? Does it Pay? 
No, it doesn't! I played the game and endured lots of overhyped videos to finally reach £704.10. 
Then, the game instantly took me to the cash-out page, where I had to enter my PayPal email address. 
Now, that's when the bait-and-switch tactic comes into play. According to the developer, you must watch the video 30 times or more to activate the order. 
It would be amazing if prizes were real, but the reality is that everything is fake. 
You will watch all those videos only to be told you must jump another hoop! 
Of course, this causes a lot of frustration since people expect to put food on the table with the virtual cash they earn in this game. 
So, don't waste your time unless you enjoy the feeling of slicing virtual banknotes! 
Earn a Full-Time Income Online
Imagine a life of unparalleled freedom, where you can work remotely and earn a significant income on your terms.
Good news! An online business allows you to grow your bank account as you travel and enjoy a flexible lifestyle. 
If you dream of making money online, consider becoming a content creator like me! 
This comprehensive training helped me start from scratch and succeed in this venture. 
Just bear in mind that attracting a sizeable online audience is a gradual process that requires consistent effort over time – it just won't happen overnight! 
But the question is: how much do you want it? 
If the idea of quitting your job and living life on your terms excites you, seize this opportunity!
Final Words
Thanks for reading my Rich Banknote Cutter review!
Feel free to chime in with your insights or experiences by leaving us a comment below.
Peace!