Welcome to my Solitaire Collection Win review!
Gather 'round, fellow gamers, as we embark on a thrilling adventure into the realm of money games! 
We've all stumbled upon those enticing adverts promising us excellent cash rewards without breaking a sweat.
Well, ladies and gents, that's precisely how I discovered Solitaire Collection Win, the game where you can supposedly cash out $100
The best part? You don't even need to put your hard-earned money at risk since no deposits are required. 
So, can we trust Solitaire Collection Win to pay us 100 bucks? Is it legit or fake? Let's find out!
Before you leave, click here and discover the step-by-step program that helped me build an internet business and generate over $2,000+ monthly. No special skills are required! 
Solitaire Collection Win Review
Name:

Solitaire Collection Win

Developer:

Solitaire Collection Team

Payout threshold: 

$100

Price:

 Free

Type:

 Entertainment (no financial risk)

Overall Rating: 1/5
What is Solitaire Collection Win?
Solitaire Collection Win is a popular app that has achieved a remarkable milestone of 1 million installations on the Play Store. 

This reward platform is going viral! Cash out via PayPal, Visa, Gift Cards, and in-game currencies - Click here to find out how to generate an extra $10+ per day! 
It offers a diverse collection of solitaire games to suit all preferences, such as Kondikle, Tripeaks, Pyramid, Spider, and FreeCell. 
What makes this game so appealing is the opportunity to win $100 via PayPal without any deposits. 
As with any game that claims high payouts, it's essential to do your research before diving in. And that's why you are here, right? 
Developed by Solitaire Collection Team, the game currently holds a 4.6-star rating on Google Play. 
However, it's crucial to approach these figures with a healthy dose of skepticism since developers can easily manipulate overall ratings. 
How Does Solitaire Collection Win Work? 
You can install Solitaire Collection Winon Google Play for your Android device. 
The application is 100% free, so no deposits are needed, as you won't participate in tournaments. 
Upon launching, a treasure chest icon greets you with a generous $10 welcome bonus! 

Next, the developer claims you can cash out to PayPal, but only after you've reached $100.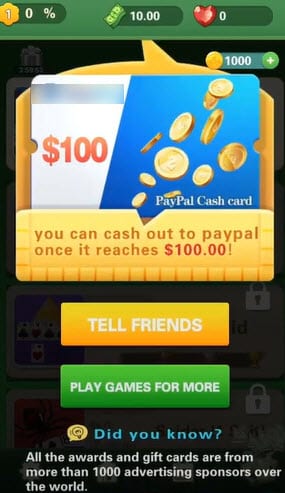 For those of you who are familiar with reward platforms on the internet, you may have an idea how high this threshold is. 
Users typically complete surveys and offers on those platforms, and it takes weeks or even months to reach $5 or $10. 
Now imagine the difficulty of accumulating $100 simply by playing a free game!
By tapping "Play game for more," you'll find a list of solitaire games, with Klondike being the first option before unlocking other variations.
In this solitaire game, players must build up four foundation piles, one for each suit, by arranging cards in ascending order.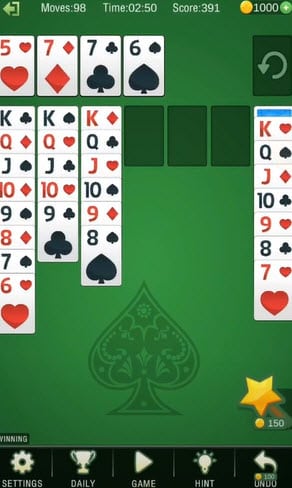 You will earn a cash reward after completing each game. Additionally, you can increase earnings by tapping "Double claim" and watching a commercial.
It's clear the developer incorporates this tactic in order to generate income from advertisers. 
In the next section, we'll reveal whether Solitaire Collection Win pays out or is just another fake money game. 
Is Solitaire Collection Win Legit? Does it Pay? 
No, it doesn't! Unfortunately, this is another fake money game that exploits your time while profiting from advertisements. 

Several players have reported frustrating experiences when trying to cash out their earnings.
A typical behavior mentioned in the reviews is diminishing cash rewards as players approach the $100 cash-out threshold.
Many players have observed their earnings slow down significantly, dropping to as low as $0.01 per win.
This makes it incredibly difficult and time-consuming for players to reach the required amount.
Many throw in the towel once they realize that developer is using a smart tactic to avoid payouts. 
One user even reported that their account balances suddenly dropped to $92. 
Furthermore, players have reported issues with gift card availability, often listed as "temporarily out of stock." 
Despite reading countless reviews, I could not find a single instance of a user being paid for by the developer. 
For me, this is enough proof that the cash rewards are fake! 
Conclusion 

Solitaire Collection Win may be an entertaining way to pass the time, but players will not receive a dime!
The game gradually reduces earnings as players approach the target amount.
This clever tactic effectively discourages people from reaching the $100 requirement. 
People should be more cautious when installing mobile applications that advertise large payouts.
They never work in your best interest and only cause frustration and anxiety! 
Earn a Full-Time Income Online
In these uncertain times, building an online business can make a world of difference!
Imagine working from home and earning a substantial income as a publisher, just like I did.
You can generate revenue from your content by displaying banners or promoting products as an affiliate on your website.
Back in 2015, I stumbled upon an exceptional training program that opened the doors to the world of internet marketing. 
It helped me build everything from scratch, even though I had zero experience, and achieve my goals! 
Fast forward to today, and I'm working remotely, enjoying the fantastic freedom that it provides. 
Join the thriving community of successful online entrepreneurs and start today! 
Final Words
Thanks for reading my Solitaire Collection Win review.
So, did you manage to reach $100? We encourage you to share your experience with us by commenting below.
Peace!