Welcome to my Ducky Crush review!
I stumbled upon a game that seemed to defy logic and reason: Ducky Crush.
This casual elimination game was trying to play with my emotions by offering big cash prizes, all while being completely free! 
The advert currently circulating worldwide has someone holding stacks of cash.
Besides, it suggests earnings of $900, $960, and a whopping $2000 on specific days of the week. 
It's no wonder this game has attracted over 10k users in the last few days! 
Despite how tempting it may seem, you should always approach such get-rich-quick opportunities with a realistic mindset. 
After all, how are developers making so much money to be able to pay these high prizes? 
So, is Ducky Crush legit or fake? Will they transfer the money to your PayPal account? Let's dive in!
Before you leave this page, don't miss out on the step-by-step program that helped me to generate $2,000+ each month and achieve my dream of quitting my job.
Ducky Crush Review

This reward platform is going viral! Cash out via PayPal, Visa, Gift Cards, and in-game currencies - Click here to find out how to generate an extra $10+ per day! 
Name:

 Ducky Crush

Developer:

 Super Sugar Studio

Price:

 Free

Payout threshold: 

N/A

Overall Rating: 0 stars
What is Ducky Crush? 
Ducky Crush is an Android game where players engage in simple yet addictive gameplay. 
This is another elimination game where you tap balls of the same color, watch videos, and collect incredible cash rewards. 
The game has garnered over 10,000 installs on the Play Store, but there's a catch—it's still in early access.
This fact raises a red flag, as it allows the developer to dodge critical reviews, keeping the app's reputation intact.
As players complete levels, they are showered with virtual dollars, transforming their playtime into a lucrative side hustle. 
But is it all an illusion? 
How Does Ducky Crush Work? 

Ducky Crush is available for free on the Play Store and doesn't even require registration. 
Once you start the game, it will entice you with two steps:
Step 1 –

 Play the game and win cash. 

Step 2 –

 Withdraw to PayPal or Cash app. 
Next, they prompt you to select the payment method and enter your account information.
Before you start playing, you open the cash balance where it says: If you pass level 10, your balance doubles by 1.2 times.
Furthermore, it says all your balance is available for withdrawal after the 1-hour countdown.
Ah, did I mention that Ducky Crush provides new users with a $10 welcome bonus?
How to Play? 
Just tap on groups of balls with matching colors to eliminate them from the playing field.
The objective is to clear a specific number of balls to complete the level successfully.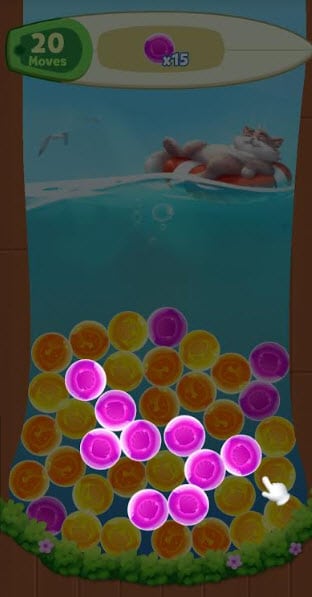 As you progress through the levels, it becomes more challenging, with different color combinations and obstacles to achieving the goal.
Bear in mind you must carefully plan your actions as each level offers limited moves. 
After completing the level, you will receive a decent cash prize between $1 and $4. 
Below the prize, an indicator arrow moves back and forth, swinging between various multipliers like 2x, 3x, and 4x.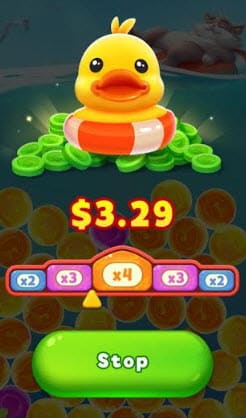 This bonus meter can increase your prize when you tap the "stop" button at the right time. 
Eliminating a group of balls could mean extra cash rewards – all you have to do is tap the "claim" button and watch the quick video. 
You can unlock even more prizes by tapping the banknote bubbles or blasting the big dollar ball. 
Finally, we come to the central point of our review. Does Ducky Crush truly pay out the irresistible cash rewards? 
Is Ducky Crush Legit? Does it Pay? 
No, it doesn't! Instead, the developer has designed a fictitious reward system to lure players into a false belief of earning easy money. 
By advertising unrealistic prizes that never materialize, people are led to invest countless hours into a fruitless pursuit.
If you pursue cash by playing Ducky Crush, you will end up disillusioned with their clever bait-and-switch tactic. 
First, the game entices players with the prospect of cashing out their winnings after one hour of gameplay. 

However, once you achieve the target, the developer betrays you by adding a hidden requirement. 
You must watch seven videos to get your order approved and finish a quest to cash out.
Unfortunately, the developer's fairy tale of virtual riches is not over yet.
After watching all the videos, you find yourself in a queue behind more than 150 others waiting for the reward. 
Worry not! Just keep completing more levels to speed up the waiting time, they said.
I followed all the steps and waited patiently, only to receive this message:
"Your withdrawal request has been accepted. The payout will be processed shortly."
The truth is, the rewards were never real, and you will never receive the fantastic cash prizes that were advertised. 
Conclusion 
Ducky Crush is another misleading game designed to capitalize on people's desire for easy money.
In an era where people crave instant gratification, it's crucial to remain vigilant! 
So, steer clear of this game and its fake cash balance! Or else you will end up wasting your precious time and fueling your anger.
If you feel impacted by this application, report it to Google Play! Some people are more proactive against these games, but I doubt they will be stopped. 
All you can do is empower yourself with knowledge and read reviews to avoid pitfalls. 
Earn a Full-Time Income Online
Have you ever wondered how some people seem to indulge in an extraordinary lifestyle typically reserved for millionaires?
I am talking about traveling regularly as if they were on an eternal vacation. 
Many of them harness the power of content marketing to attract and monetize a large audience. 
Take my own success story, for example.
For the past 7 years, I've been operating a thriving website, which has granted me the time and location freedom I'd always dreamed of.
With dedication and the right strategies, you too, could start making good money as a digital entrepreneur. 
With this exceptional, easy-to-follow program, you'll uncover the techniques I used to create and expand my vast online empire. 

Final Words
I trust that my Ducky Crush review has been insightful and informative for you.
If you've played the game, I'd love to hear about your experiences below.
Thank you for reading! Peace!