Welcome to my Jewel Cube 2048 Review!
I was testing a game on my Android when I stumbled upon an eye-catching advertisement for Jewel Cube 2048.
A woman in the video claimed she made $13k from her phone in just a month, which is crazy!
With promises of $100 wins every match and instant cashouts via PayPal and Bank account, it just seemed irresistible! 
However, a word of caution! The world of cash reward applications is full of deception and greed. 
Therefore, it's essential to be vigilant to avoid wasting time and energy on games that don't deliver on their "promises." 
In this review, I'll share my experience and explore the burning question on your mind: is Jewel Cube 2048 legit or fake? Let's find out! 
Before you leave this page, don't miss out on the step-by-step program that helped me to generate $2,000+ each month and achieve my dream of quitting my job.
Jewel Cube 2048 Review
Name:

 Jewel Cube 2048

Developer:

 Murings Mustache Studio

Price:

 Free

Payout threshold: 

$1000

Overall Rating: 0 stars
What is Jewel Cube 2048? 

This reward platform is going viral! Cash out via PayPal, Visa, Gift Cards, and in-game currencies - Click here to find out how to generate an extra $10+ per day! 
Jewel Cube 2048 is an Android puzzle game that combines classic 2048 game mechanics with an innovative twist.
In this game, players shoot numbered cubes, aiming to merge them with other identical cubes to unlock higher-numbered ones.
The objective is to strategically merge cubes while racking up virtual cash rewards.
I've reviewed countless similar games, such as Cube Winner, Shoot Cubes 2048, and more! 
Jewel Cube 2048 has crossed 5k installations on the Google Play Store, receiving several positive reviews. 
However, taking these reviews with a grain of salt is essential, as they may not all be genuine.
How Does Jewel Cube 2048 Work? 
If you found Jewel Cube 2048 through their advert, you probably followed their direction and installed the game on the Play Store. 
Upon loading, you'll be greeted with a tempting offer – tap the green button and watch the video to win a whopping $150. It sounds like a dream come true, right?

Now, let's get into the actual gameplay. To play, swipe your finger and aim at other cubes with the same number.
When the two cubes collide, they'll merge into a higher-numbered cube following the sequence of 2, 4, 8, and so on. 
The new cube will bounce, possibly colliding and merging with another cube.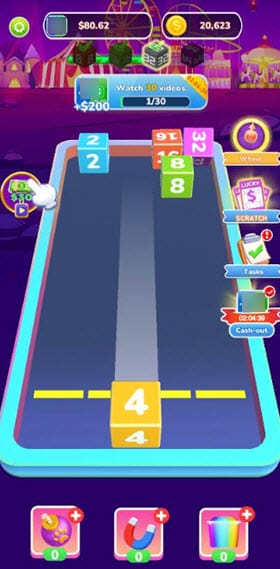 As you unlock new cubes, you may randomly receive virtual dollars, which can be accumulated and cashed out via PayPal or Cash App. 
However, there's always a catch, right? To claim your virtual cash, you'll need to tap the "Claim" button and watch one of those overhyped commercials.
You can also collect $30 by tapping the round icon with a banknote and watching the video. 
Those commercials testify to the incredible number of fake money games that exist today! 
Additionally, players can earn virtual dollars by playing scratch cards and the lucky spin.
Is Jewel Cube 2048 Legit? Does it Pay? 
Now we've reached the million-dollar question (or should I say the thousand-dollar question)! 
After investigating this game thoroughly, it's time to break the illusion and reveal the unfortunate truth:
You will not receive any real money from this casual puzzle game! 

You see, the entire concept of earning cash from a free game is a trick to get people to watch countless commercials. 
Upon reaching $1,000, I clicked Cash-out and was prompted to enter my PayPal or Cash App information.
But then, a pop-up showed up saying:
"Succeeded – you have submitted your application! Transfers to your account may take 24 hours. So, please complete other conditions during this period."
Wait a second. What more could they possibly want from me apart from playing and watching more adverts? 
Then, like a bolt from the blue, the developer unleashed their hidden requirement: merge cube '512' 20 times! 
My jaw dropped because I knew it would take hours to complete this arduous task! 
For those who are unaware, this is a bait-and-switch tactic to keep players engaged for longer periods. 
In other words, they entice people with cash and then switch the terms of the deal once the person has already invested time into the activity.
It's important to understand that, in the end, the only real winner here is the app developers who profit from advertisements. 
Finally, you are left with nothing but a sense of regret for installing this ludicrous money game. 

So, don't waste your time playing this or any other game that advertises unrealistic cash prizes.
There are plenty of better ways to spend your time than on apps that only seek to exploit you for profit. Check the next section for my top recommendation.
Earn a Full-Time Income Online
Are you tired of the daily grind, fed up with your boss, or just craving more freedom and flexibility?
If you dream of having the time to do all the things you love without the restrictions of a 9-5 job, listen up. 
I have the perfect solution for you: building a content-based online business!
Imagine a life where you can work from anywhere, set your own schedule, and generate income by providing helpful content! 
Well, I'm here to tell you that millions worldwide are already enjoying the benefits of the digital economy.
The good news is that it's not as complicated as it may seem!
Take me as an example – I started my website in 2015 without any prior experience and have since been able to generate a decent income. 
In 2019, my wife and I set on an epic 3-year journey as digital nomads, traveling to 7 countries! 
This wouldn't be possible without revenue from my website!  
So, don't let another day slip by, stuck in a job that doesn't fulfill you. Click here and get started with proper guidance from my #1 recommendation. 
Final Words
I hope you found my Jewel Cube 2048 review helpful.
If you've played the game, please share your experiences in the comments section.
Thanks for reading!
Peace!