Welcome to my Golden 2048 review!
Picture this: I was testing a reward application when lo and behold, an advert for Golden 2048 caught my eye! 
The video features someone flaunting piles of cash for each day of the week.
There's also a list displaying received payments ranging from $100 to $1,000, accompanied by the cash app logo.
Of course, I couldn't help but wonder, "Is Golden 2048 legit, or is it one of those fake money-making games?
With simple gameplay, the card-based 2048 game cleverly incorporates the allure of quick money, making it hard to resist.
The unwary may think the developer has discovered the secret formula for financial freedom.
But is it really as golden as it seems? Or could this be another well-crafted illusion designed to capitalize on people's financial struggles?
Before you leave this page, don't miss out on the step-by-step program that helped me to generate $2,000+ each month and achieve my dream of quitting my job.
Golden 2048 Review
Name:

 Golden 2048 – Card Merge

Developer:

 Beta Battle Studio

Price:

 Free

Payout threshold: 

$1000

Overall Rating: 0 stars
What is Golden 2048?
Golden 2048 is an Android game that cleverly combines the addictive merge style of 2048 games with a tempting cash reward system.
With over 10,000 installs on the Play Store, it has garnered attention thanks to its unrealistic cash prizes. 
Golden 2048 challenges players to merge cards, doubling their values with each successful combination.
As players progress, they will collect virtual dollars that can supposedly be cashed out upon reaching $1000. 
Isn't it like expecting a stranger to give you their Swiss bank account password? 
How Does Golden 2048 Work? 
Golden 2048 can be downloaded for free on any Android device via the Play Store. 
Upon launching the app, you'll be greeted with a warm welcome in the form of a $100 bonus. 
Wow! Is money falling from the sky? If so, sign me up! 
Not impressed yet? So, hold onto your hats because things are about to get wild! 
The gameplay is simple: drag and combine identical cards to unlock new cards with higher numbers.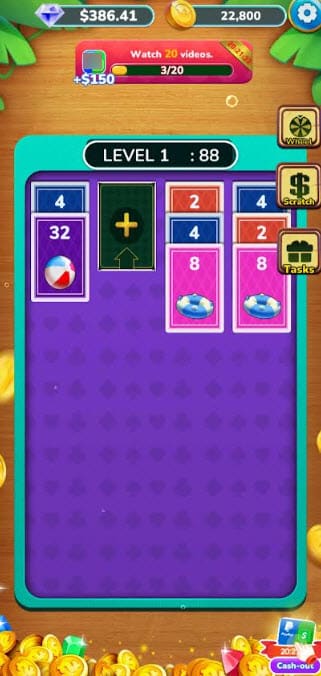 For example, merge two '4' cards, and voilà, you've got yourself an '8', which can be combined to create '16' and so on! 
You can simultaneously move one or multiple cards between four columns to expose new merging possibilities.
Now, let's talk cash rewards. As you merge cards, you'll randomly earn virtual dollars.
But here's the catch – to add the money to your balance, you need to tap the "claim" button and sit through a promotional video. 
It seems a bit fishy.
You don't even need to play Golden 2048 to reach the target. Just tap the banknote symbol and watch the video to earn $30. 
Withdrawing Funds
As you accumulate virtual dollars, you start dreaming about all that cash sitting in your bank account. 
By opening your balance, you'll discover a limited-time offer where you must accumulate a $1,000 bonus to cash out.
And you will have just 24 hours to achieve the target and receive the money. 
This goal adds a sense of urgency to keep players engaged in advertisements in hopes of reaching that magical threshold.
Click here and discover the top gaming apps that actually pay! 
Is Golden 2048 Legit? Does it Pay? 

No, it doesn't! Players won't receive a single dime from Golden 2048! 
They cleverly executed a fake reward system that keeps you playing while the app generates real revenue from advertisers. 
Be aware Golden 2048 has employed a classic bait-and-switch tactic to keep you glued to your phone screen. 
Once you've poured your precious time into reaching the $1,000 threshold, they throw in a new set of hoops for you to jump through:
You will be enticed to watch 50 videos, play for another seven days, or meet some other arbitrary requirement.
It's an endless cycle of meaningless steps that will lead you nowhere! 

This reward platform is going viral! Cash out via PayPal, Visa, Gift Cards, and in-game currencies - Click here to find out how to generate an extra $10+ per day! 
Of course, the app uses psychological triggers to capitalize on our innate desire for easy money! 
So, the more time we invest in the game, the more committed we become to reaching the goal, despite the strong evidence that it's fake. 

Furthermore, Golden 2048 exploits the power of scarcity by imposing a ludicrous limited-time offer. 
Ultimately, you're left with nothing but wasted time and a bitter taste of disappointment.
Conclusion 
Steer clear of Golden 2048, as it's a fake reward game that preys on your desire for instant gratification.
The crafty developer generates revenue by bombarding players with adverts in return for worthless game currency. 
Sadly, many people are still unaware of these tactics and keep playing, hoping to strike it rich. 
Earn a Full-Time Income Online
In 2015, I took a leap of faith and dove into the world of online business, which completely changed my life!
After hard work and perseverance, I created a lucrative site that provides the time and location independence I have always dreamed of. 
You can do it too!
Discover the incredible internet marketing world and create an online audience that generates consistent commissions.
With this excellent step-by-step program, you'll learn the strategies I personally used to start and grow a large online audience. 
Are you tired of fake reward apps and low-paying online activities? Dive in and create a robust digital asset today! 
Final Words
I appreciate you taking the time to read my Golden 2048 review! I trust it's been enlightening!
Please share your thoughts and experiences about this game in the comments section below.
Peace!