Welcome to my Macadam review!
Imagine an app that motivates you to walk by converting all your steps into cold hard cash!
Sounds too good to be true, right? But hold onto your walking shoes because this has become a reality!
Many pedometer apps have already paved the way for this concept, like Winwalk and Sweatcoin.
They proved that staying active and earning rewards can go hand in hand! Here is my Winwalk review! 
With Macadam, your footsteps are tracked and transformed into tangible financial rewards.
But the lingering question is: can we trust Macadam? Is it a legitimate money-making opportunity?
We've tested the app and are excited to share our findings with you!
Before you leave this page, don't miss out on the step-by-step program that helped me to generate $2,000+ each month and achieve my dream of quitting my job.
Macadam Review
Name: 

Macadam – Walk and Earn

Developer:

MacadamApp
Type: Health and Fitness

Price: 

Free

Overall Rating: 2.6/5
What is Macadam? 
Macadam is a pedometer that inspires users to walk by turning their steps into real cash rewards.
The concept is simple yet captivating: as you walk, the app tracks your steps and converts them into "Coins."
You can then exchange these Coins for cash and directly deposit the funds into your bank accounts.
In addition to earning from talking, you can explore other ways to collect more coins.
For example, you can watch commercials, participate in partner games, answer surveys, and complete easy challenges.
With over 100k installations on the Play Store, Macadam seems like a decent opportunity to reap the rewards while embracing an active lifestyle.
How does Macadam Work? 
Macadam is a free app exclusively available for Android devices.
To get started, simply download it from the Google Play Store and sign up using your email address or Google account.
Next, you must sync your steps with Google Fit, which serves as a centralized platform for tracking step counts and other fitness data.
This is a crucial step as it allows Macadam to accurately track your steps and convert them into Coins.

The company will give you a bonus of 100 coins (0.05 euros) to kickstart your journey on a high note!
At the top of the dashboard, you'll see your coin balance, step count, distance walked, and calories burned.
Under the count, a progress bar shows how many Coins you'll earn for your steps.
You'll start by earning 25 Coins for the first 2,500 steps and can rack up to 200 Coins for 20,000 steps.
When you reach a milestone, swipe to validate your steps, and Macadam will credit the corresponding Coins to your account.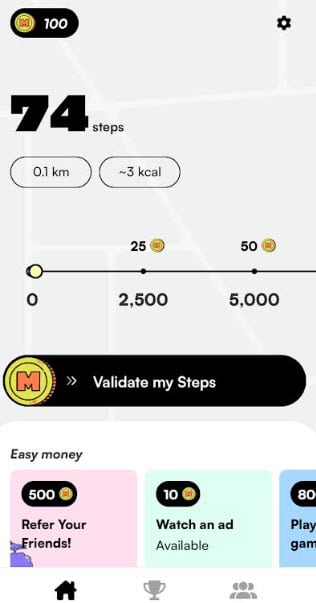 As a bonus, you can tap the button and watch a video to earn an extra ten coins.
Easy Money
Macadam provides several ways to maximize your Coin earnings beyond just walking:
Refer friends: When a friend signs up with your code, they'll receive 1,000 Coins, and you'll earn a bonus of 500 Coins.
Watch videos: Earn 10 Coins by watching a short promotional video within the app. Why not watch videos while walking to increase earnings?
Play partner games: Macadam has teamed up with three platforms – Adjoe, ayeT, and IronSource. Adjoe offers Coins per playtime minute, while ayeT and IronSource reward users for completing select gaming tasks.
Complete surveys: Participate in marketing research studies surveys from two survey panels – TapResearch and CPX Research.
Challenges: Conquer time-sensitive challenges such as validating steps at specific timeframes.

By leveraging these methods with step-tracking, you can make the most of your Macadam experience and reach the payout threshold faster.
Withdrawing Funds
The minimum requirement for a cash-out is 30,000 Coins, which is equivalent to €15.
However, you can also opt for larger amounts like €30, €60, or more.
I'd recommend withdrawing earnings sooner rather than later, as it takes a long time to reach the threshold.
Macadam claims to offer almost instant transfers, which makes it very attractive.
But that's not all! If you're ambitious enough to accumulate 300,000 Coins, you can treat yourself to a pair of refurbished AirPods 3.

This reward platform is going viral! Cash out via PayPal, Visa, Gift Cards, and in-game currencies - Click here to find out how to generate an extra $10+ per day! 
Alternatively, you can invest at least 3000 Coins in real trees, neutralizing CO2 and contributing to a greener planet.

How Many Steps do You Need to Cash Out? 
Earning 30,000 coins with Macadam might seem like a doable goal, but in reality, it's very time-consuming.
To reach this threshold, you would need to take an astounding 3 million steps!
For many users, this could take months, if not years, to accomplish, depending on their activity levels.
Assuming an average stride length of approximately 0.8 meters, 3 million steps would be equivalent to roughly 2,400 kilometers.
To put it into perspective, that's like walking from Los Angeles to Chicago or embarking on an odyssey from Madrid to Moscow!
All that effort, and what do you get? A mere 15 euros, which barely covers the cost of a decent meal nowadays.
You deserve more than that, in my honest opinion!
Is Macadam Legit? Does it Pay? 
There is no evidence that Macadam is engaging in any fraudulent activities, so I assume the app is legitimate until proven wrong.
However, there is something concerning about this app that is worth mentioning here.
Although Macadam has achieved over 100,000 installations, the astonishingly low number of reviews on the Play Store is baffling.
Without enough reviews, I cannot provide a definitive answer on its reliability regarding payments.
Even if I receive the money, that doesn't guarantee everyone will have the same experience!
It's interesting to note that out of the 12 published reviews, many users had issues while using the app.
Common problems include error messages while signing up and difficulties validating steps.
While some users enjoy the app, calling it "cool" and "great," others are disappointed and even label it a "scam."
Besides, none of the reviews mentioned receiving money transfers yet, which is worrying.
The lack of confirmation on payouts is a crucial aspect to consider when assessing reward apps.
This is especially true since accumulating the minimum requirement of 30,000 coins is very time-consuming!
Can you imagine engaging with Macadam for months only to find out the developer is not willing to transfer the funds?
Conclusion 
Macadam is another opportunity for those who want to get paid for walking and engaging in simple online activities.
Although it offers unlimited rewards, the lack of reviews that confirm successful payouts raises serious concerns!

If the app was brand new, that would be understandable, right?
But the fact that Macadam has just 12 reviews despite having over 100k installations is a cause for alarm.
Additionally, users should be aware of the high minimum withdrawal requirement.
If you just rely on your shoes, it will take approximately 3 million steps to reach 30,000 coins and cash out.
That's insane!
On the positive side, the app offers different ways to earn Coins, which helps you reach the payout faster.
I also appreciate the opportunity to withdraw money via a bank account and invest in eco-friendly initiatives.
Considering the lack of user reviews on the internet, I suggest giving more time until more people have chimed in with their results and thoughts.
In the meantime, you can explore alternatives with more established credibility, such as WinWalk.
This pedometer has a proven track record of delivering on its promises. Here is my full WinWalk review! 
Earn a Full-Time Income Online
Are you searching for a more substantial and consistent income source from the internet?
If so, consider building an online business!
While reward apps and sites can be easy and offer some earnings, they don't come close to the potential meaning of becoming a content creator.
Launched in 2015, my affiliate site still generates decent revenue every month and gives me the freedom to work anywhere, anytime I want!
So, don't let the opportunity slip by!
This excellent step-by-step program will help you establish yourself as an authority and start making serious money online.
Final Words
Thanks for reading my Macadam review! I hope it helps to raise awareness!
We'd love to hear your experience and perspective on this application, so leave a comment below and let us know your thoughts.
Peace!