Welcome to my Stacking Merge – UNO Match review!
Recently, I stumbled upon an intriguing advert for a card game called Stacking Merger – Uno Merger.
In the video, a woman triumphantly announced the ability to win real cash with no withdrawal limitations and even a $100 new player bonus. 
Ah, the sweet siren song of easy money right into my PayPal account!
Nothing is more tantalizing than the opportunity to win free money without effort.
But, as the saying goes, if something sounds too good to be true, it probably is.
This led me to ponder, "Is Stacking Merger – Uno Merger a genuine goldmine or a carefully crafted fake money game? Does it actually pay?"
In this review, we'll embark on a journey to unveil the truth behind this seemingly irresistible game.
We will explore the smart marketing strategies employed by its developer and investigate the ever-alluring cash prizes.
Before you leave this page, don't miss out on the step-by-step program that helped me to generate $2,000+ each month and achieve my dream of quitting my job.
Stacking Merge – UNO Match Review
Name:

Stacking Merge – UNO Match

Developer:

 Moondrop

Price:

 Free

Type:

 Entertainment

Payout threshold: 

$1000

Overall Rating: 0 stars
What is Stacking Merge – Uno Match? 
Stacking Merger – Uno Merger is an Android game that invites players to merge cards in order to win enticing cash prizes.
It's very similar to countless other games that lure players in crazy cash incentives like Christmas Card 2048.
Despite having a fair share of negative reviews, this intriguing game surpassed 10,000 installations on the Play Store.
The developer, Wuigame Betop, lures players with addictive and rewarding gameplay.
At its core, Stacking Merger is centered around merging cards to create higher-valued cards and accumulate virtual dollars.
Although the gameplay is simple, withdrawing the money turns out to be a different story.
The reason is that you must accumulate $1,000 before you can cash out immediately.
This clever design compels you to invest a significant amount of time without any assurance of a payoff.
How Does Stacking Merge Work? 
Stacking Merge – Uno Merge is free on the Play Store and doesn't require registration.

Installation is a breeze, you'll find yourself immersed in the world of card merging in no time.
As soon as you launch the game, you will see a pop-up saying you should merge the cards by dragging them to unlock new cards.
The gameplay is very straightforward!
You will basically select a card, such as a number 8, and drag it in front of another identical card (in this case, another number 8).
The cards then merge, resulting in a new card with double the number (a 16, in our example).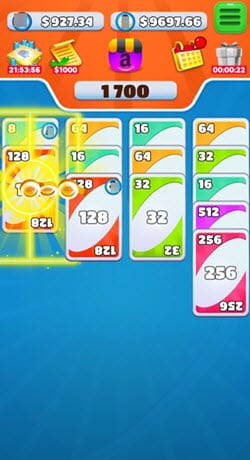 With four columns, you can strategically move single or multiple cards to make those important merges.
Ah, but the real fun lies in the amazing cash rewards, doesn't it?
As you unlock new cards, virtual dollars will magically appear randomly as either PayPal or Amazon bonuses.
However, there's more to the game than meets the eye. The developer's true genius lies in their ability to monetize the game through the clever use of advertisements.
Every time you receive virtual dollars, they must tap the "receive" button, which prompts you to watch a commercial until the end.
This seemingly innocent action significantly increases the developer's revenue as he gets paid for each view.
Now, isn't that just ingenious?
The game entices you to pour hours of your precious time into the game, all while dangling the carrot of a potential payoff.

Click here and discover the top gaming apps that truly pay! 
How do You Cash Out? 
Now, the moment we've all been waiting for – cashing out those virtual dollars that appear to be a gift from the internet gods!
When you tap on your PayPal balance, a message pops up stating that during the event, all the money you collect will be redeemed via PayPal.
Sounds easy, right? A countdown timer tickets away from 24 hours, encouraging you to keep playing and collecting as much money as possible.
But don't worry, as you can bypass the nerve-wracking countdown and withdraw immediately if you reach $1,000.

This reward platform is going viral! Cash out via PayPal, Visa, Gift Cards, and in-game currencies - Click here to find out how to generate an extra $10+ per day! 
For the ambitious players who have their eyes on an Amazon payout, the minimum requirement is a jaw-dropping $10,000! 
The question remains: Will this merging frenzy ever pay off?

Is Stacking Merge Legit? Does it Pay? 
Well, dear players, brace yourselves for a dose of cold, hard truth – the virtual cash rewards are just an illusion! 
Stacking Merge is the type of game masterfully designed to keep you watching adverts and boosting the app's revenue.
As you diligently merge cards to collect rewards, the game employs a well-known tactic of diminishing rewards.
At first, it generously showers you with cash, lulling you into a sense of confidence.
However, as you inch closer to the payout threshold, the rewards dwindle, making you feel like you are in a game of cat and mouse.
Finally, you triumphantly reach the $1,000 mark and eagerly enter your PayPal email.
But alas, the game has one last trick up its sleeve. A message appears, demanding you watch 60 videos to activate the withdrawal order.
This is classic bait-and-switch, leaving you wondering if this is another excuse to maximize the game's profits.
And that, dear friends, is the hidden truth lurking beneath the shiny facade of money games!
Conclusion 
In essence, Stacking Merger – Uno Merger operates an advertising platform cleverly disguised as a cash reward game.
Although it might look like an exciting way to earn real money, in reality, it's a trap to keep us constantly viewing videos.
Let's not be fooled by games that promise quick riches while hiding their real agenda!
Earn a Full-Time Income Online
If you aspire to unlock the potential of the internet to generate significant income, it's time to explore the realm of online business.
An excellent option for many is to venture into a content-driven business that thrives in the digital world!
What makes this path remarkable is the extreme flexibility and boundless growth potential it provides.
Not to mention the low startup costs of running a site that attracts visitors from all over the world.
As a successful internet marketer, I can attest to the benefits of this venture.
I took the plunge and started my online business after enrolling in this top-notch training program in 2015.
Today, my website is a testimony to that decision, attracting over 3,000 visitors daily and generating a life-changing income.

You, too, can harness the power of internet marketing and carve your path to success. Click here and start today! 
Final Words
Thanks for reading my Stacking Merger – Uno Merger review! I hope it helps to raise awareness! 
Join the discussion by sharing your perspective on this game in the comment box below.
Until next time! 
Peace!