Welcome to my Christmas Card 2048 review!
I recently found Christmas Card 2048, a casual game enticing users with insane cash prizes. 
The developer promotes the game using a game simulation in which you must drag cards to win money. 
Right at the top, a PayPal balance skyrockets to hundreds of dollars within seconds! 
By merging identical cards on the board and reaching the payout threshold, you will be able to withdraw the money. 
Lots of people have that rush of adrenaline and hurry to the Play Store without a second thought!
Unfortunately, most are still unaware that behind this apparent harmless card game lies a clever system designed to profit from your desires. 
So, is Christmas Card 2048 legit or fake? This review will explore whether or not it pays out as advertised. 
Before you leave this page, don't miss out on the step-by-step program that helped me to generate $2,000+ each month and quit my job in 2019.
Christmas Card 2048 Review
Name: 

Christmas Card 2048

Developer: 

Vision4Fun

Availability:

 Worldwide

Price:

 Free

Payout threshold:

 $1000

Overall Rating: 0 stars

This reward platform is going viral! Cash out via PayPal, Visa, Gift Cards, and in-game currencies - Click here to find out how to generate an extra $10+ per day! 
What is Christmas Card 2048?
Christmas Card 2048 is a festive variation of other merge games like 2048 Cards. 
The goal is to arrange cards in sequence and merge matching pairs to create new cards with higher values.
As you merge the cards, you rack up virtual dollars deposited to your PayPal or Amazon wallet. 
Your balance snowballs, but you can only withdraw if you satisfy the cash-out requirements of $1000 for PayPal and $10,000 for Amazon.
How Does Christmas Card 2048 Work? 
Christmas Card 2048 is available worldwide for all Android devices and is 100% free. 
The board game starts immediately with four columns of cards that can be dragged individually or jointly.
Players must drag the cards to columns to match them with an identical card (same number and color).

As a result, both cards will merge into a higher-value card and reward you with cash rewards. 
For example, placing a card number 4 on top of another 4 will merge into an 8.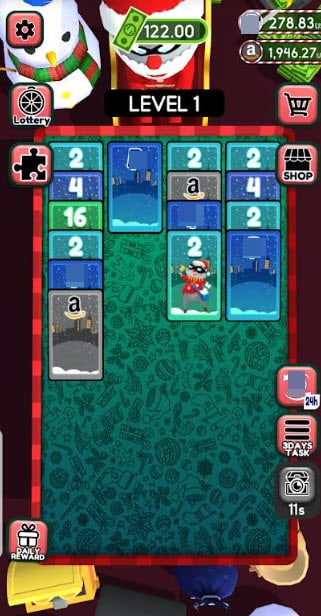 There are also special cards that feature the PayPal or Amazon logo instead of numbers. 
Well, you probably guessed it right! When you merge those, it will trigger a PayPal or Amazon coupon with a generous cash prize. 
But in that case, you will be prompted to tap the "collect" button and watch the promotional video. 
Christmas Card 2048 creates the illusion that players can eventually cash their winnings for real money.
This, of course, creates an expectation of a potential cash payout, which is never a guarantee. 
On the other hand, the developer receives advertising fees whenever you watch the videos! 
Although the earnings for each person may be small, the combined earnings from thousands of users can result in a sizable profit for them. 
How do You Get Paid? 
Christmas Card 2048 suggests those who accumulate enough virtual cash can withdraw real money. 
You can cash out via PayPal or Amazon gift cards once your wallet reaches $1,000 and $10,000. 
It may seem like an impossible task. However, the game gives away insane Amazon prizes worth over $1,000 after each video. 

Is Christmas Card 2048 Legit? Does it Pay? 
No, it doesn't! Christmas Card 2048 is another fake money game that preys on people's desire for each money. 
Their tactic consists of gradually decreasing the value of the virtual cash rewards over time. 
By doing that, players are lured into playing longer hours and watching more advertisements! 
As a result, that makes it more difficult for them to accumulate enough virtual dollars to cash out via PayPal or Amazon gift card.
Since people have invested so much time in the game, they don't want to stop, as this would mean losing all their time. 
So, they keep playing, hoping to reach the payout threshold eventually. 
And they will succeed with the first cash-out demand, but then another one will appear out of nowhere.
You will be asked to watch a large number of videos (60 to 80) to receive the payout.
However, despite watching these videos, you will not receive a dime!

It doesn't matter what it says in the game. It's all an illusion to make you believe the developer will transfer the money. 
But expecting a game developer to pay you $1,000 is like expecting a unicorn to show up at your doorstep with a suitcase full of gold.
Earn a Full-Time Income Online
Picture a life free from the constraints of a traditional 9-to-5 office job! 
How about the freedom of being able to wake up each day and decide where you want to work? 
It could be from the comfort of your home or a picturesque village in Bali! The world is big, so you decide! 
By creating valuable content that helps people solve problems, you can attract a large audience and generate multiple income streams. 
This will allow you to achieve the lifestyle you have always dreamed of! 
Interested? So, click this link to learn step-by-step how to build this online business and live life on your own terms.
Final Words
Thanks for taking the time to read my Christmas Card 2048 review! If you want to share your experience or thoughts on this app, drop us a comment below. 
Peace!