Welcome to my mRewards Review! 
I recently came across mRewards as a suggestion on the Play Store and decided to check it out later.
It's impressive that the app has been installed over 5 million times on the Play Store, and I can't help but wonder why I didn't discover it sooner.
The app allows users to earn money by installing and playing sponsored games.
At My Room is My Office, we have reviewed many reward apps that entice users with easy money. 
They will get you to spend time completing tasks, often leading to roadblocks that leave you stuck without compensation. 
Is this the case with mRewards? Will they really transfer your cash rewards once you meet their requirements? Is it legit? Let's find out! 
Before leaving this post, check out the step-by-step program that helped me build an affiliate site and quit my job in 2019. It's free to join, and you don't need any previous experience.
mRewards Review
Name: 

mRewards – Games & Earn Money

Developer: 

Game Master's

Availability:

 Worldwide

Price:

 Free

Payout threshold:

 £1

Overall Rating: 4 stars
What is mRewards? 

This reward platform is going viral! Cash out via PayPal, Visa, Gift Cards, and in-game currencies - Click here to find out how to generate an extra $10+ per day! 
MRewards is an Android app that allows you to earn coins by playing sponsored games, completing surveys, watching videos, and more! 
The company partners with a technology company named Adjoe to provide a list of offers and reward you for every online activity. 
According to the app's description, coins can then be used to cash out or redeem PayPal cash, gift cards, and even cryptocurrencies. 
MRewards is not groundbreaking, as you can find countless similar apps like CashBaron, FunTime, and JustPlay. Here is my JustPlay review! 
Yet, the app offers other earning options not limited to playing games.
How Does mRewards Work? 
mRewards is a free Android app available globally on the Play Store. 
Before accessing the dashboard, it will prompt you to accept the Terms of Usage and sign up with your Google account. 
As mentioned, you will collect coins by completing tasks and playing games on the platform. 

The exchange rate is pretty straightforward for UK residents, where 10,000 coins equal £1. However, it can differ depending on your country. 
It's worth noting that, depending on your country, you will get a generous welcome bonus of 9999 coins. 
On the dashboard, you will find five tabs, each corresponding to a different way to collect coins. 
Playtime Games
This section connects you with the adJoe platform, offering a list of games that award coins per minute of gameplay. 
First, you must allow usage tracking so that mRewards sees how long you have played their games. 
Each game will show you the number of coins you will get per minute as well as the maximum reward.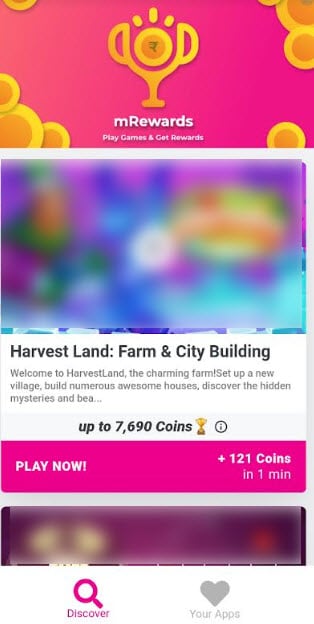 To start collecting coins, tap "play now" and install the app on the Play Store. 
Then, return to the mRewards app and find the game in the "Your Apps" section. 
Remember to open the game through the platform so that it can track your playtime properly. 
Also, you should know that the coin/minute rate you see before installing the app is only valid for the first minutes of gameplay. 
So, the more you play, the longer it will take for you to collect the same reward. 
For example, I played Mine Rescue, initially paying 151 coins per minute.

After a few minutes, I returned to mRewards to check my earnings and realized that the rate had dropped to 151 per 2 minutes. 
So, the more you play, the more your earnings will decrease! 
Refer & Earn 
mRewards allows users to earn coins by inviting friends to download and use the app. 
When your friend earns their first coin, you will get 2500 coins, plus 10% of all your referral's earnings. 
To invite a friend, copy the unique referral link that is generated by the app.
Then, simply share it via social media, email, text, or any other messaging platform.
App Task
This section consists of a list of six Offer Walls where users can earn more coins for completing specific tasks or offers.
Fyber 

Youmi

Make Money 

OfferToro

Ayet Studios

Adgate tasks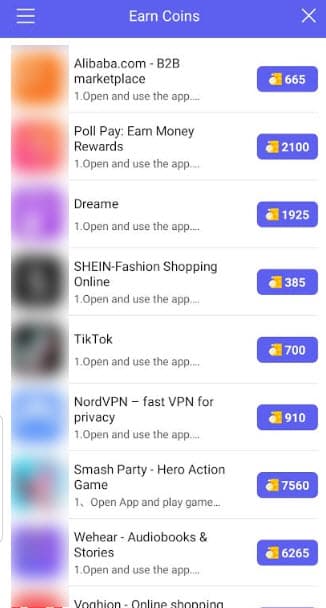 These tasks can include downloading and using a new app, such as a game or another type of service. 

You can also find other options like completing surveys or signing up for a free trial. 
To get coins, read the instructions and fulfill all the requirements. 
Be aware that the "App Tasks" tab is locked until you play at least one game.
Check out my list of the top GPT (get-paid-to) sites! 
Survey Offers
This section allows users to earn coins by participating in surveys from two providers: Bitlabs and CPX Survey.
Before taking any surveys, you will complete a short profile survey to provide basic information about yourself.
This information is used to match users with surveys that are most relevant to your demographics and interests.
Unfortunately, most surveys require panelists to meet certain conditions to be eligible to participate.
For example, you may have to be of a certain age, gender, job category, or geographic location. 
Users need to answer questions truthfully, as inconsistent answers can lead to disqualifications or even suspension of your account.
If you want to complete surveys, it is essential to be persistent, as you may get disqualified frequently.
It's very time-consuming, and the pay is not that great!  
Most surveys pay less than $1 and take anywhere between 5 to 15 minutes. 
Watch Videos
mRewards also reward users for watching promotional videos. 
In the UK, users can earn up to 50 coins per video, with a daily limit of 10 videos. 
Withdrawing funds
Once you have reached the minimum threshold of 10,000 coins, you can redeem your coins for a £1 Amazon gift card.
However, you can accumulate higher amounts and redeem up to £50! 
To cash out, open your "reward" tab, select the payment options, and then "Submit Request." 
It may take 48 hours to complete the transfer and receive the eGift code in your email. 
Unfortunately, despite advertising these options in the description, mRewards does not currently support other payment methods, such as PayPal or cryptocurrency. 
Well, at least in the UK, only Amazon is available. 
Despite this, it's still a great opportunity as you can use Amazon gift cards to purchase a wide range of products and services. 

Since I got 9999 coins as a newcomer bonus, I just had to collect one coin to be eligible for the £1 Amazon gift card. 
What Are Users Saying About mRewards? 
Users' reactions to mRewards are mixed. While some have found it an efficient method of collecting cash rewards, others have had difficulties with the app.
One user mentioned that coins were not credited to their account despite following all the instructions. 
Another user mentioned that he loves the app but reported a tendency to crash while watching videos.
I also found a user who was complaining about the payouts, which is very concerning.
He said he tried to exchange coins for an Amazon gift card six times but has yet to receive it.
He kept getting a message that it was sold out, even after waiting 48 hours and contacting support.
It's common for users of reward apps to experience technical issues, missing coins, and payments. 
Therefore, if something unfair happens, contact the app's support team by sending them an email.
How to Contact the Support Team? 
To contact mRewards app's customer support team, navigate to your profile and select the "help" option.
From there, you can easily access the "email us" button and send a message using your email service like Gmail. 
Conclusion 
If you're looking for an easy way to earn rewards, mRewards is a reliable and trustworthy option. So, yes, it's 100% legit, and it does payout! 
With its user-friendly interface and diverse range of reward partners, this is one of the best money-making apps! 
However, it's important to set realistic expectations and remember that earnings are very slow. 
mRewards is just a way to earn a little extra cash or gift cards in your spare time.
Like other reward apps, you may encounter occasional glitches and not receive the right number of coins you deserve. 
If this happens, you already know what to do! First, contact the support team, and if that doesn't work, don't hesitate to leave them a disappointing review on the Play Store. 
Earn a Full-Time Income Online
Are you tired of the same old routine of waking up early, rushing to your job, and being stuck in a cubicle for eight hours a day?

Imagine a life where you decide how you spend your time and where you work! 
Thanks to the internet, you can live the laptop lifestyle by creating an online business that pays you month after month. 
So why not take the leap and join the ranks of successful online entrepreneurs?
 Click this link now to learn step-by-step how to attract an online audience and make real money online! 
Final Words
Thanks for taking the time to read my mRewards review! 
So, have you used this app? If so, share your experience in the comments below and inspire others to start earning cash rewards too!
Peace!