Welcome to my Lucky Battery review!
Have you heard about an app that allows you to make real money while charging your phone?
I am not talking about a pocket change that takes one year to buy a milk bottle. 
Lucky Battery claims if you charge for 10 minutes, you will get $10, making it the most lucrative business in the world. 
Who needs a job when a simple software can provide financial freedom via the electric grid?
If you are skeptical and wondering if this app is fake, you have come to the right place. 
This review will show whether this can deliver free cash to your PayPal account. Is Lucky Battery Legit or fake? 
Let's find out! 
Before you leave this page, don't miss out on the step-by-step program that helped me to generate $2,000+ each month and quit my job in 2019.
Lucky Battery Review
Name: 

Lucky Battery

Developer: 

Snows Studio

Availability:

 Worldwide

Price:

 Free

Payout threshold:

 500 USD

Overall Rating: 0 stars
What is Lucky Battery? 
Lucky Battery is a battery management app that offers unrealistic cash incentives for users to charge their phones.
It follows the same concept as Lucky Charge, Super Charge, and more! 
It assists users in keeping their device's battery healthy by displaying data on battery consumption and capacity.
But the most attractive feature is not the app's optimization features but its generous cash rewards.
While charging your smartphone, you can earn insane prizes that amount to hundreds of dollars quickly. 
Therefore, many users are questioning the legitimacy of this Android app, as it seems too good to be true. 
How Does Lucky Battery Work? 
Lucky Battery is available worldwide for Android devices. 
Once you've installed the app, you can start using it immediately without creating an account. 
The dashboard provides users with various information and features about their phone's battery health and rewards.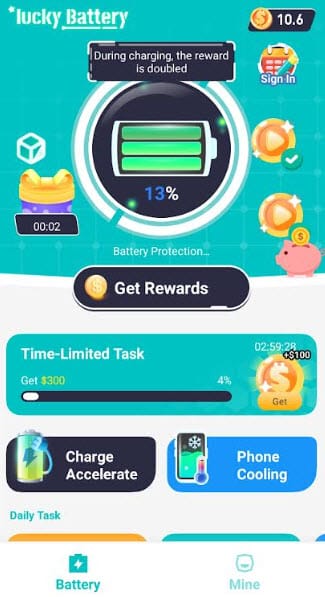 At the top, you will see the phone's current battery percentage and a "Get Rewards" button underneath.
The "Charge Accelerate" feature optimizes your phone's charging speed, while the "Phone Cooling" helps cool it down. 
How to Earn Cash Rewards
First, plug in your device to see the "Get Rewards" button and receive double the reward. 
Tapping this button immediately triggers the commercial before Lucky Battery rewards you with virtual dollars. 
So, the Lucky Battery app doesn't pay you for charging your phone but instead offers rewards for watching promotional videos.
Since Lucky Battery's revenue model is based on video views, it will allow you to earn cash even if your phone is not plugged in. 
If your phone is not charging, you will see the button "optimize."
To activate monetization, you must replace this button with the "Get rewards" button. To do that, simply tap the "optimize button" and watch the advert. 
The app allows you to tap the gold coins and complete daily tasks in exchange for additional virtual dollars.
You can also play the Lucky Wheel, Draw, and Shake for more easy rewards! 
How to Cash Out? 
The developer wants you to reach the minimum payout amount of $500 before you can cash out. 
To receive the payment through PayPal, choose the amount and enter your email address.

Is Lucky Battery Legit? Does it Pay? 
No, it doesn't! Instead, lucky Battery will leave you stuck in a loop of endlessly watching videos.
Those commercials use deceptive marketing tactics to entice you to install other unrealistic fake money apps. 
The advert for Lucky Battery said you could withdraw anytime, but of course, this is not true. 
Once you finally reach $500 to cash out, you will be put on a waiting list with thousands of people. 

This reward platform is going viral! Cash out via PayPal, Visa, Gift Cards, and in-game currencies - Click here to find out how to generate an extra $10+ per day! 
One reviewer said he was number 3200 to receive his payout and moved up to position 1700 after three days of waiting.
However, on the review date (February 18th, 2023), the reviewer discovered that they had been moved back to position 3200. 

I have searched through many reviews on the Play Store but couldn't find anyone who received the money from the app.
Therefore, it's clear that users are not receiving the reward since the payout system is fake.
Can you at least optimize your battery life and accelerate charging with Lucky Battery? 
NOPE! In fact, it has the opposite effect, as it sucks the life out of your battery faster than a thirsty vampire in a blood bank.
Conclusion 
Lucky Battery is just another one of those "get-rich-quick" apps that hypnotize users with instant gratification. 
Sure, the idea of earning money just by charging your phone sounds amazing, but unfortunately, it's just a pipe dream! 
Keep in mind that watching commercials is an integral part of earning cash through Lucky Battery. 
Therefore, the battery theme just masks the app's primary objective, which is to bombard users with adverts. 
Earn a Full-Time Income Online
Building a content-based business is one of the best strategies to make money online and enjoy the benefits of the laptop lifestyle.
It allows you to earn a steady income anywhere in the world without having to report to any boss or client. 
Imagine the freedom and peace of mind that this type of business could provide! 
I have achieved this lifestyle myself and can attest to the joy and fulfillment of being an online entrepreneur. 
So if you're ready to embark on a journey toward time and location freedom, this is the way to go. Click here to learn the process step-by-step! 
Final Words
Thanks for taking the time to read my Lucky Battery review! If you want to share your experience or thoughts on this app, drop us a comment below. 
Peace!