Welcome to my MultiPolls review!
I've recently discovered MultiPolls during my perpetual quest to find legit money-making apps. 
The company, Bohemian AI Technologies, suggests the possibility of earning an easy £1.20 from your first three surveys. 
It also promises the highest-paying surveys on the internet, which is undoubtedly a big, bold claim! 
Whenever I hear an app bragging about offering the best payouts, I take it with a grain of salt. 
I also approach the opportunity with caution, especially when it comes to cash apps.  
In this review, we will take a closer look at MultiPoll and see if it's a decent opportunity for panelists. 
Is it hard to qualify for surveys? Does it reward members? Legit or scam? Let's find out! 
Before leaving this post, check out the step-by-step program that helped me build an affiliate site and quit my job in 2019. It's free to join, and you don't need any previous experience.
MultiPolls Review
Name:

 MultiPolls

Developer: 

Bohemian AI Technologies

Eligibility:

 Worldwide

Payout Threshold:

£10 or $12.50

Price:

 Free 

Overall Rating:

3.6 stars
What is MultiPolls?
MultiPolls is an Android app that lets you earn cash for sharing your opinions. 
The surveys are typically short and easy to complete, so you can grow your cash balance without too much time and effort. 
Like most survey apps, MultiPolls connects members with various survey panel companies.
All these firms focus on attracting a large pool of participants to provide quality data to their clients. 
As a member, you will have access to daily surveys about different products, services, and topics of your interest. 
How Does MultiPoll Work? 
MultiPoll is currently available for Android users in the US, the UK, Canada, and Australia. 
You can install the app for free on the Play Store and quickly sign up using your Google account or email. 
Next, the app will suggest that you share your location to get three times more surveys. 
Tap "Share location" and allow access to your location. 
Next, you must complete the "start survey," which consists of basic profiling questions like age, gender, job, education, and more. 

Completing this initial survey will unlock more opportunities, as MultiPolls will use your answers to match you with relevant surveys. 
Earning cash through surveys is easy, but you must ensure you take time and answer the questions truthfully. 
Sometimes, you will get questions with obvious answers to ensure you are paying attention. 
Check out the best survey apps here! 
Is Your Personal Data Safe?
MultiPolls claims to have a high focus on security. Any personal data you provide through the app is encrypted and secured.
Besides, the company will only use them to match you with the best surveys. 
Completing Surveys
MultiPolls claims to do its best to offer you high-quality survey opportunities that pay the most for your time. 
The available surveys here in the UK pay very little money compared to what they used to a few years ago. 
 For example, here are the current opportunities in this country:
£0.40 – 16 minutes. 

£0.35 – 5 minutes

£0.19 – 24 minutes

£0.19 – 22 minutes

£0.15 – 15 minutes

£0.27 – 5 minutes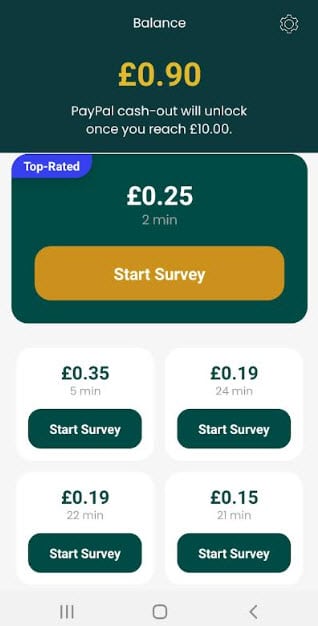 As you can see, the prospects for participants in the UK are discouraging, to say the least. 
Do you think it's a fair prize? Let me know your opinion in the comment section below. 

If you are new to online surveys, you should know that most require participants to answer pre-qualification questions. 
That is to ensure participants fit the target demographics of a particular study. Unfortunately, that means you can waste a long time trying to qualify and receive no compensation. 
So, your pay rate depreciates even further when you account for all the time answering questions that lead to disqualification. 
How Much Can You Earn With MultiPolls? 
MultiPolls said that, on average, within one month, users earn enough to pay for multiple TV streaming services or cover their phone bills. 
But as always, it really depends on your commitment and your profile. 

This reward platform is going viral! Cash out via PayPal, Visa, Gift Cards, and in-game currencies - Click here to find out how to generate an extra $10+ per day! 
How do You Cash Out?
Once you reach the minimum cash-ou threshold in your balance, you can enter your PayPal email and request the payment. 

The minimum requirement is £10 in the UK and $12.50 in the US.  
Is MultiPolls Legit? Does it Pay? 
Yes, MultiPoll is a legit survey app that pays out. 
Many people praise the company on the Play Store because it pays them within just two days. 
However, I also noticed that many participants are disappointed with their frequent disqualifications. 
And it's not only about getting kicked out of a survey in the early stages.
For example, one person stated that 99% of the time, as he approaches the end of the survey, it said "can't win them all." The survey is then interrupted without compensation.
Another user expresses frustration for getting multiple error messages halfway through the surveys. 
This is a well-known issue with survey panels. In fact, most platforms that I review on this blog behave similarly because they all partner with the same big companies. 
Conclusion 
Overall, MultiPolls is a decent survey app that provides a convenient way to earn cash online. 
Most surveys are short, but their earning potential is very low! So, to say that these guys are offering high-paying surveys is an overstatement! 
The main downside of MultiPoll is its high payout threshold of £10 or $12.50, which takes a while to achieve. 
I strongly advise the company to lower the requirement to a minimum of $5, so members feel encouraged. 
It's possible to implement, as other companies like Qmee and 1Q let users cash out with NO minimum threshold. 
Earn a Full-Time Income Online
I used to complete paid surveys many years ago to supplement my income. 
But over time, I learned that the internet could offer exceptional results for those who commit 100% to content creation. 
I am talking about attracting an online audience and earning commissions and advertising revenue. 
This online venture is now my primary source of income, giving me the flexibility to work anytime, anywhere I want. 
If you want to grow this type of business, follow in my footsteps and check out my #1 recommendation here! 

Final World
Thank you for reading my MultiPolls review. If you want to share your experience with this survey app or ask any questions, leave your comments below. 
Peace!