Welcome to my Coin Storm review!
I have recently come across another match-3 money game claiming to reward players hundreds of dollars. 
The advert presents colorful graphics and a shiny PayPal balance growing to over $3,000 in seconds. 
It makes people feel like they have just found a pot of gold at the end of a rainbow!
No wonder many people are installing Coin Storm and playing it non-stop to meet the cash-out criteria. 
However, it's essential to be constantly wary of unrealistic opportunities, even though they may seem harmless. 
Behind a free casual game is usually someone trying to exploit your time for their own benefit. 
So, is Coin Storm legit or fake? Does it pay or not? Let's find out!
Before leaving this post, check out the step-by-step program that helped me build an affiliate site and quit my job in 2019. It's free to join, and you don't need any previous experience.
Coin Storm Review 
Name:

 Coin Storm

Developer: 

Troy_Nguyen2022

Eligibility:

 Worldwide

Payout threshold:

 $1000

Price:

 Free 

Overall Rating: 0 stars
What is Coin Storm? 
Coin Storm is another match-3 puzzle game that claims to pay real money to those who collect $1,000. 
Like candy-crush, the goal is to swipe and match at least three coins of the same color. 
Each coin contains a number representing its level. So, whenever you place identical coins side by side, they will merge into a higher-level coin with another color. 
You may receive a PayPal or Amazon bonus worth hundreds and thousands of dollars every time you merge coins. 
How Does Coin Storm Work? 
Coin Storm is a free game available for Android devices. It can be installed quickly from the Play Store and played without registration. 
Upon launching the game, it will immediately tell you that this is a real money cashout game and that you can redeem money in the wallet. 
So, there you go! It's not one of those get-rich-quick simulators like Tap Tycoon, where you can only use virtual currency to build your wealth empire. 
No, Coin Storm is giving you virtual dollars and enticing you with real payouts! 
Here is how to play the game: 
First, identify two or more identical coins that are side by side. Then, search for another coin with the same color and level nearby.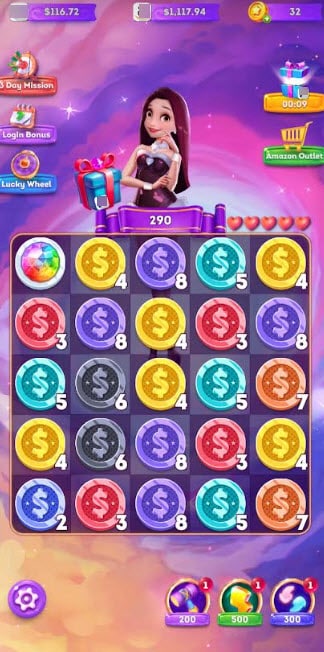 Then, swap the coins to form a group of 3 or more identical coins. As a result, they will merge to form a higher-level coin with a different color. 
Every time you generate a successful combination, you can win cash rewards such as PayPal or Amazon bonuses.
However, the money is only added to your balance if you watch the sponsored video. 
Of course, these videos are part of the developer's smart strategy to monetize the game using your time. 
Coin Storm also features the Lucky Wheel, Login bonuses, and the 3-day mission to earn more coins. 
How do You Get Paid? 
Coin Storm promises to send all the money you collect within 24 hours to your PayPal account. 
Alternatively, you can redeem it immediately once your balance hits 1,000 USD! 
Besides, you can cash out using Amazon gift cards after collecting the ridiculous amount of 10,000 USD! 
Is Coin Storm Legit? Does it Pay? 
No, Coin Storm doesn't reward anyone who meets their insane cash requirements. 
You will just waste your time collecting worthless virtual dollars while the developer gets paid by advertisers. 

At the beginning of the game, Coin Storm will award you large cash prizes for merging.
However, you will notice that the closers you get to your goal, the less you will earn! 
The strategy behind this is to keep you engaged in the game for much longer to increase video views and, as a result, profits! 
You may eventually reach the payout threshold, only to be confronted with additional video requirements. 
They will make you jump through hoops and never pay you in the end. 
This is how most money games operate, preying on people's time until they realize everything is fake! 

This reward platform is going viral! Cash out via PayPal, Visa, Gift Cards, and in-game currencies - Click here to find out how to generate an extra $10+ per day! 
Conclusion 

Don't waste your time merging coins only to line the developer's pockets with advertising revenue. 
Sorry for my french, but most of these casual games with virtual dollars are only taking people for fools! 
That's why it's crucial to approach them with a strong dose of skepticism to avoid traps. 
Although you are not wasting money, you could use your time to earn a real income online. 
For example, growing an online audience can earn excellent commissions and change your life! 
This step-by-step program will show you how to grow a lucrative online business by attracting visitors from the internet. 
This is how I started my journey to a full-time income online! 
Final Words
Thanks for reading my Coin Storm review. I hope it was helpful!
Have you tried to cash out? Please share your experience with us in the comment box below.
Peace!