Welcome to my PlayMoment review!
If you plan to use PlayMoment to win free Robux or another game currency, you must read this!
Over 100k people have installed this viral Android app following a tempting advert. 
The developer entices the young audience with the opportunity to win 10K Robux per video and 34K Robux in 2 days. 
Even though rewards are not tangible cash, the value of virtual currency is ridiculous! 
So, no wonder people are flocking to the Play Store and downloading PlayMoment like crazy!
But is it a legit or fake application? Will they transfer free Robux or Diamonds to your Player account?
Let's find out!
Before leaving this post, check out the step-by-step program that helped me build an affiliate site and quit my job in 2019. It's free to join, and you don't need any previous experience.
PlayMoment Review
Name:

PlayMoment

Developer:

holightgame

Eligibility:

 Worldwide

Price:

 Free 

Overall Rating: 0 stars
What is

PlayMoment

?
PlayMoment is an app that promises to offer wonderful game moments! 
But the best part is that it allows users to collect coins and diamonds that can be exchanged for game codes.
Some of the games available for redemption are Free Fire, Roblox, Mobile legends, and PUBG Mobile. 
All they want from users is to wait for the loading bar to complete and watch a commercial every 15 seconds or so.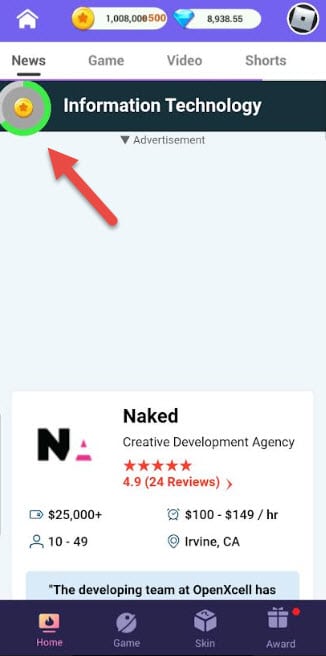 Well, I must confess this description doesn't bring back good memories as I have tested countless apps using the same concept.  
And unfortunately, none of them delivered on their promises! 
How Does PlayMoment Work? 
Playment is available on Android devices worldwide and doesn't require registration. 
The first step is to choose your favorite game and enter your Player ID to receive the game codes. 
Then, you will be encouraged to sign in by tapping the Day 1 icons and receive 3000 diamonds. 

It's important to know that you can only redeem rewards by accumulating at least 10,000 diamonds or 3 million coins.  
The dashboard of PlayMoment contains a list of classified adverts full of banners and links. 
Additionally, there are also three other tabs where you can play games and watch TikTok videos.
How to Collect Coins and Diamonds
You can collect coins on autopilot just by leaving the application open. Yes, you don't have to do absolutely anything to collect 500 coins per second. 
PlayMoment will give you diamonds whenever the round loading bar is full every 15 minutes or so.
It will instantly trigger the reward and refresh the page, so you are exposed to more advertising. 
From time to time, you will be enticed to tap the "claim" button and watch the video. 
How to Redeem Game Currency? 
You must earn at least 10,000 diamonds or 3 million coins before redeeming the minimum currency.
For example, if you choose Roblox or Free Fire, you will receive 10,000 Robux and 10,000 Diamonds, respectively. 
You will then need to enter your player ID so the currency can be transferred to your account.
Is PlayMoment Legit? Does it Pay? 

No, it doesn't! PlayMoment is another 100% fake reward app that will never transfer a single Robux or diamond to your account. 
It's just a facade to get users to spend hours watching commercials that only fill up the developer's pockets. 
The closer you get to the minimum threshold, the fewer diamonds you will earn after each video. 
This tactic is known as "reward throttling," whereby developers reduce users' rewards to prolong engagement. 
By decreasing earnings, you are encouraged to spend more time in the app, which ultimately translates into more advertising revenue for the developer.
Based on the feedback from several reviewers who committed to the process, they were told to wait for 15 to receive the reward. 

This reward platform is going viral! Cash out via PayPal, Visa, Gift Cards, and in-game currencies - Click here to find out how to generate an extra $10+ per day! 
But unfortunately, no one has received the game codes on their accounts after the waiting period. 
It's disheartening to see people putting their faith in this nonsense, even with many clues that the reward is fake. 

Conclusion 
Don't waste your time watching videos on this useless app called PlayMoment. 
It's only exploiting users with the false hope of winning hundreds of dollars worth of game currency. 
If you cannot afford to game credits to use on your favorite games, you need to work or provide some value in exchange for them. 
Watching videos or playing individual games is not the answer! 
I have recently reviewed a legit and trustworthy app that allows users to redeem game codes. Read my Gift Center review to learn more! 
You earn "gold" by completing surveys and offers just like GPT (get-paid-to) sites.
The difference is that the amount of game currency you can redeem is compatible with the company's business model.
Therefore they can afford to reward users for their online activities! 
Final Words
Thank you for reading my PlayMoment review. If you want to share your experience with this app or ask any questions, leave your comments below! 
Peace!