Welcome to my Gift Center review!
I stumbled upon Gift Center recently and couldn't resist the urge to install it on my Android.
With over 500k installations, this Android app claims to reward users with gift cards and game codes for PUBG, Free Fire, and League of Legends.
After reviewing so many fake games promising Free Diamonds and Robux, it looks as though I finally found the real deal.
That's because its small prizes are compatible with the developer's business model based on advertising. So that makes it more realistic!
It all seems convincing at first sight, but we must remain cautious to avoid possible pitfalls.
So, is Gift Center worth your time and effort? Is it even legit? Let's find out!
Recommendation: Join the step-by-step program that helped me to generate $2,000+ per month and become a digital nomad in 2019.
Gift Center Review 
Name: 

Gift Center – Earn Game Codes

Developer:

 haktansoft

Availability:

 Worldwide

Price:

 Free

Payout threshold:

$10

Overall Rating: 4 stars
What is Gift Center? 

This reward platform is going viral! Cash out via PayPal, Visa, Gift Cards, and in-game currencies - Click here to find out how to generate an extra $10+ per day! 
Gift Center is an exciting reward application that has gone viral in the past few months, especially among gamers. 
While it may not be groundbreaking, it does a good job of offering excellent opportunities to earn gift cards. 
Besides, it attracts a large audience of gamers who wish to redeem game codes for popular titles like Free Fire, PUBG Mobile, League of Legends, Apex, and Mobile Legends. 
With Gift Center, you earn Gold by answering surveys, watching videos, installing apps like TikTok or NordVPN, and inviting your friends to join.
After accumulating enough Gold, you can exchange them for your preferred Gift card or game currency. 
How Does Gift Center Work? 
Installation and Registration
Gift Center is currently only available for Android devices and can be installed from the Google Play Store for free. 
Once you've launched the application, you'll be asked to register for an account using Google, Facebook, or your email address. 
For those who worry about privacy, here is the good news: All the data Gift Center handles is encrypted, meaning your information is safe from unauthorized access.

Furthermore, you can request that the company delete your data if you so choose. 
Earning Gold
In Gift Center, Gold is the currency used to redeem rewards, which you collect in different ways. 
The home section is your starting point to explore all the tasks available inside the application.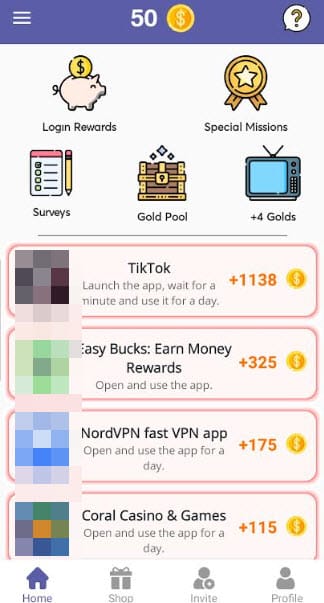 As you can see from the screenshot above, it features the gold balance at the top, a series of tabs, and a list of featured offers. 
It's important to know that the value of Gold depends on the gift card or code you wish to redeem from the Shop. 
However, a good reference point is to convert 1000 Gold to roughly $0.60. 
Login Rewards 
Get started with your first reward by clocking in with Gift Center. You can collect 20 gold daily by clicking the Piggy Bank icon and watching a short commercial until the end.
Surveys
By entering the survey section, you will find a list of opportunities from a monetization platform called Bitlabs. 
You must complete your profile to access marketing research studies and get paid for your opinion.
This first questionnaire helps the company invite you to surveys that match your demographics and interests. 

For example, you will be asked about your age, gender, and employment status. 
After that, you will unlock the list of surveys, which usually take between 5 – 15 minutes to complete, and awards 200 – 1300 Gold. 
Earning rewards with surveys can be frustrating because you will not always qualify for them after completing a series of questions. 
But it's essential to provide truthful and thoughtful answers to avoid getting a negative reputation. 
4 Golds
This section is where you can collect Gold by watching sponsored videos. 
There are two options: 
4 Gold – you can only collect every 30 minutes

1 Gold – Unlimited
App offers
Gift Center allows you to earn gold coins easily by installing and using third-party applications like TikTok, NordVPN, Norton, and more.
Make sure to complete all tasks in the description to ensure you get paid for each offer. For example, to earn rewards with TikTok, you will be instructed to launch the app, wait for a minute, and then use it for a day. 
Be aware that these offers only work for new users! So, if you already have an account with TikTok, you won't be eligible for rewards. 

But don't worry. There is plenty of opportunities that you may never have installed before! 
Tasks
In the "Task" tab, you'll find even more surveys and offers in the form of missions representing planets.
These are Offer Walls from third-party platforms like Adgate, Offertoro, and AyeStudios. 
Some tasks involve signing up for free trials, installing mobile games, and answering quizzes. 
When you complete a task, the monetization firm pays a commission to Gift Center, which is then passed on to you as Gold. 
The reward varies greatly depending on the offer type and the time required to complete it.
For example, apps like Gopuff require users to register and make the first purchase to qualify. 
Special Missions
You can earn even more Gold by accomplishing special missions. Here are some examples:
Do quests worth 100 Gold: Get 10 Gold

Take surveys worth 75 Gold: Get 7 Gold. 

Invite one friend: Get 100 Gold.
Gold Pool
20% of every Gold you collect from missions and surveys is added to the pool.
The amount of Gold you will earn depends on the amount you get from surveys and missions. 
If you are lucky, you could win up to 40% of the gold pool! 
Invite Friends
Share your invite link to get a 20% bonus from every Gold your referrals earn forever!
Every person who registers with your link will get 100 Gold, which is an excellent boost for those getting started. 
Redeeming Gift Cards and Game Codes
To cash out your rewards in Gift Center, you must visit the "Shop" section of the app.
There, you can find the different gift card and game code options readily available for those who meet the Gold requirement.
Here are some of the rewards available:
PUBG Mobile:

 1350 Gold = 60 UC

Free Fire: 

1500 Gold = 110 Diamonds

League of Legends:

 1950 Gold = 200 RP (TR)

Mobile Legends: 

7500 Gold = 278 Diamonds

Zula:

 825 Gold = 3600 Altin

Google Play:

 2100 Gold = 25 TL / 16500 Gold = $10

Steam:

 525 Gold = Gold Key / 7500 Gold = $5

Amazon:

 16500 Gold = $10 / 21000 Gold = £10
Payments can take between 12 hours to 3 business days, depending on the circumstances.
Cash out as little as $1 via PayPal with this excellent survey app! 
Is Gift Center Legit? 

I am glad to inform you that Gift Center is a legitimate application! 
Many users love the app as it allows them to earn gift cards and game codes without spending any money.
The fact that Gift Genter allows people to redeem UC, Free Fire Diamonds, and other in-game currency is indeed a big plus for gamers! 
People have also reported that the app is easy to use, and the reward system is very straightforward.
However, as with any reward site or app, Gift Center has received many complaints from users all over the world. 
People have reported issues such as not receiving coins after completing surveys and offers and difficulties in withdrawing rewards like products being out of stock.
Depending on your country, you may face challenges collecting Gold due to a lack of tasks. 
Besides, Gift cards can only be redeemed in limited currencies, such as USD, GBP, Euro, and TR. 
Conclusion 
Gift Center is an excellent app for those who want complete simple online tasks in exchange for gift cards and game codes. 
This app is specially targeted at gamers as it allows them to redeem Free Fire, PUBG Mobile, and League of Legends codes. 
Not into gaming? No problem! The app also provides gift cards from popular retailers like Amazon, eBay, Netflix, iTunes, and more! 
The main downside is that cash payments via PayPal, Cash App, and PayTm are unavailable in the Shop. Here is an excellent GPT platform to withdraw funds via PayPal! 
As with similar apps, it's essential to be aware of limitations and issues, such as missing Gold and out-of-stock rewards. 
Despite this, Gift Center is worth the time and effort if you need a little extra cash without putting too much effort.
Earn a Full-Time Income Online
Escape the limitations of reward apps and empower yourself by creating your own online business!
By providing valuable content and attracting an online audience, you can take a slice of the digital economy and generate substantial income. 
Imagine opening your laptop every day and seeing results like mine: 
With the right strategies and strong commitment, everyone can do this! 
Click here and get started today by learning more about this business. 
Final Words
Thank you for checking out my Gift Center review. If you want to share your experience with this application or ask any questions, please use the comment box below. 

Peace!