Welcome to my Chili Slots Master review!
More and more people are turning to mobile gaming for entertainment and end up finding the so-called "money games." 
One of these latest mobile games that went viral recently is Chili Slots Master. 
The commercial boasts huge payouts ($300 daily) with no withdrawal limit! 
Such bold claims require a high level of skepticism to avoid falling for advertising traps. 
So, before getting caught up in such "mind-blowing" promises of easy money without risks, it's essential to question how the developer is making money. 
Is it reasonable to expect a free game to pay hundreds of dollars simply for you to watch its videos? 
So, is Chili Slots Master legit or fake? Does it pay, or is it all an illusion? Let's find out!
Recommendation: Join the step-by-step program that helped me to generate $2,000+ per month and become a digital nomad in 2019.
Chili Slots Master Review 
Name:

 Chili Slots Master

Developer:

 clarkwolf

Availability:

 Worldwide

Price:

 Free

Type:

 Entertainment (no financial risk)

Payout threshold:

 £240

Overall Rating: 0 stars
What is Chili Slots Master?
Chili Slots Master is a 100% arcade game where players spin the reels to collect virtual currency. 
It's important to mention that this is just a simulation with no risk of financial losses. 
However, a section in the app suggests players can withdraw the funds once they reach £270. 
There, players can even choose one of six withdrawal methods like PayPal and submit their account details for payment. 
I have already reviewed lots of similar apps using fake rewards as bait to lure players into watching videos. By the way, this one is a clone of Chili Slots Master. 
How Does Chili Slots Master Work? 
Chili Slots Master is available n the Play Store for adults 18 years and older with no strings attached.
Like most money games, it doesn't require users to sign up and register before playing. 
Right off the bat, you will get a welcome bonus of 300,000 coins, which you will use to trigger the virtual machine. 
Simply press the spin button and watch as the reels come to life, displaying an array of Mexican-style symbols like spices and tacos.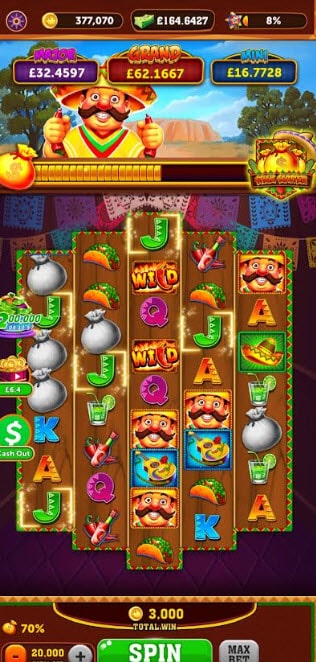 There is no game instruction in the app, which makes it difficult to figure out winning patterns. 
However, that's not really important since you will collect virtual dollars and coins whenever bag symbols are exposed. 
Bear in mind that you'll be using at least 20,000 coins from your coin balance every time you spin. 
There are other ways to boost your earnings: watching videos (commercials) and playing the super bonus. 
For example, once you play the 20-wheel bonus, you will get a share of the £160,000 super reward before noon. 
You can activate this wheel by filling up the progress bar with money bags. 
Withdrawing Funds 
There are two options for cashing out your rewards. The first one is to wait until the 24-hour countdown, and all the rewards will supposedly be transferred to your account. 
Alternatively, you can cash out instantly once your balance reaches £240. 
Navigate to the redeem section of the app, choose your withdrawal method, and enter your information. 
Payment options include PayPal, Cash app, Paytm, Tez, Coinabase, and Banco Inter. 
Is Chili Slots Master Legit? Does it Pay? 
No, it doesn't! Chili Slots Master is nothing more than a slot simulation in which you collect worthless virtual currency. 

The developer suggests players can withdraw their funds after 24 hours or once their cash balance reaches £240.
However, this is just a bait-and-switch tactic to get users to watch more videos and maximize profits through advertisements. 
When it finally comes time to cash out, people face an unpleasant surprise:
They will either ask you to keep spinning more times or watch a ridiculous number of videos to approve the order. 
Of course, they are not serious about rewarding players; otherwise, the app wouldn't be free, and it would involve a significant risk! 
That's not the case with Chili Slots Master, a simple game that generates revenue from advertisers.  

This reward platform is going viral! Cash out via PayPal, Visa, Gift Cards, and in-game currencies - Click here to find out how to generate an extra $10+ per day! 
Conclusion 

Chili Slots Master is not a game of luck because the cash rewards are totally fake.
So, there is no chance of winning despite the time invested in watching videos and spinning the reels.
I don't even consider Chili Slots Master to be fun enough to play without cash incentives.
With so many exciting games on the Play Store, there is only one reason people would waste their time with this kind of app: The expectation of making easy money! 
In conclusion, Chili Slots Master should be avoided at all costs. It will only drain your battery and bandwidth, with nothing to show for it! 
Earn a Full-Time Income Online
If you are sick of fake money games and wish to embark on a rewarding journey toward freedom, here is my top recommendation:
Build an online business and turn your online presence into a profitable venture! 
This step-by-step training will empower you to build a thriving website, so you can generate a decent income online. 
I speak from personal experience, as I used this platform to build my own successful site from scratch without previous experience. 
Today, I can work from anywhere as long as I can bring my laptop!
But most importantly, I don't have a boss to dictate how I should conduct my job or when I can take my holidays. 
I simply buy my flight ticket, pack my bags, and hasta luego!
Final Words
Thanks for reading my Chili Slots Master review! Kindly comment below if you want to share your experience with this application.
Peace!