Welcome to my BlackJack 21 Winner review!
Have you heard of the latest BlackJack 21 Winner app, which promises enormous cash rewards?
In one of their adverts, the "smart" guy on a desk brags about winning thousands of dollars with this game!
The best part? Players don't need to spend any money to collect those fantastic prizes.
As a blogger on a quest to save people's time, I had to put this app to the test to see if those statements were factual or just another marketing trick.
Reviews like this one are paramount as they promote transparency and help people avoid traps.
So, I am here to explain how this game works and share all my findings so you can make an informed decision. Is BlackJack 21 Winner legit or fake? Does it pay?
Let's find out!
Before leaving, don't forget to check out the step-by-step program that helped me generate $2,000+ per month and say farewell to the 9-5 grind!
BlackJack 21 Winner Review 
Name:

 BlackJack 21 Winner

Developer: 

Slow motion Games

Availability:

 Worldwide

Price:

 Free

Type: Entertainment (no financial risk)

Payout threshold:

$1000

Overall Rating: 0 stars

This reward platform is going viral! Cash out via PayPal, Visa, Gift Cards, and in-game currencies - Click here to find out how to generate an extra $10+ per day! 
What is BlackJack 21 Winner? 
Blackjack 21 Winner is an Android game where you arrange the cards to reach a hand value of 21.
Despite having similar rules, it provides a different experience than the classic multiplayer blackjack game.
The crazy thing about this app is that you will get virtual dollars redeemable for real cash every time your column adds up to 21.
Even crazier is the possibility of making hundreds of dollars in just a few minutes and withdrawing the funds at $1,000! 
BlackJack 21 Winner is still in Early Access, meaning it's not fully launched. 
During that phase, Google Play allows the developers to block reviews to avoid negative feedback that could affect their reputation. 
Needless to say, many fake money games use this classification to block reviews forever, and you know why. 
How Does BlackJack 21 Winner Work? 

BlackJack 21 Winner is completely free and only available for Android users via the Google Play Store.
After launching the game for the first time, you will get $10, followed by $100, provided your watch the sponsored video. 
You will then see a page encouraging you to watch videos and get $1000 PayPal bonuses to be able to cash out. 
But hurry up because you will have just 24 hours to receive the bonus!
This well-known scarcity tactic creates a sense of urgency and makes people take action on impulse. 
In this case, players will go ahead and start playing BlackJack 21 Winner without proper research. 
First, it's essential to know that each card has a specific value:
Cards 2 to 10 are worth their face value.

Jack, Queen, and King are worth 10 points.

Aces are worth 1. 
The game is played by arranging cards in columns to reach a hand value of 21. 
Simply drag and drop the cards from the deck into the selected column. Pay close attention to the sum of all the card values on the top, as it cannot go over 21!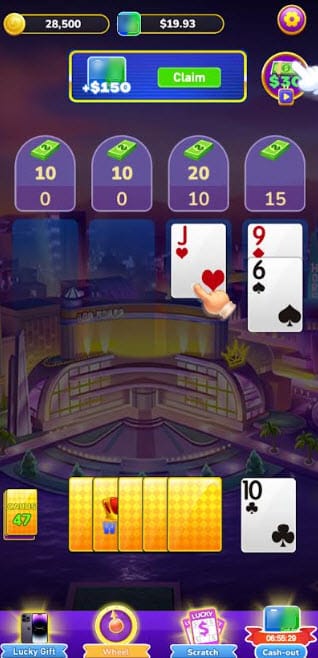 When the column reaches 21, you will collect virtual dollars and coins. If you go over this value, you lose the reward for that column! 
You can also claim large cash prizes by clicking cash bubbles or gifts on the screen and watching the video. 
With the special card "WILD," you will eliminate the entire column and receive a cash reward without restrictions.

How do You Get Paid?
To withdraw the funds, you must reach a minimum balance of $1,000 in your cash balance. 
Alternatively, you can exchange 980,000 coins for a $100 gift card from popular retailers such as Visa, Amazon, Steam, Google Play, and more.
Is BlackJack 21 Winner Legit? 
No, it doesn't! BlackJack 21 Winner is nothing but a fake money game designed to steal your time.
The virtual dollars players earn within the app have no monetary value outside it, meaning you get no compensation for your playtime. 
The only one who benefits from this illusion is the developer, who makes money through advertisements.
You are encouraged to watch videos in return for PayPal bonuses that can allegedly be redeemed once the $1000 mark is reached. 
This, of course, keeps you hooked for longer as you can only cash out after meeting the requirement. 
But unfortunately, most people don't read that small print in the advert, which says "result is not guaranteed." 
That implies you still have a chance, right? But guess what? This statement is false, as it should mention that prizes have no real-world value. 

After reaching $1,000, BlackJack 21 Winner will immediately show a pop-up with the Cash-out button. 
Then, you must choose PayPal or Cash App as your payment method and enter your account detail.
Now a big surprise emerges: Transfers to your account may take 24 hours, and you are asked to play 20 times during this period. 
Clearly, this is only an attempt to get unsuspecting victims to play more and watch more videos, as the money is 100% fake! 
Conclusion 
You have nothing to gain by playing BlackJack 21 Winner accepts frustration, disappointment, and regret. 
The creator of this game will leave you empty-handed despite your best efforts trying to cash out. 
So, don't waste your time and energy unless you are okay with playing a card game in exchange for virtual dollars. 
If you need real dollar bills, I have good news for you. 
It's possible to generate a full-time income by using proven strategies that form the fabric of the internet. 
I am talking about content creation! By providing helpful information online, you can track an audience and make a lot of money promoting affiliate products to people all over the world. 
That's how I was able to go from $0 to over $2000 per month and achieve time and location freedom!
If you want to jump in the same boat and build your way to success, check out my #1 recommendation! 
Final Words
Thanks for reading my BlackJack 21 Winner review! If you want to share your experience with this game, drop us a comment below.
Peace!