Welcome to my SurveyKing review!
SurveyKing is another Android app that allows you to unlock the power of your opinions and turn them into profit.
I found this app while searching for high-rating survey platforms on Google Play and decided to put it to the test. 
You probably know the advantages of completing online surveys from your mobile device. 
One of the most remarkable ones is the convenience of participating in marketing research anytime, anywhere you go. 
For example, a stay-at-home mom takes surveys while her children are taking a nap. Or a college student who earns extra cash while commuting to college!
With so many options, it's crucial to thoroughly vet survey apps to maximize earnings and avoid disappointment. 
So, is SurveyKing a legit and reliable opportunity to get paid for surveys? How much money can you make? Is it easy to cash out? Those are relevant questions that I would like to discuss in this review! 
Before leaving, don't forget to check out the step-by-step program that helped me to generate $2,000+ each month and quit my job in 2019.
SurveyKing Review 
Name:

SurveyKing: Earn From Surveys

Developer:

mahmoud atef

Availability:

 Worldwide

Price:

 Free

Payout threshold:

$1

Overall Rating:

4/5

This reward platform is going viral! Cash out via PayPal, Visa, Gift Cards, and in-game currencies - Click here to find out how to generate an extra $10+ per day! 
What is SurveyKing? 
SurveyKing is an Android app that pays you to share your thoughts with marketing research firms and complete offers for cash.
According to its description on the Play Store, surveys are easy and typically take less than 10 minutes to complete. 
It's important to mention SurveyKing is only a middleman between survey providers and participants.
Therefore, you will find the opportunity to connect and engage with different companies through the app's clear interface. 
You will get redeemable points for PayPal and a few other payment methods by completing surveys. 
SurveyKings stands out from most survey apps due to its low payout threshold of $1 and generous referral commission of 20%.
How Does SurveyKing Work?
SurveyKing is 100% free and is exclusively available for Android users, who can easily install the app on Google Play. 

After launching the application, you must accept the Terms of Use and register using your Google, Facebook, or email account. 
Next, you will see a warning regarding VPN, which is strictly forbidden. Proxy is treated as a fraud because many people will change their virtual location to get more surveys. 
This manipulation can destroy the integrity of a marketing study since most of them target specific countries. 
Once you have signed up, you will have access to nine survey providers, giving you a wealth of opportunities to earn points. 
What is the value of each point?
It is crucial to find out the value of each point to know how much money you are earning per survey.
1 point in SurveyKing is worth roughly 0.00115 USD. Considering the tricky conversion, it's easier to think 866 points are required to convert to 1 USD.
Completing Surveys
SurveyKing is literally a king when it comes to surveys, as it connects users with nine providers. Here is the complete list:
Bitlabs, inBrain.ai, CPX Research, Pollfish, Rapid Reach, Thetheoremreach, Precision Sample, Survey XA, and Tap Research.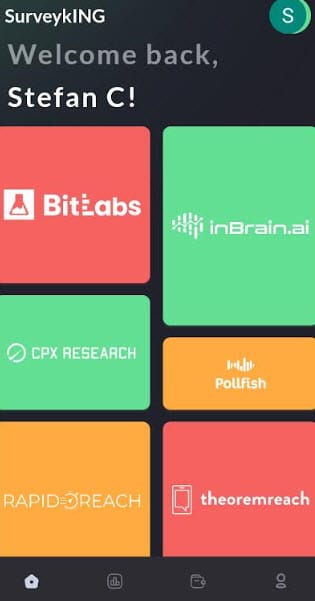 Be aware of tricky questions inside surveys, which are there to ensure respondents are taking the time to read and provide honest answers. 
When you first select a survey provider, you must complete a profiling survey so that companies can target the right audience. 
For example, if a study focuses on millennials' purchasing habits, they will qualify only people between 27 and 42 years old. 

After completing this initial questionnaire, you will unlock a list of surveys that will actually pay you after completion. 
But again, you will have to go through a series of more specific questions to see if you are a good fit. 
One interesting example of a qualification question involving a marketing research study for millennials is:
Did you use a ride-sharing app in the past six months? So, depending on your answers, you may get disqualified and lose the opportunity to complete the survey. 
Survey King claims that most surveys take less than 10 minutes. Maybe they are correct, but spending 15 – 25 minutes is not uncommon. 
Not to mention the qualification part, which may take a big chunk of your time! 
How Much Money Can you Earn With SurveyKing? 
It depends on several factors, such as the number of surveys available, your profile, and the reward of each study. 
On average, you can expect to earn anywhere from a few cents to 2 USD per survey. 
Unfortunately, you may get disqualified for many studies depending on your location, age, interests, and income.  
For example, you may miss out on many opportunities if you don't have many possessions or don't pay for subscription services. 

However, it's still possible to earn an extra $20 – $150 per month, depending on all these factors and your commitment! 
Complete Offers
SurveyKing has teamed up with six Offers Walls, extending the opportunities for users to boost their earnings through paid offers.
So, what is an Offer Wall? It's a third-party platform where users can complete simple tasks in exchange for a bit of cash.
Most of these offers involve downloading games, signing up for free trials, or filling out surveys. 
To access them, open the "Earn Extra Points" tab and select "Offer Walls." Then, choose one of the following providers:
AyeStudios

HangADS

Youmi

Monlix

Okspin
Then, select the offers or tasks and complete all the requirements. For example, the game Dice Dreams awards 8,366 points to those who reach level 50 in 30 days.
That's worth almost 10 bucks, which is excellent! 
Refer And Earn
For each friend you invite to join SurveyKing, you will get 20% of what they earn. So, if they collected 100 points, you will get 200. 
Growing a large pool of referrals will give you lots of points passively.
However, it takes a lot of work to convince so many people to complete online surveys, which is why it works best for influencers and bloggers with a large audience. 
If you want to learn my strategy to get many referrals daily, check out my #1 recommendation. 
To refer a friend, enter the tab "Refer & Earn," copy your unique link, and share it on any social media platform. Or, if you have a blog or YouTube channel, you already know what to do! 
Withdrawing Funds
SurveyKing provides one, if not the most accessible withdrawal systems, allowing users to cash out as little as $1.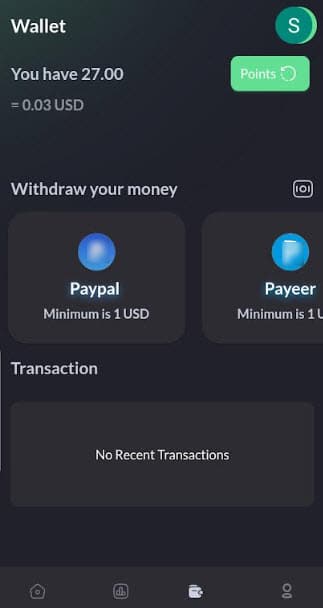 I have reviewed enough survey panels and gpt sites to know that this is pretty awesome! 
Besides, the app offers several payment options, including PayPal, Payeer, Binance, AdvCash, and Perfect Money, all of which with a $1 minimum payout requirement. 
Is SurveyKing Legit? 
Yes, SurveyKing is 100% legitimate! 
Many participants have had a great experience with the app, including quick payment processing and the option to cash out as little as $1.
However, some users have voiced discontent with many survey disqualifications.
One user reported answering questions for 5 – 10 minutes only to get screened out without compensation. 

It's very disappointing, but it's essential to understand that this is a standard part of the survey process in most panels. 
As I already mentioned, companies want to ensure that you belong to the right target audience for their study.
Conclusion
Thanks to its wide selection of survey and offer providers, SurveyKing is one of the best reward apps available for Android.
Yes, I would say it's a strong competitor to be King of survey apps, although more time is required to solidify this position!
I praise the app because it gives you a wide range of opportunities to earn points and the ability to cash out $1.
Besides, it offers one of the most generous referral programs in the industry!
Overall, SurveyKing is a valuable tool for those seeking a little extra cash.
Earn a Full-Time Income Online
If you are still reading is because you believe the internet has a lot more to offer than a few dollars and there. 
How about making a job-replacing income while working from your laptop?
Imagine the endless possibilities in your life if you had an online business generating revenue 24/7! 
With proper guidance, anyone can set up a system with the potential to attract an audience and start generating commissions. 
Final Words
Thanks for reading my SurveyKing review. I hope you find the information in this post valuable and instructive.
Please leave a comment if you have any queries or want to share your opinions on this app.
Peace!