Welcome to my Feel Wealth review!
I discovered this intriguing app after watching an eye-catching advert that goes like this:
A woman interviews a smartly dressed man, inquiring which game offers real cash prizes. 
He then suggests downloading the Feel Wealth app to get a $100 bonus and receive the money directly to PayPal. No withdrawals are needed! 
Since the game is entirely free, you are probably scratching your head and wondering how it can offer so much money! 
Moat importantly, you want to find out whether the game is legit and actually transfer funds to your account. 
Hold on to your seats as I dive into the inner working of Feel Wealth and expose the ugly truth about this application.  
Before you leave this page, don't miss out on the step-by-step program that helped me to generate $2,000+ each month and quit my job in 2019.
Feel Wealth Review
Name: 

Feel Wealth: Joy Mood

Developer:

 Egcal Cody Weaer

Availability:

 Worldwide

Price:

 Free

Payout threshold:

 N/A

Overall Rating: 0 stars
What is Feel Wealth? 

This reward platform is going viral! Cash out via PayPal, Visa, Gift Cards, and in-game currencies - Click here to find out how to generate an extra $10+ per day! 
Feel Wealth is a clicker game where you collect virtual dollars by tapping the banknotes on your screen. It's almost identical to Wealthy Banknote, Note Cunter, and many others! 
Although it may feel like a get-rich-quick simulation, the developer actually entices players with the opportunity to withdraw real money. 
By playing Feel Wealth, you will get two types of cash, one of which comes in the form of PayPal bonuses ranging from $10 to $500. 
And unlike other money games, it doesn't lure you into watching endless videos before you can cash out. 
You can withdraw the funds any time you want just by filling in your PayPal email address. Sounds like a pipe dream, right? 
How Does Feel Wealth Work? 
How can Feel Wealth operate this free game? It all comes down to advertisements! 
But I will get into that later! So, for now, let's focus on how the game behaves. 
The app is free on Google Play Store and can be played on Android without registration. 

It's pretty straightforward. Just touch the banknote and watch as your virtual cash balance grows at every touch.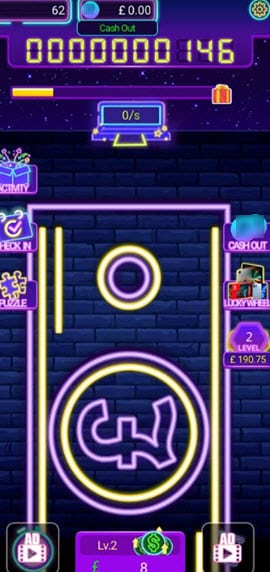 But that is not the exact money you are after, as it can only be used in-game to upgrade your virtual earnings. 
Instead, you want to collect cash rewards that come with the flashy PayPal logo and accumulate in the balance on the right. 
These prizes come at random as you tap the banknotes. Press the "Receive" button to collect them and watch the commercial. 
More money can be accrued whenever you complete the progress bar and flip the card. 
Earn Incredible Prizes
Feel Wealthy features the Lucky Wheel section, where you watch the video to spin and collect puzzle pieces. 
You can use these fragments to claim the iPhone 13, iPad Pro, Playstation, Nintendo Switch, and PlayStation 5. 
Bear in mind you don't have to make any deposit to participate, as Feel Wealthy is entirely free! 
How do You Get Paid? 
Feel Wealth make it easy to withdraw funds to your PayPal account. But please, don't get your hopes high until you finish reading this post. 
Players are encouraged to open their cash balance, fill in their email addresses, and press the cash-out button. 
Surprisingly, the developer doesn't require users to collect a minimum amount before redeeming the first cash prize. 

But additional withdrawals have to meet specific cash requirements, such as £35.21, £352.05, and £2,112.30. 
Is Feel Wealth Legit? Does it Pay? 
No, it doesn't! The idea behind Feel Wealth is pretty simple yet disturbing: 
The developer is the one getting wealthier by promoting the feeling of getting rich quickly! 
This cannot turn out well for users, who spend a lot of time and data collecting worthless virtual cash while the app profits from advertisements. 
But the worst is yet to come, my friend! 
According to the developer, cashing out uses Google's server protocol, which means you'll have to pay a small fee.
Hold on, did I hear that right? 
Yes, they ask for money without players knowing if the reward is real or fake! 
Guess what happens after paying this ridiculous fee! Absolutely nothing, as the cash prizes are just part of the simulation. 

The only actual money is moving from the advertiser's account to the developer's wallet.
Conclusion 
The name Feel Wealthy couldn't be more appropriate for this type of app. 
Unfortunately, other feelings will emerge when you realize the money is 100% fiction, such as disappointment, anger, frustration, disillusionment, and regret. 
So, don't waste your time with this application, which only helps the developer achieve his financial goals. 
Instead, I suggest you create your own online business that operates in your best interests! 
It may seem daunting, but it's a simple process that requires commitment. 
Imagine opening your laptop daily and finding great commissions like this:

So why wait? Take advantage of the new digital revolution and make your dream of earning money online a reality!
Final Words
Thanks for reading my Feel Wealth review! If you want to share your experience with this game, drop us a comment below.
Peace!