Welcome to my Lucky Calendar! 
Lucky Calendar is another allegedly money-making application that is going viral with bold claims such as:
$100 payouts in a few seconds, fast withdrawals, and no cashout limits. 
Thousands of people are flocking to the Play Store to install this application and receive money via PayPal. 
The advert even warns that those who fail didn't download Lucky Calendar via the correct link. I see…
I don't know you, but whenever I see this type of offer, I can't help but imagine a wolf in sheep's clothing. 
In a sea of reward apps, spotting those trying to take advantage of you can be tricky. 
That's why I am writing this review to open your eyes and see the true colors of this application. So, does it really pay? Is Lucky Calendar legit or fake? 
Let's find out! 
Before you leave this page, don't miss out on the step-by-step program that helped me to generate $2,000+ each month and quit my job in 2019.
Lucky Calendar Review

This reward platform is going viral! Cash out via PayPal, Visa, Gift Cards, and in-game currencies - Click here to find out how to generate an extra $10+ per day! 
Name: 

Lucky Calendar

Developer: 

qixingxing

Availability:

 Worldwide

Price:

 Free

Payout threshold:

 $30

Overall Rating: 0 stars
What Is Lucky Calendar? 
Lucky Calendar is advertised as a money-making application where you can redeem vast sums of cash via PayPal.  
However, the app's description on the Play Store doesn't mention anything about those fantastic cash rewards. 
Lucky Calendar was developed by the same team behind this Wifi management app.
It turns out this slick app features a simple calendar, which doesn't differ from the one that already comes in your phone.
It also allows users to add event reminders and their friend's birthdays! 
So, what's the point? Well, forget about its functionalities because the real purpose of Lucky Calendar is to make users believe they can cash out. 
You must click the get coins button right in the center of the screen and watch the commercial. 
You can supposedly withdraw the funds via PayPal once you convert the minimum number of coins. 

Get paid to share your opinions with this new survey app! 
How Does Lucky Calendar Work? 
Installing Lucky Calendar is a breeze! Head to Google Play and download it to your device entirely for free! 
Another thing worth noting is that the app requires no registration, making it easy to create multiple fake accounts to maximize earnings. 
Isn't it suspicious that the developer is not worried about that? Of course, it is! 
As soon as you open the app, it will welcome you with 50,000 coins and 50,000 diamonds.
Click the "Get" button to watch your first video promoting another money-making app. It's that simple!
But how much money is all these coins and diamonds worth? If you open the earning section, you will discover that 63,000 coins are roughly $1. 
As for diamonds, they will automatically convert to coins every time you log in. 
Collecting coins is effortless since you must tap the "get coins" button in the center and watch the entire commercial.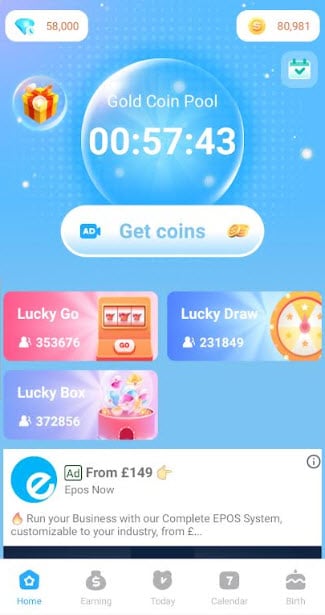 The longer you keep the app running, the more coins you will get after watching the video. 
You can also play the Lucky Go, Lucky Draw, and Lucky Box for more coins and diamonds. 

Remember that each video you watch translates into actual revenue for the developer through advertisements. 
So, it's now clear why there is a set threshold that users must reach before they can redeem rewards.
It's an effective strategy to keep participants engaged for a long time and maximize their app usage. 
Withdrawing Funds
To cash out, you must ensure that you have met the minimum cash-out requirement of 1,800,000 coins.
Then, head to the "Earning" tab, select "exchange cash," and choose the first redemption amount of $30. 
The catch? Earnings are so low that it will probably take months to reach the payout threshold! 
Is Lucky Calendar Legit? Does it Pay? 
No, it doesn't! Contrary to advertised claims, Lucky Calendar isn't compensating users for watching videos! 
Therefore, the touted $100 payouts are just a mirage, as you will never get to see a single penny from this company. 

It takes a ridiculous amount of time to collect 1,800,000 coins. To give you an idea, I got a measly 2,000 coins after the watch reached 22 minutes. 
I still need to complete the requirement to find out what exactly will happen when you finally meet the target.
But chances are, you'll receive a message instructing you to watch more videos or wait in a never-ending queue. 
Regardless of the following steps, one thing is sure: You won't receive any money! 
Conclusion 
Lucky Calendar is another fake reward platform disguised as a useless calendar application. In my opinion, it's as useless as another joke called Lucky Habit. 
In short, it's just a trap to make money off of unsuspecting users who watch countless adverts while chasing an illusion. 
It feels disheartening, but it's never too late to cut your losses and move on from this bad experience.
So, here is what you do to make lemonade out of lemons: 
Run away from reward apps and build your own platform that allows you to take control of your income! 
I am talking about building your own content-based online business, which consists of providing value and monetizing your audience. 
Imagine opening your laptop every day and seeing results like this: 

It's actually possible when you know the right strategies and put in consistent work! 
Click here to start your entrepreneurial journey today! 
Final Words
Thank you for checking out my Lucky Calendar review. If you want to share your experience with this application, please use the comment box below. 
Peace!